USS Long Beach (CGN-09)
From Canadian Power Wiki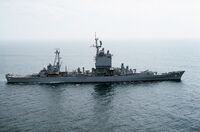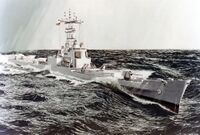 The USS Long Beach (CLGN-160/CGN-160/CGN-09) is a nuclear powered guided missile cruiser in the United States Navy. The Long Beach was commissioned on September 9th, 1961 at the Fore River Shipyards in Quincy, Massachusetts. Long Beach was the first "all-new" cruiser designed and constructed after World War II (all others were completions or conversions of cruisers begun or completed during the war). She was the third Navy ship named after the city of Long Beach, California, and the last ship built on a traditional "cruiser hull" in the U.S. Navy; all subsequent cruisers were built on scaled-up destroyer hulls. This led to the slogan she carried in her later years: "The Only Real Cruiser". USS Long Beach was decommissioned on May 1st, 1995 and sold for scrap on July 12th, 2012.
Specifications
[
edit
]
Type: Nuclear Powered Guided Missile Cruiser (Hull designation symbol CGN)
Service Period: 1961-1995
Characteristics

Length: 721 feet 3 inches (219.84 meters)
Beam: 71 feet 6 inches (21.8 meters)
Draft: 30 feet 7 inches (9.33 meters)
Displacement: 15,540 tons

Crew: 1,160
Power: 80,000 shp (60 MW)
Propulsion: 2 x C1W nuclear reactors, 2 x General Electric turbines, 2 propellers
Range: Unlimited:
Speed: 34 knots (62.97 km/hr)
Sensor Suite:

AN/SPS-10 surface search radar
AN/SPS-12 search radar
AN/SPS-32 bearing and range radar
AN/SPS-33 target tracking radar
AN/SPS-48 3D air search radar
AN/SPS-49 2D air search radar
2 AN/SPG-49 Talos fire control radar
4 AN/SPG-55 Terrier fire control radar
AN/SQS-23 SONAR

Armament:

2 x Mark 45 5"/54-caliber naval guns
2 x Mark 26 twin-arm missile launchers
1 x 8-cell Mark 16 ASROC missile launcher
2 x 4-cell Mark 141 Harpoon missile launchers
2 x 4-cell Mark 143 Armoured Box launchers
2 x 12.75" triple fire ASW torpedo tubes
2 x 20mm Vulcan Phalanx CIWS
History
[
edit
]
Long Beach was originally ordered as CLGN-160. She was reclassified CGN-160 in early 1957, but was again reclassified as CGN-9 on July 1st, 1957. Her keel was laid down on December 2nd, 1957 by Bethlehem Steel Co., Fore River Shipyard, Quincy, Massachusetts. She was launched July 14th, 1959, sponsored by the wife of Craig Hosmer, Congressman from California. She was commissioned on September 9th, 1961, with Captain Eugene P. Wilkinson in command.
Long Beach served in the Atlantic Fleet from her commissioning in 1961 until completing her first refueling in early 1966, when the cruiser was transferred from the home port of Norfolk, Virginia to Long Beach, California.
In May 1964, Long Beach joined the aircraft carrier USS Enterprise and the guided missile cruiser USS Bainbridge to form the all-nuclear-powered Task Force 1. At the end of July, the three warships began Operation Sea Orbit, a two-month unrefueled cruise around the world. It was the first all-nuclear battle formation in the history of naval operations.
In October 1966, the Long Beach deployed for the first of a number of cruises to the Western Pacific. During this initial cruise, the cruiser served primarily as the Positive Identification Radar Advisory Zone (PIRAZ) unit in the northern Gulf of Tonkin. As such, her main responsibility was to "sanitize" returning US air strikes, ensuring that no enemy aircraft were attempting to evade identification by hiding amongst returning friendlies. Additionally, the ship provided support for an on-board Search and Rescue (SAR) helicopter unit. During this tour, the Long Beach was responsible for directing the downing of one Soviet-made An-2 'Colt' aircraft that was attempting to engage South Vietnamese naval units. The shoot-down was executed by an F-4 Phantom II fighter under the control of a Long Beach Air Intercept Controller (AIC). The cruiser returned to Long Beach, California, in July 1967, and was redeployed to the Gulf of Tonkin in 1968, shooting down a MiG fighter plane with a RIM-8 Talos missile in May 1968, at a range of 65 miles (104.61 kilometers). She the first ship to down an aircraft using SAMs. In September of the same year, she downed another MiG, this one at 61 miles (98.17 kilometers). She also directed other MiG kills by American fighters.
After Vietnam the Long Beach performed routine duties in the Western Pacific and Indian Ocean, although in 1975 she served escort duties for an ad-hoc U.S. task force during the Mayagüez incident. When the Talos missile system was removed in 1978 two 4-cell Harpoon anti-ship missile launchers were installed aft. In 1980 the vessel rescued 114 Vietnamese boat people off the coast of Vietnam. In 1979, and again from 1980 to 1983, the Long Beach returned to Puget Sound to undergo a mid-life conversion, during which time the Bill-Board radars were removed from the forward superstructure and enhanced flagship facilities installed, along with modern radars. The Standard SM-2ER missiles and the associated modern electronics replaced the obsolete Terrier system. In addition, two 4-cell launchers and fire control for BGM-109 Tomahawk cruise missiles, two Phalanx close-in weapons CWS were installed, and the Harpoon anti-ship missile SSM launchers were re-sited. The Long Beach deployed throughout the 1980s, conducting Tomahawk missile test launches, serving as an escort for the USS Missouri task force, and providing aircraft carrier escort support during the Gulf War of 1991.
Due to cuts in the defense budget after the First Gulf War, the decision was made to decommission all nuclear cruisers from the Navy as their reactor cores ran down. As Long Beach had been refueled during her 1970 refit, her third refueling was due in the early to mid-1990s. As a consequence, a decision was taken to decommission her in 1994.
A deactivation ceremony occurred on July 2nd 1994 at Norfolk Naval Station, and the ship was then towed over to Newport News Shipbuilding where her entire superstructure was removed and her reactors were defueled and removed, along with any radioactive parts. After this work was completed in the winter of 1995 the hull was towed through the Panama Canal to Puget Sound Naval Shipyard. The Long Beach was stricken on May 1st, 1995, over 33 years after she had entered service.
On July 13th, 2012, the Long Beach was sold for recycling as prescribed for nuclear-powered vessels by Code 350 of Puget Sound Naval Shipyard, Bremerton, Washington.