USS Enterprise (CVN-65)
From Canadian Power Wiki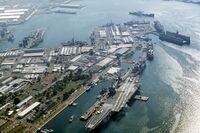 The USS Enterprise (CVN-65) is a decommissioned aircraft carrier of the United States Navy. She was the world's first nuclear-powered aircraft carrier and the eighth United States naval vessel to bear the name. Like her predecessor of World War II fame, she is nicknamed "Big E". At 1,123 feet (342.29 meters), she is the world's longest naval vessel ever built. Her 93,284-long-ton (94,781 tonnes) displacement ranked her as the 12th-heaviest carrier, after the ten carriers of the Nimitz class and the USS Gerald R. Ford. Enterprise had a crew of some 4,600 service members.
The only ship of her class, Enterprise was, at the time of inactivation, the third-oldest commissioned vessel in the United States Navy after the wooden-hulled USS Constitution and USS Pueblo.
Enterprise's home port was Naval Station Norfolk, Virginia, as of September 2015. Her second home port was Naval Air Station Alameda until its closure in 1997. When in port at NAS Alameda, she was visible to those crossing the San Francisco–Oakland Bay Bridge. She was the flagship of Fleet Admiral Chester Nimitz while he lived in Berkeley, California, until his death in 1966. Her final deployment, the last before her inactivation, began on March 10th 2015 and ended on November 4th 2015. She was inactivated on December 1st, 2015 and underwent the 48-month inactivation process that rendered her unfit for further military service (inactivation removes fuel, fluids, furnishings, tools, fittings and de-energizes the ship's electrical system). Enterprise was officially decommissioned on February 3rd, 2019 after serving for over 57 years and with the completion of an extensive terminal offload program. She was stricken from the Naval Vessel Register the same day.
She was succeeded in name by the Gerald R. Ford-class supercarrier USS Enterprise (CVN-80) which entered service in 2023.