Álvaro de Bazán-class Guided Missile Frigate
From Canadian Power Wiki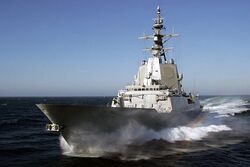 The Álvaro de Bazán-class Guided Missile Frigate (also known as the F100 class frigates) are a new class of Aegis combat system-equipped air defence frigates entering service with the Spanish Navy. They are being built in the Spanish shipyard of Navantia in Ferrol and are named after Admiral Álvaro de Bazán.
The ships are fitted with American Aegis weapons technology allowing them to track hundreds of airborne targets simultaneously as part of its air defence network. The F100 Alvaro de Bazan-class multi-role frigate is one of the few non-US warships to carry the Aegis Combat System and its associated AN/SPY-1 radar. Japan's Kongo-class, South Korea's Sejong the Great-class and Canada's Ontario-class guided missile destroyers, the F100-derived Australian Hobart-class destroyers and Norwegian Fridtjof Nansen-class frigates also use the Aegis system. Lockheed Martin, Navantia and the US Navy are conducting final systems integration.
The Alvaro de Bazan-class frigates are the first modern vessels of the Spanish Navy to incorporate ballistic resistant steel in the hull, along with the power plants being mounted on anti-vibration mounts to reduce noise and make them less detectable by submarines. The original contract for four ships was worth €1,683m but they ended up costing €1,810m. As of 2010 it was estimated that the fifth through seventh vessels, (F-105, F-106 and F-107) would cost €834m (~US$1.1bn) each.
The design of the Roger de Lauria-subclass (F105-F107) contemplates several improvements with respect to the original design of the class. It incorporates new Bravo 16V engines that increase its maximum speed and a bow thruster of 850 kW for operations in port. In weaponry and combat systems, two 25mm Mk.38 guns are added for close defense, a new electronic and submarine warfare control system, Aries surface surveillance radar, SPY-1 radar improvements, and improvements in communications and control systems. The Roger de Lauria-subclass also has an expanded hangar and flight deck that can operate the NH90 maritime helicopter.
The Block II variant of the Álvaro de Bazan-class is being offered by Navantia to the USN as an entrant in the FFG(X) program.
Specifications
[
edit
]
Type: Guided Missile Frigate
Service Period: 2002-Present
Characteristics

Length: 481.3 feet (146.7 meters)
Beam: 61.03 feet (18.6 meters)
Draught: 15.59 feet (4.75 meters)
Displacement: 6,400 tons

Crew: 250 (48 officers and 202 enlisted)
Power: 77,200 shp
Propulsion: 2 x General Electric LM2500 gas turbines, 2 x Caterpillar 3600 diesel engines
Range: 4,500 nautical miles (8,334 kilometers) at 18 knots (33.34 km/hr)
Speed: 28.5 Knots (52.79 km/hr)
Sensor Suite/Countermeasures

Lockheed Martin AN/SPY-1D(V)3-D multifunction radar
Raytheon SPS-67(V)4 surface search radar
ARIES navigation/surface radar x 2
Raytheon SPG-62 Mk.99 radar illuminator x 2
Raytheon DE1160 LF active and passive sonar
STN Atlas TASS 6-3 Towed Array Sonar

Countermeasures:

FMC SRBOC Mk36 flare launchers x 4
SLQ-25A Enhanced Nixie torpedo countermeasures
Indra SLQ-380 EW suite
Indra Mk 9500 interceptor

Armament

1 x Mark 45 Mod 2 5"/54-caliber lightweight naval gun
1 x 48-cell Mk 41 vertical launch systems (armed with 32 SM-2MR Block IIIA, 64 RIM-162 ESSM, )
1 x FABA 20mm/120 Meroka CIWS system.
4 x 12.75" Mk.32 Mod 9 double Torpedo launchers with 12 Honeywell Mk.46 mod 5 lightweight torpedoes

Aircraft Carried: 1 x SH-60 LAMPS III Seahawk
Unit Run
[
edit
]
Block I
[
edit
]
SPS Álvaro de Bazán (F101)
SPS Almirante Juan de Borbón (F102)
SPS Blas de Lezo (F103)
SPS Méndez Núñez (F104)
Block II
[
edit
]
SPS Roger de Lauria (F105)
SPS Juan de Austria (F106)
SPS Cristóbal Colón (F107)