USS Glenard P. Lipscomb (SSN-685)
From Canadian Power Wiki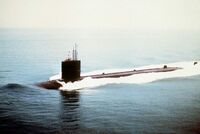 The USS Glenard P. Lipscomb (SSN-685), was a nuclear-powered attack submarine of the United States Navy.
The submarine was named after Glenard P. Lipscomb who served as a Congressman from the 24th District of California from 1953 until his death in 1970.
Glenard P. Lipscomb was the Navy's second submarine design using turbo-electric transmission (The first was USS Tullibee (SSN-597). Intended to test the potential advantages of this propulsion system for providing quieter submarine operations, with a displacement of 6,400 tons and a length of 365 feet (111.25 meters), she was heavier and larger than similar vessels with conventional drive trains, which resulted in slower speeds. Those disadvantages, along with reliability issues, led to the decision not to use the design for the follow-on Los Angeles-class submarines. Other than the engine room, the Glenard P. Lipscomb was generally similar to the Sturgeon-class, and although serving as a test platform was a fully combat-capable attack submarine.
Construction
[
edit
]
Construction of Glenard P. Lipscomb began on June 5th 1971 at the Electric Boat Company shipyard in Groton, Connecticut. The Secretary of Defense Melvin R. Laird, a long-time colleague and friend of Glenard Lipscomb, spoke at the keel-laying ceremony. Glenard P. Lipscomb was launched on August 4th 1973, sponsored by Mrs. Glenard P. Lipscomb, and was commissioned on December 21st, 1974 with Commander James F. Caldwell in command.
to be continued at a later date.