Tupolev Tu-160 Blackjack
From Canadian Power Wiki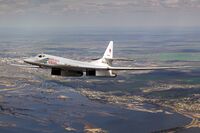 The Tupolev Tu-160 Belyy Lebed (Russian: Туполев Ту-160 Белый лебедь, translit. Belyy Lebed, lit. 'White Swan'; NATO reporting name: Blackjack) is a supersonic, variable-sweep wing heavy strategic bomber designed by the Tupolev Design Bureau in the Soviet Union. Although several civil and military transport aircraft are larger in overall dimensions, the Tu-160 is currently the world's largest combat aircraft, largest supersonic aircraft, and largest variable-sweep aircraft built. In addition, the Tu-160 has the heaviest takeoff weight of any military aircraft besides transports.
Entering service in 1987, the Tu-160 was the last strategic bomber designed for the Soviet Union. The aircraft remains in limited production, with at least forty-eight aircraft currently in service with the Russian Air Force.
Variants
[
edit
]
Tu-160: Production version.
Tu-160S: Designation used for serial Tu-160s when needed to separate them from all the pre-production and experimental aircraft.
Tu-160V: Proposed liquid hydrogen fueled version (see also Tu-155).
Tu-160 NK-74: Proposed upgraded (extended range) version with NK-74 engines.
Tu-160M: Upgraded version that features new weaponry, improved electronics and avionics, which double its combat effectiveness.
Tu-160P (Tu-161): Proposed very long-range escort fighter/interceptor version.
Tu-160PP: Proposed electronic warfare version carrying stand-off jamming and ECM gear (Russian: ПП – постановщик помех "staggering").
Tu-160R: Proposed strategic reconnaissance version.
Tu-160SK: Proposed commercial version, designed to launch satellites within the "Burlak" (Russian: Бурлак, "hauler") system.
Tu-160M2: Highly upgraded version featuring new engines, avionics, electronics, glass cockpit, communications and control systems, and a number of weapons, as well as improved thrust and unrefueled range.
Russian Federation

Russian Air Force (Currently)

Soviet Union

Soviet Union (Until December 25, 1991)

Ukraine

Ukrainian Air Force (Until 1999)
See Also
[
edit
]