Northrop Grumman RQ-4 Global Hawk
From Canadian Power Wiki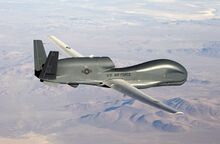 The Northrop Grumman RQ-4 Global Hawk is an unmanned aerial vehicle (UAV) surveillance aircraft. It was initially designed by Ryan Aeronautical (now part of Northrop Grumman), and known as Tier II+ during development. In role and operational design, the Global Hawk is similar to the Lockheed U-2. The RQ-4 provides a broad overview and systematic surveillance using high resolution synthetic aperture radar (SAR) and long-range electro-optical/infrared (EO/IR) sensors with long loiter times over target areas. It can survey as much as 40,000 square miles (100,000 km2) of terrain a day.
The Global Hawk is operated by the United States Air Force and U.S. Navy. It is used as a high-altitude platform for surveillance and security. Missions for the Global Hawk cover the spectrum of intelligence collection capability to support forces in worldwide military operations. According to the United States Air Force, the superior surveillance capabilities of the aircraft allow more precise weapons targeting and better protection of friendly forces. Cost overruns have led to the original plan to acquire 63 aircraft being cut to 45, and to a 2013 proposal to mothball the 21 Block 30 signal-intelligence variants. Each aircraft was to cost $35 million USD in 2005, but this had risen to $222.7M per aircraft (including development costs) by 2013. The U.S. Navy has developed the Global Hawk into the MQ-4C Triton version for maritime surveillance.
RQ-4A: Initial production version for the USAF, 16 built.
RQ-4B: Improved version with increased payload, wingspan increased to 130.9 feet (39.9 meters) and length increased to 47.7 feet (14.54 meters). Due to the increased size and payload the range is reduced to 8,700 nautical miles (16,112 kilometers).
MQ-4C Triton: For USN Broad Area Maritime Surveillance (BAMS) role; previously known as the RQ-4N; 4 ordered, 88 total planned.
RQ-4D: NATO Alliance Ground Surveillance (AGS).
RQ-4E Eurohawk: Version for Germany based on RQ-4B and equipped with an EADS reconnaissance payload for SIGINT. Five built
EQ-4B: Equipped with the Battlefield Airborne Communications Node (BACN) system.
KQ-X: Proposed autonomous tanker variant of the Global Hawk.
Model 396: Scaled Composites and Northrop Grumman also offered an armed, 50% smaller version of the RQ-4A, known as the Scaled Composites Model 396, as part of the USAF Hunter-Killer program. The aircraft was rejected in favor of the MQ-9 Reaper.
Australia

Royal Australian Air Force

Canada

Royal Canadian Air Force
Transport Canada

Japan

Japan Air Self-Defense Force

Republic of Korea

Republic of Korea Air Force

New Zealand

Royal New Zealand Air Force

Romania
Spain
United States

United States Air Force
United States Navy