Vikrant-class Aircraft Carrier
From Canadian Power Wiki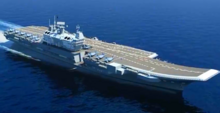 The Vikrant-class (formerly Project 71 Air Defence Ship (ADS) or Indigenous Aircraft Carrier (IAC)) are a class of three aircraft carriers being built for the Indian Navy. The two vessels are being built by Cochin Shipyard Limited (CSL), they are the largest warships as well as the first aircraft carriers to be designed and built in India.
The first ship of the class INS Vikrant will displace about 40,000 metric tons (39,000 long tons), be 262.13 metres (860 ft) long and have a tailored air group of up to forty-two fixed wing aircraft and helicopters.
Preparations for building the lead vessel of the class started in 2008, and the keel was laid in February 2009. The carrier was floated out of its dry dock on December 29th, 2011. The scale and complexity of the project caused problems which delayed the commencement and timeline of construction for the carrier. Technical difficulties, the huge cost of refitting the Russian-built carrier ex-Admiral Gorshkov, and billions in cost overruns has seen the lead vessel now entering service in 2017 rather than a previous in service date of 2014. Additional problems which led to the delay included the inability of Russia to supply the AB/A grade steel. Finally, the DMRL and SAIL created facilities to manufacture the carrier-grade steel in India.
In 2016, Cochin Shipyard began work on a second Vikrant-class aircraft carrier, INS Viraat, the successor to the ex-RN Centaur-class carrier lost in the 2008 Indian Ocean War.
Type: Aircraft Carrier
Service Period: 2021-
Characteristics

Length: 860 feet (262.13 meters)
Beam: 200 feet (60.96 meters)
Draught: 28 feet (8.54 meters)
Depth: 84 feet (25.6 meters)
Displacement: 40,000 tons

Crew: 1,400
Propulsion: 4 x General Electric LM2500+ gas turbines, 2 x shafts, 162,000 shp (121,500 kW)
Range: 8,000 nautical miles (14,816 kilometers)
Speed: 30 knots (55.56 km/hr)
Sensor Suite

Selex RAN-40L L-Band Long Range Air Search AESA Radar
EL/M-2248 MF-STAR C-Band Air/Surface Search AESA Radar

Armament

4 x Otobreda 76mm naval guns
2 x 32-cell VLS (Fires Barak-1 and Barak-8 SAMs)
1 x 30mm AK-630 CIWS

Air Wing: 44 fixed wing aircraft and helicopters
Aviation Facilities: 10,000 m2 flight deck with ski jump