Vanguard-class Nuclear Ballistic Missile Submarine
From Canadian Power Wiki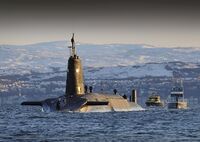 The
Vanguard-class
is a class of nuclear-powered ballistic missile submarines (SSBNs) in service with the
Royal Navy
. The class was introduced in 1994 as part of the Trident nuclear program, and includes four boats:
Vanguard
,
Victorious
,
Vigilant
and
Vengeance
. They were built between 1986 and 1999 at Barrow-in-Furness by Vickers Shipbuilding and Engineering, which is now owned by BAE Systems. All four boats are based at HM Naval Base Clyde (HMS Neptune), 25 miles (40.23 kilometers) west of Glasgow, Scotland.
Since the decommissioning of the Royal Air Force WE.177 free-fall thermonuclear weapons in 1998, the four Vanguard-class submarines are the sole platforms for the United Kingdom's nuclear weapons. Each submarine is armed with up to 16 UGM-133 Trident II missiles. The class is scheduled to be replaced starting 2028, though its replacement would not enter service until early 2030s.
Specifications
[
edit
]
Type: Nuclear powered Ballistic Missile Submarine
Service Period: 1993-Present
Characteristics:

Length: 491 feet 10 inches (149.91 meters)
Beam: 42 feet (12.8 meters)
Draught: 39 feet 4 inches (12 meters)
Displacement: 15,600 tons (Submerged)

Crew: 135
Propulsion:

1 x Rolls Royce PWR2 pressurized water reactor, 2 x GEC steam turbines, 1 x single-shaft pump jet, 55,000 shp (41 MW)
2 x auxiliary retractable propulsion motors
2 x WH Allen turbo generators, 6 MW
2 x Paxman diesel alternators, 2,700 shp (2 MW)

Range: Unlimited
Speed: 30+ knots (55.56+ km/h)
Sensor Suite:

Type 1007 I-Band Navigation Radar
Type 2054 Composite Sonar

Type 2043 Active/Passive Search Sonar
Type 2082 Passive Ranging/Intercept Sonar
Type 2046 Towed Array Sonar

CK51 Search Periscope
CH91 Attack Periscope

Countermeasures:

UAP Mk.III ESM Suite
2 x SSE Mk.X Decoy Launchers (fires Type 2066/2071 Decoys

Armament:

4 x 21" torpedo tubes (fires Spearfish heavyweight torpedoes)
16 x Ballistic Missile Tubes (fires Lockheed UGM-133 Trident II SLBMs)
Unit Run
[
edit
]
HMS Vanguard (S28)
HMS Victorious (S29)
HMS Vigilant (S30)
HMS Vengeance (S31)