Udaloy-class Guided Missile Destroyer
From Canadian Power Wiki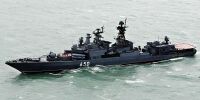 The
Udaloy I-class
are a series of anti-submarine destroyers built for the Soviet Navy, ten of which are currently in service with the
Russian Navy
while the remaining seven are at various stages of refit. The Russian designation is
Project 1155 Fregat
(Frigate bird).
Fourteen ships were built between 1980 and 1991, while the fifteenth through seventeenth ships were built to a modified design as the Udaloy II-class followed in 1999. All fifteen ships are expected to be in service by the end of 2014.
It complements the Sovremenny-class destroyers in anti-aircraft warfare and anti-surface warfare operations.
In 2002, the Russian government offered up a heavily modified version of their Udaloy II-class to the Canadian Forces, though it was rejected on the grounds of having too small of a helicopter deck, too many new systems, and it could not use many of the weapons in the Canadian arsenal.
Specifications
[
edit
]
Udaloy I-class
[
edit
]
Type: Destroyer
Service Period: 1980-Present
Characteristics:

Length: 534 feet 9 inches (162.99 meters)
Beam: 63 feet 4 inches (19.3 meters)
Draft: 20 feet 4 inches (6.2 meters)
Displacement:

Crew: 300
Propulsion: 2 shaft COGAG, 4 gas turbines, 120,000 hp
Range: 10,500 nautical miles (19,446 kilometers) at 14 knots (25.93 km/h)
Speed: 35 knots (64.82 km/h)
Sensor Suite:

MR-760MA Fregat-MA/Top Plate 3-D air search radar
MR-320M Topaz-V/Strut Pair air/surface search radar
Horse Tail LF VDS sonar
Horse Jaw bow mounted LF sonar
MR-360 Podkat/Cross Sword SA-N-9 SAM fire control radar x 2
3P37/Hot Flash SA-N-11 SAM fire control radar x 2
Garpun-BAL SSM targeting radar

Countermeasures:

Bell Squat jammer
Bell Shroud intercept
Bell Crown intercept
PK-10 decoy RL x 10

Armament:

2 x 100mm/L70 dual purpose naval guns
8 x SS-N-14 Silex anti submarine missiles (2x4)
64 x SA-N-9 Gauntlet surface to air missiles (8x8)
2 x Kortik SAM
2 x 21" quad fire torpedo tubes
2 x RBU-6000 anti submarine rocket launchers
4 x 30mm anti-aircraft guns

Aircraft Carried: 2 x Kamov Ka-27 "Helix"
Aviation Facilities: Helicopter Deck and Hangar
Udaloy II-class
[
edit
]
Type: Destroyer
Service Period: 1999-Present
Characteristics:

Length: 534 feet 9 inches (162.99 meters)
Beam: 63 feet 4 inches (19.3 meters)
Draft: 20 feet 4 inches (6.2 meters)
Displacement:

Crew: 300
Propulsion: 2 shaft COGAG, 4 gas turbines, 120,000 hp
Range: 10,500 nautical miles (19,446 kilometers) at 14 knots (25.93 km/h)
Speed: 35 knots (64.82 km/h)
Sensor Suite:

MR-760MA Fregat-MA/Top Plate 3-D air search radar
MR-320M Topaz-V/Strut Pair air/surface search radar
Horse Tail LF VDS sonar
Horse Jaw bow mounted LF sonar
MR-360 Podkat/Cross Sword SA-N-9 SAM fire control radar x 2
3P37/Hot Flash SA-N-11 SAM fire control radar x 2
Garpun-BAL SSM targeting radar

Countermeasures:

Bell Squat jammer
Bell Shroud intercept
Bell Crown intercept
PK-10 decoy RL x 10

Armament:

2 x AK-130 130mm/L70 dual purpose naval guns
64 x SA-N-9 Gauntlet surface to air missiles (8x8)
2 x Kortik SAM
8 x SS-N-22 Sunburn ASCM (2x4)
2 x 21" quad fire torpedo tubes
20 x RBU-Udav ASW RL (2x10)
4 x AK-630 30mm CIWS

Aircraft Carried: 2 x Kamov Ka-27 "Helix"
Aviation Facilities: Helicopter Deck and Hangar
Unit Run
[
edit
]
Udaloy I
[
edit
]
RFK Udaloy
RFK Vice Admiral Kulakov
RFK Marshal Vasilyevsky
RFK Admiral Zakharov
RFK Admiral Spiridonov
RFK Admiral Tributs
RFK Marshal Shaposhnikov
RFK Simferopol
RFK Severomorsk
RFK Khabarovsk
RFK Admiral Levchenko
RFK Admiral Vinogradov
RFK Admiral Kharlamov
RFK Admiral Panteleyev
Udaloy II
[
edit
]
RFK Admiral Chabanenko
RFK Admiral Basisty
RFK Admiral Kucherov