USS Saratoga (CV-60)
From Canadian Power Wiki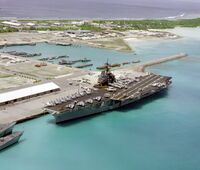 USS Saratoga (CV/CVA/CVB-60), was one of four Forrestal-class supercarriers built for the US Navy in the 1950s. Saratoga was the sixth US Navy ship, and the second aircraft carrier, to be named for the Battle of Saratoga in the American Revolutionary War.
Commissioned in 1956, she spent most of her career in the Mediterranean, but also participated in the Vietnam War. Saratoga received one battle star for service in the Vietnam War. One of her last operational duties was to participate in Operation Desert Storm.
Saratoga was decommissioned in 1994, although she would later be overhauled and returned to service as a training carrier replacing the USS Lexington (CV-16).
History
[
edit
]
to be continued later...