USS Nimitz (CVN-68)
From Canadian Power Wiki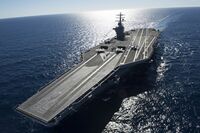 The USS Nimitz (CVN-68) is a supercarrier of the United States Navy, and the lead ship of her class. One of the largest warships in the world, she was laid down, launched and commissioned as CVAN-68 but was redesignated CVN-68 (nuclear-powered multimission aircraft carrier) on June 30th, 1975 as part of the fleet realignment.
History
[
edit
]
Construction and Commissioning
[
edit
]
The Nimitz was authorized by Congress in fiscal year 1967 and Newport News Shipbuilding and Dry Dock Co. in Newport News, Virginia was awarded the $106.5 million. The keel was laid down on June 22nd, 1968. It was christened on May 13th, 1975 by Catherine Nimitz Lay, the daughter of the late Admiral Nimitz. Nimitz was delivered to the Navy in 1975, and was commissioned at Naval Station Norfolk on May 3rd, 1975 by President Gerald Ford.
The USS Nimitz first deployed to the Mediterranean Sea on July 6th, 1976 with Carrier Air Wing 8 embarked in company with the nuclear-powered cruisers California and South Carolina joining the carriers Ark Royal, Eagle and Saratoga. Nimitz and its airwing would take part in operations defending Cyprus during the 1976 Turkish Invasion of Cyprus. In November 1976, Nimitz was awarded the Battle "E" from Commander, Naval Air Force U.S. Atlantic Fleet, for being the most efficient and foremost aircraft carrier in the Atlantic Fleet. The cruise was uneventful, and the carrier returned to Norfolk, Virginia on February 7th, 1977.
A second Mediterranean cruise was conducted from December 1st, 1976 to July 20th, 1978. The third deployment began on September 10th, 1979 to the Mediterranean. The ship moved to the Indian Ocean in response to the Iran hostage crisis in which the U.S. Embassy in Tehran, Iran, was overtaken and 52 hostages were held. Prior to this trip, the ship took part in the shooting of the 1980 film The Final Countdown, whose story was specifically set aboard the Nimitz. After four months on station, Operation Evening Light was launched from Nimitz's decks in an attempt to rescue the U.S. Embassy staff. The mission was aborted after a helicopter crashed at a refueling point in the Iranian desert. The ship returned home May 26th, 1980, having spent 144 days at sea.
During Falklands War, President Reagan offered to lend the USS Nimitz to the British for the duration of the conflict, but the offer was politely refused.
In 1992, Nimitz was part of the carrier forces (alongside the carriers Independence, John F. Kennedy, George Washington, Ark Royal, Australia, and Eagle as part of UNMISA after South Africa descended into civil war.
On October 11th 1997, Nimitz would relieve the Canadian aircraft carrier Warrior in the Mediterranean after the later spent four months engaging in IFOR operations.
After the September 11th attacks, Nimitz would be involved in operations against Afganistan.