Tromp-class Frigate
From Canadian Power Wiki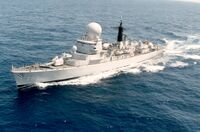 The Tromp-class were two frigates built for the Royal Netherlands Navy during the 1970s to replace the De Zeven Provinciën-class cruisers as squadron flagships.
The Tromp-class frigates entered service in 1975 and 1976 and served until 2007 and 2008. Both ships were built by Royal Schelde Shipyard in Flushing (Vlissingen). The ships served as fleet flagships and area air defence vessels. Their 3D radar under a large polyester radome, gave the ships the nickname "Kojak" in the Netherlands Navy. Originally the ships were to have the British Sea Dart missile system, but this was changed to the more compact American Standard SAM.
The ships were replaced by the De Zeven Provinciën-class frigates. A total of four new frigates have been built, including two also named HNLMS Tromp (F803) and HNLMS De Ruyter (F804).
Type: Frigate
Service Period: 1975-2008
Characteristics:

Length: 437 feet (133.2 meters)
Beam: 48 feet 7 inches (14.81 meters)
Draught: 21 feet 8 inches (6.6 meters)
Displacement: 3,665 tons (Standard); 4,308 tons (Full Load)

Crew: 306
Propulsion: COGOG, 2 shafts

2 x Rolls Royce TM3B Olympus gas turbines, 54,000 shp
2 x Rolls Royce RM1C Tyne gas turbines, 8,200 shp

Range: 5,000 nautical miles (9,260 kilometers) at 18 knots (33.34 km/h)
Speed: 28-30 knots (51.86-55.56 km/h)
Sensor Suite:

AN/SPS-01 3D Air Search Radar x 1
Decca 1226 Navigation Radar x 2
WM-25 Fire Control Radar x 1
AN/SPG-51C SAM Fire Control Radar x 2
CWE-610 Hull Sonar
Type 162 Towed Array Sonar

Countermeasures:

RAMSES Electronic Warfare System
Mk.36 SBROC

Armament:

2 x Bofors 120mm naval guns
1 x Mk.13 single-arm launcher (fires fourty RIM-66 Standard SAMs)
1 x Mk.29 NSSM Launcher
2 x Mk.141 SSM Launchers (fires eight RGM-84 Harpoon AShMs)
2 x Mk.32 12.75" triple fire torpedo tubes
1 x 30mm Goalkeeper short-range defence-system

Aircraft Carried: 1 x Westland Lynx Mk.25/27/81/SH-14D maritime helicopter
Aviation Facilities: Landing pad and hangar
HNLMS Tromp (F801)
HNLMS De Ruyter (F806)