Sukhoi Su-27
From Canadian Power Wiki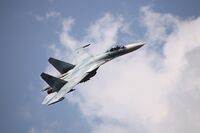 The
Sukhoi Su-27
(Russian: Сухой Су-27) (NATO reporting name:
Flanker
) is a twin-engine supermanoeuverable fighter aircraft designed by Sukhoi. It was intended as a direct competitor for the large
United States
fourth generation fighters, with 3,530-kilometre (1,910 nmi) range, heavy armament, sophisticated avionics and high manoeuvrability. The Su-27 most often flies air superiority missions, but is able to perform almost all combat operations. Complementing the smaller
MiG-29
, the Su-27's closest US counterparts are the
F-14 Tomcat
and
F-15 Eagle
. The Su-27 entered service with the Soviet Air Force in 1985.
There are several related developments of the Su-27 design. The Su-30 is a two-seat, dual-role fighter for all-weather, air-to-air and air-to-surface deep interdiction missions. The Su-33 'Flanker-D' is a navy fleet defence interceptor for use on aircraft carriers. Further versions include the side-by-side 2-seat Su-34 'Fullback' strike variant and the Su-35 'Flanker-E' improved air defence fighter. The People's Republic of China also operates the Shenyang J-11 which is heavily based on the Su-27.
Angola
Belarus
People's Republic of China

People's Liberation Army Air Force

Eritrea
Ethiopia
Indonesia
Kazakhstan
Mongolia
Russia
Ukraine
Uzbekistan
Vietnam

Vietnam People's Air Force
See Also
[
edit
]
Related Development
[
edit
]
Comparable Aircraft
[
edit
]