Sukhoi Su-24
From Canadian Power Wiki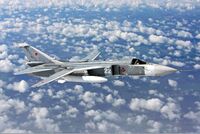 The Sukhoi Su-24 (NATO reporting name: Fencer) is a supersonic, all-weather attack aircraft developed in the Soviet Union. This variable-sweep wing, twin-engined side-by-side two-seater carried the USSR's first integrated digital navigation/attack system. It remains in service with former Soviet air forces and various air forces to which it was exported.
Sukhoi S-6: An early project in the gestation of the Su-24, like a meld of the Su-7 and Su-15.
Sukhoi T6-1: The initial prototype with cropped delta wings and 4 RD-36-35 lift engines in the fuselage.
Sukhoi T6-2I/3I/4I: Prototypes for the variable geometry Su-24 production aircraft.
Sukhoi Su-24: The first production version, the armaments include Kh-23 and Kh-28 type air-to-ground guided missiles, together with R-55 type air-to-air guided missiles. Manufactured 1971–1983.
Sukhoi Su-24M: Work on upgrading the Su-24 was started in 1971, and included the addition of inflight refueling and expansion of attack capabilities with even more payload options. T-6M-8 prototype first flew on June 29th 1977, and the first production Su-24M flew on June 20th 1979. The aircraft was accepted into service in 1983. Su-24M has a 0.76 m (30 in) longer fuselage section forward of the cockpit, adding a retractable refueling probe, and a reshaped, shorter radome for the attack radar. It can be identified by the single nose probe in place of the three-part probe of earlier aircraft. A new PNS-24M inertial navigation system and digital computer were also added. A Kaira-24 laser designator/TV-optical quantum system (similar to the American Pave Tack) was fitted in a bulge in the port side of the lower fuselage, as well as Tekon track and search system (in pod), for compatibility with guided weapons, including 500 and 1,500kg laser-guided bombs and TV-guided bombs, and laser/TV-guided missiles Kh-25 and Kh-29L/T, anti-radar missiles Kh-58 and Kh-14 (AS-12 'Kegler') and Kh-59 (AS-13 'Kingbolt')/Kh-59M TV-target seeker guided missiles. The new systems led to a reduction in internal fuel amounting to 85 l (22.4 US gal). Su-24M was manufactured in 1981–1993.
Sukhoi Su-24M2: Next modernization of Su-24M introduced in 2000 with the "Sukhoi" program and in 1999 with the "Gefest" program. The modernized planes are equipped with new equipment and systems. As a result, they get new capabilities and improved combat efficiency, including new navigation system (SVP-24), new weapons control system, new HUD (ILS-31, like in Su-27SM or KAI-24) and expanding list of usable munitions (Kh-31A/P, Kh-59MK, KAB-500S). The last batch of the Sukhoi was delivered to the Russian VVS in 2009. Modernization continues with the program "Gefest". All frontline bombers Su-24 in the Central Military District received new sighting and navigation systems SVP-24 in 2013.
Sukhoi Su-24MK: Export version of the Su-24M with downgraded avionics and weapons capabilities. The Su-24MK's first flight was on May 30th 1987 as T-6MK, and on May 17th 1988 as th Su-24MK. Manufactured 1988–1992, sold to Algeria, Iran, Iraq, Libya, and Syria.
Sukhoi Su-24MR: Dedicated tactical reconnaissance variant. The Su-24MR's first flight was on July 25th 1980 as the T-6MR-26, and on April 13th 1983 as the Su-24MR. It entered service in 1983. Su-24MR retains much of the Su-24M's navigation suite, including the terrain-following radar, but deletes the Orion-A attack radar, the laser/TV system, and the cannon in favor of two panoramic camera installations, 'Aist-M' ('Stork') TV camera, RDS-BO 'Shtik' ('Bayonet') side-looking airborne radar (SLAR), and 'Zima' ('Winter') infrared reconnaissance system. Other sensors are carried in pod form. Manufactured 1983–1993.
Sukhoi Su-24MP: Dedicated electronic signals intelligence (ELINT) variant, intended to replace the Yak-28PP 'Brewer-E'. First flight March 14th 1980 as T-6MP-25, April 7th 1983 as Su-24MP. The Su-24MP has additional antennas for intelligence-gathering sensors and radar jamming, omitting the laser/TV fairing, but retaining the cannon and provision for up to four R-60 (AA-8) missiles for self-defense. Only ten were built.
Algeria
Argentina
Azerbaijan

Azerbaijani Air and Air Defence Force

Iran

Islamic Republic of Iran Air Force

Iraq
Libya
Russia

Russian Air Force
Russian Naval Aviation

Sudan
Syria
Turkmenistan
Ukraine