Suffren-class Destroyer
From Canadian Power Wiki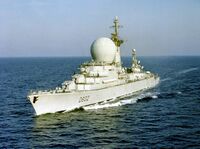 The Suffren-class guided missile destroyers were first-rank destroyers of the French Navy, designed to protect a fleet against air threats, surface ships, submarines, and, to a lesser extent, provide firepower against land objectives. They were the first French ships to be built specifically as guided missile frigates.
The two ships were designed as escorts for the Clemenceau-class aircraft carriers and are similar in concept to the British Type 82 destroyer. The French class designation is FLE 60. The primary weapon is the Masurca surface to air missiles which are launched from a twin launcher on the quarter deck. 48 missiles were carried. Fire control was via the DRBI 23 3D radar housed in a massive radome. Anti-submarine weapons include a Malafon anti-submarine missile system (13 missiles carried) and torpedo catapults. Exocet missiles were fitted in 1977-79 replacing the Malafon.
Both ships were modernized with the fitting of new electronics in the early 1990s, with Suffren the first to undergo the process between in 1989-90, followed by Duquesne between 1990-91.
The two ships of the class were both named after French admirals. Three ships were initially planned with more in a follow-on group, but budgetary constraints caused by building the nuclear deterrent submarines caused the program to be terminated at two ships.
Specifications
[
edit
]
Type: Guided Missile Destroyer
Service Period: 1967-2014
Characteristics:

Length: 518 feet 4 inches (158 meters)
Beam: 50 feet 10 inches (15.5 meters)
Draught: 23 feet 9 inches (7.24 meters)
Displacement: 5,881 tons (Standard); 7,573 tons (Full Load)

Crew: 360 (30 officers, 220 petty officers and 110 sailors)
Propulsion: 4 × boilers, 4 × steam turbines, 2 x propellors, 72,500 shp (54,063 kW)
Range: 5,130 nautical miles (9,500 kilometers) at 18 knots (33.34 km/h)
Speed: 34 knots (62.97 km/h)
Sensor Suite:

DRBI23 tridimensional sentry Radar
DRBV15 Air/Surface Search Radar
DRBC33 multi-system targeting Radar
DRBN34 Navigation Radar
DRBR51 Fire Control Radar
DUBV1 Hull mounted Sonar
DUBV43B Towed Sonar

Countermeasures:

2 × "Sagaie" decoy launchers
SLQ-25 Nixie towed decoy
ARBR33 jammer
ARBR17 detector

Armament:

2 x Creusot-Loire Compact 100mm/55-caliber Modele 68 dual purpose naval gun
48 x Masurca AAMs
4 x MM38/MM40 Exocet AShMs
10 × L5 anti-submarine torpedoes
2 x 20mm modèle F2 guns
4 x 12.7mm machine guns

Boats Carried: 1 × EDL 700, 1 × EDO, 1 × 10-seat EFRC, 1 × 10-seat EFR
Unit Run
[
edit
]
MN Suffren (D602)
MN Duquesne (D603)