Santa Maria-class Guided Missile Frigate
From Canadian Power Wiki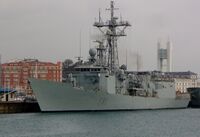 The
Santa Maria-class guided missile frigates
are the
Spanish Navy's
designation for six locally-built warships based on the
Oliver Hazard Perry-class frigates
of the
United States Navy
.
Built in two batches, second batch units (F-85&86) received some improvements, such as an improved combat-data system, updated SPS-49 and SQR-19 sets, and a new Meroka mount. The Mk92Mod6 CORT replaced the previous Mod4, providing better capabilities against sea skimmers. The EW suite was also updated.
Spanish ships have a slightly bigger beam and were built with a greater weight reserve for future improvements. Other changes, from the basic model, include Meroka replacing Phanlanx and a RAN-12L air search radar to provide low horizon coverage against sea skimmers cueing the Meroka CIWS mount. The Nettunel EW suite (based on the Italian Nettuno built in Spain) replaced the SLQ-32 system fitted aboard US ships.
The class is currently receiving a mid-life update (MLU), including a new EW suite, improved combat-data system, an upgrade of the Mk92 FCS, new electrical generators, the removal of the SQR-19 TACTASS towed array and habitability improvements. Four ships have already been modernized.
Specifications
[
edit
]
Type: Guided Missile Frigate
Service Period: 1986-Present
Characteristics:

Length: 455 feet 5 inches (138.81 meters)
Beam: 46 feet 11 inches (14.3 meters)
Draft: 28 feet 3 inches (8.61 meters)
Displacement: 2,851 long tons (2,897 t) light; 3,610 long tons (3,668 t) standard; 4,177 long tons (4,244 t) full load

Crew: 176
Propulsion:

2 x General Electric LM2500-30 gas turbines generating 41,000 shp (31 MW) coupled to a single shaft and controllable pitch propeller
2 × Auxiliary Propulsion Units, 350 hp (260 kW) retractable electric azimuth thrusters for maneuvering and docking

Range: 4,500 nautical miles (8,334 kilometers) at 20 knots (37.04 km/h)
Speed: 30 knots (55.56 km/h)
Sensor Suite:

AN/SPS-49(V)4/5 2D Air Search Radar
Meroka RAN-30 2D Low Horizon Air Search Radar
AN/SPS-55 Surface Search Radar
AN/SPG-60 STIR Missile Control
AN/SQS-56 Hull Mounted Sonar
AN/SQS-19(V)2 Towed Array Sonar
AN/SQQ-89 ASW Suite
Mk.13 Weapons Control System
Mk.92 Fire Control System

Countermeasures:

Nettunel Mk-3000 Electronic Warfare Suite
AN/SLQ-25 Nixie
Mk.36 SBROC decoy launchers

Armament:

1 x OTO Melara 76mm/62-caliber Mk.75 naval gun
1 x Mk.13 Mod 4 Single Arm Missile Launcher (fires RIM-66 SM-1MR SAMs and RGM-84 Harpoon AShMs)
2 x Mk.32 Mod 5 Triple fire torpedo tubes (fires Mk.46 Mod 5 torpedoes)
1 x 20mm/120-caliber Meroka 12 barrel AA system

Aircraft Carried: 1-2 x SH-60 Seahawk LAMPS III maritime helicopters
Unit Run
[
edit
]
SPS Santa Maria (F81)
SPS Victoria (F82)
SPS Numancia (F83)
SPS Reina Sofía (F84)
SPS Navarra (F85)
SPS Canarias (F86)