Sachsen-class Frigate
From Canadian Power Wiki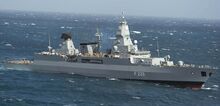 The F124 Sachsen-class is Germany's latest class of highly advanced air-defense frigates. The design of the Sachsen-class frigate is based on that of the F123 Brandenburg-class but with enhanced stealth features intended to deceive any opponent's radar and acoustic sensors and incorporate also the advanced multifunction radar APAR as well as the SMART-L long-range radar which is claimed to be capable of detecting stealth aircraft and stealth missiles. Although designated as frigates, they are in capability and size comparable to destroyers.
At €2.8 billion for only four ships, this was one of the most expensive ship building programs of the German Navy. They are similar to the Dutch De Zeven Provinciën-class frigates. Both the Sachsen-class and the De Zeven Provinciën-class frigates are based on the use of a common primary anti-air warfare system built around the APAR and SMART-L radars and the area-defence SM-2 Block IIIA and point-defence Evolved Sea Sparrow Missile (ESSM) surface-to-air missiles.
In June 1996 the German government contracted for three ships with an option on a fourth that was provisionally to have been named as the BMS Thüringen, which was taken up in February 2002.
The F124-class frigates are larger and much more capable in all aspects than the Lütjens-class destroyers, which they replaced.
Type: Guided Missile Frigate
Service Period: 2003-Present
Characteristics

Length: 469 feet 2 inches (143 meters)
Beam: 57 feet 3 inches (17.45 meters)
Draft: 16 feet 5 inches (5.0 meters)
Displacement: 5,690 tons (Full Load)

Crew: 243
Propulsion:

CODAG (combined diesel and gas)
2 x propeller shafts, controllable pitch propellers
2 x MTU V20 diesel engines, 7.4 MW each
1 x General Electric LM2500 gas turbine
2 x Renk ASM 195 F gearboxes (for the diesel engines)
1 x Renk AS 2/290 gearbox (gas turbine and cross connection)
4 x 1000 kW Deutz 16/628 diesel-generators

Range: 4,400 nautical miles (8,150 kilometers) at 18 knots (33.34 km/h)
Speed: 30 knots (55.56 km/hr)
Sensor Suite:

1 x Thales Nederland SMART-L long-range air and surface surveillance radar (D band)
1 x Thales Nederland APAR air and surface search, tracking and guidance radar (I band)
1 x Thales Nederland Sirius IRST long-range infrared surveillance and tracking system
2 x STN Atlas 9600-M multi-function I/J band ARPA radars
1 x STN Atlas MSP 500 electro-optical fire control system
1 x STN Atlas DSQS-24B bow sonar

Countermeasures:

1 x FL 1800 S II ECM suite
6 x Sippican Hycor SRBOC launcher

Armament:

1 x OTO-Melara 76mm/62-caliber naval gun
2 x Mauser MLG-27 27mm guns
1 x 32-cell Mk.41 VLS (fires RIM-156 SM-2ER Block IV and RIM-162 ESSM)
2 x 4-cell Mk.141 Launchers (fires RGM-84 Harpoon and RBS.15 AShMs)
2 x 12.75" Mk.32 triple torpedo tubes (fires Eurotorp MU90 Impact torpedoes)
2 x 21-cell Mk.49 SAM Launchers (fires RIM-116 Rolling Airframe Missiles)

Aircraft Carried: 1 x Westland Lynx Mk.88 or NHIndustries NH-90 Sea Lion maritime helicopter
BMS Sachsen (F219)
BMS Hamburg (F220)
BMS Hessen (F221)
BMS Thüringen (F222)