RFK Admiral Kuznetsov (113)
From Canadian Power Wiki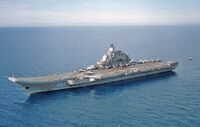 RFK Admiral Flota Sovetskogo Soyuza Kuznetsov (113) (Russian: Адмирал флота Советского Союза Кузнецов "Fleet Admiral of the Soviet Union Kuznetsov") was built by the Black Sea Shipyard in Mykolaiv, Ukraine which is the only manufacturer of the Soviet/Russian aircraft carriers. The initial name of the ship was Riga; she was launched as Leonid Brezhnev, embarked on sea trials as Tbilisi, and finally named Kuznetsov. It is an aircraft cruiser (heavy aircraft carrying missile cruiser (TAVKR) in Russian classification) serving as the flagship of the Russian Navy.
She was originally commissioned in the Soviet Navy, and was intended to be the lead ship of her class, but the only other ship of her class, Varyag, was never completed or commissioned by the Soviet, Russian or Ukrainian navy. Later, the hull was sold to the People's Republic of China by Ukraine, completed in Dalian and launched as the Liaoning. The Admiral Kuznetsov was named after the Admiral of the Fleet of the Soviet Union Nikolai Gerasimovich Kuznetsov.
Specifications
[
edit
]
Type: Aircraft Carrier (officially it's a Heavy Aircraft Carrying Missile Cruiser)
Service Period: 1995-Present
Characteristics

Length (Overall): 1,001 feet (305.1 meters)
Length (Waterline): 890 feet (271.27 meters)
Beam (Overall): 236 feet (71.94 meters)
Beam (Waterline): 115 feet (35.05 meters)
Draft: 33 feet (10.06 meters)
Displacement: 43,000 tons (Standard); 55,200 tons (Full Load); 61,390 tons (Max Load)

Crew: 2,356 (1,690 ship crew, 626 air crew, and 40 flag staff)
Endurance: 45 days
Range: 8,500 nautical miles (15,742 kilometers) at 18 knots (33.34 km/h)
Speed: 29 knots (53.71 km/h)
Propulsion:

4 x shafts
4 x fixed pitch props
4 x TV12 geared turbines x 50,000 hp = 200,000 shp
8 x turbo pressurized boilers providing 200,000 shp
9 x 2,011 hp / 1500 kW turbo generators
6 x 2,011 hp / 1500 kW diesel generators

Range: 8,500 nautical miles (15,742 kilometers) at 18 knots (33.34 km/h)
Speed: 32 knots (59.26 km/h)
Sensor Suite:

MR-710 Fregat-MA/Top Plate 3D Air/Surface Search Radar
MR-320M Topaz/Strut Pair 2D Air/Surface Search Radar x 2
Palm Frond Navigation Radar x 3
MR-360 Podkat/Cross Sword SA-N-9 Fire Control Radar x 4
3P37/Hot Flash SA-N-11 Fire Control Radar x 8
Fly Trap B Aircraft Control Radar
Zvezda-2 search and attack sonar [medium and low frequency bands]
MGK-345 Bronza/Ox Yoke hull mounted sonar

Armament:

8 x Kashtan CIWS mounts
6 x AK-630 AA guns
12 × P-700 Granit SSM
18 × 8-cell 3K95 Kinzhal SAM VLS (192 missiles; 1 missile per 3 seconds)
RBU-12000 UDAV-1 ASW rocket launchers (60 rockets)

Aircraft Carried: 48 fixed wing aircraft and helicopters
History
[
edit
]
Admiral Flota Sovetskovo Soyuza Kuznetsov, constructed at Nikolayev South Shipyard in Mykolaiv, Ukrainian SSR, was launched in 1985, and became fully operational in 1995. An official ceremony marking the start of construction took place on September 1st, 1982; in fact she was laid down in 1983. The vessel was first named Riga, then the name was changed to Leonid Brezhnev, this was followed by Tbilisi. Finally, on October 4th 1990, she was renamed Admiral Flota Sovetskovo Soyuza Kuznetsov, referred to in short as Admiral Kuznetsov. The ship was 71% complete by mid-1989. In November 1989 she undertook her first aircraft operation trials. In December 1991, she sailed from the Black Sea to join the Northern Fleet. Only from 1993 on did she receive aircraft.
1995-1996 Mediterranean Deployment
[
edit
]
From December 23rd 1995 through March 22nd 1996, Kuznetsov made its first 90-day Mediterranean deployment with thirteen Su-33, two Su-25UTG, and eleven helicopters aboard. This cruise marked the 300th anniversary of the Russian Navy celebrated in 1996. During that period the carrier lay at anchor at sea off the port of Tartus, Syria. While in the Mediterranean her aircraft, mainly Su-33 fighters, made flights close to the Israeli shore line and were intercepted by Israeli F-16C Baraks.
1997-1998
[
edit
]
At the end of 1997 she remained immobilized in a Northern Fleet shipyard, awaiting funding for major repairs, which were halted when they were only 20% complete. The overhaul was completed in July 1998, and the ship returned to active service in the Northern fleet on 3 November 1998.
In late 2003 and early 2004, Kuznetsov went to sea for inspection and trials. In late October 2004, she participated in a fleet exercise of the Russian Navy in the Atlantic Ocean, and again in September 2005. During the 2005 exercise, one of her Su-33 fighters was involved in an accident, and fell from the carrier into the Atlantic Ocean. Although financial and technical problems have resulted in limited operations for the ship, it is expected that Admiral Kuznetsov will remain in active duty until at least 2030.
On September 27th 2006 it was announced that Admiral Kuznetsov returned to service in the Northern Fleet by the end of the year. The ship will undergo another modernization refit, in an attempt to correct some of her many technical issues. Admiral Vladimir Masorin, Commander-in-Chief of the Russian Navy, also stated that several Su-33 fighters assigned to the aircraft carrier would return to the ship after undergoing maintenance and refits of their own.
2007-2008 Mediterranean Deployment
[
edit
]
From December 5th 2007 through February 3rd 2008, Kuznetsov made its second Mediterranean deployment. On December 11th 2007, Admiral Kuznetsov passed by Norwegian oil platforms in the North Sea, 60 nautical miles (111.12 kilometers) outside Bergen, Norway. Su-33 fighters and Kamov helicopters were launched from the carrier while she was in the area of the rigs. The incident caused the Norwegian helicopter service to stop its flights out to the rigs, due to a risk of collision with Russian aircraft operating from the carrier. The Russian carrier was in international waters during the maneuver.
Admiral Kuznetsov then proceeded to the Mediterranean Sea, where she participated in an exercise together with eleven other Russian Navy surface ships and forty-seven aircraft. She performed three tactical training missions, using live and simulated missile launches with both air and surface missiles.
The aircraft carrier arrived back in Severomorsk on February 3rd 2008 along with the Udaloy II-class destroyer Admiral Chabanenko and Udaloy I-class ASW destroyer Admiral Levchenko.
After a maintenance period she was back at sea on October 11th 2008 where drills were held in the Barents Sea. Russian President and Supreme Commander-in-Chief Dmitry Medvedev visited the ship on October 12th 2008 during the Stability-2008 strategic exercises.
2008-2009 Mediterranean Deployment
[
edit
]
From December 5th 2008 through March 2nd 2009, Kuznetsov made its third Mediterranean deployment.
On December 5th 2008 the aircraft carrier and several other vessels left Severomorsk heading for the Atlantic on a tour which was announced would be lasting several months and which would include combat training including joint drills with Russia's Black Sea Fleet and visits to several ports in the Mediterranean. On this tour while the Admiral Kuznetsov anchored off Turkey on January 7th 2009 a small fire broke out on the ship. One crew member was killed by carbon monoxide poisoning. The fire was caused by a short-circuit.
On February 16th 2009, Admiral Kuznetsov, along with other Russian naval vessels was involved in a large oil spill while she refueled off the south coast of Ireland.
On March 2nd 2009 Admiral Kuznetsov returned to her main base in Severomorsk after a three-month voyage in the Northern Atlantic and the Mediterranean waters.
In September 2010 Admiral Kuznetsov left a dry dock after scheduled repairs and is getting ready for a training mission in the Barents Sea at the end of that month.
2011-2012 Mediterranean Deployment
[
edit
]
The Russian Main Navy Staff announced that Kuznetsov would begin a deployment to the Atlantic and Mediterranean in December 2011. In November 2011, it was announced that Kuznetsov would lead a squadron to Russia's naval facility in Tartus. A contrary statement was made by a Russian naval spokesman to the Izvestia daily that "The call of the Russian ships in Tartus should not be seen as a gesture towards what is going on in Syria. This was planned already in 2010 when there were no such events there" noting that Kuznetsov would also be making port calls in Beirut, Genoa and Cyprus. On November 29th 2011, Army General Nikolay Makarov, Chief of the Russian General Staff, said that Russian ships in the Mediterranean were due to exercises rather than events in Syria, and noted that Kuznetsov's size does not allow it to moor in Tartus.
On December 6th 2011, Admiral Kuznetsov and escorting ships departed its Northern Fleet home-base for a several month Mediterranean deployment. During the deployment Kuznetsov will also exercise with ships from the Russian Baltic and Black Sea Fleets.
On December 12th 2011 Admiral Kuznetsov with its carrier group, has been spotted northeast of the Orkneys off the coast of northern Scotland from where it has been shadowed by HMS York for a week. This was the first time the carrier had deployed near the UK; due to severe weather, the group took shelter in international waters in the Moray Firth, some 30 miles (48.28 kilometers) from the UK coast. The Kuznetsov then sailed around the top of Scotland and into the Atlantic past western Ireland, where it conducted flying operations with her Sukhoi Su-33 Flanker jets and Kamov Ka-27 helicopters in international airspace.
On January 8th 2012, Admiral Kuznetsov anchored near shore outside of Tartus while other ships in its escort entered the port to use the leased Russian naval support facility. After replenishing supplies, all of the ships will continue their Mediterranean deployment on January 9th.
On February 17th 2012, Admiral Kuznetsov returned to its homebase of Severomorsk.
2013-2014 Deployment
[
edit
]
On June 1st 2013, it was announced that the ship would return to the Mediterranean by the end of the year. On December 17th, Kuznetsov departed her homebase for the Mediterranean. On January 1st 2014, Kuznetsov celebrated New Year while at anchor in international waters of the Moray Firth off northeast Scotland. The anchorage allowed replenishment of ship's supplies and respite for the crew from stormy weather off the southwest coast of Norway. She then proceeded to the Mediterranean Sea, docking in Cyprus on February 28th.
In May 2014 the Kuznetsov, escorted by the Kirov-class cruiser Pyotr Velikiy, the tankers Sergey Osipov, Kama and Dubna, the ocean-going tug Altay and the tank-landing ship Minsk sailed home and approached the UK.