Northrop Grumman KC-45 Mesotanker
From Canadian Power Wiki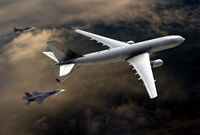 The EADS/Northrop Grumman KC-45 Mesotanker was a proposed aerial refueling tanker aircraft based on the Airbus A330 MRTT. The United States Air Force (USAF) had ordered 180 KC-45As in the first stage of replacing the aging Boeing KC-135 Stratotanker tankers currently in service.
The A330 Multi Role Tanker Transport (MRTT) is a military derivative of the Airbus A330 airliner. It is designed as a dual-role air refueling tanker and cargo transport aircraft. The wing air refueling pods are supplied by the British company Cobham. The cargo hold has been modified by Telair to be able to transport military pallets in addition to civilian ULD.
The A330 MRTT has a fuel capacity of 245,000 lb (111,000 kg) in the wings and underfloor tanks. The underfloor tanks do not compromise main deck cargo capacity or seating in the strategic transport role. Standard fuel capacity allows the carriage of an additional 43,000 kg of cargo. The A330 MRTT's wing has common structure as the four-engine A340-200/-300 with reinforced mounting locations for the A340's outboard engines. The A330 MRTT's wing therefore requires little modification for use of these hardpoints for the wing refueling pods.
The KC-45 will be fitted with an Aerial Refuelling Boom System (ARBS), two Cobham 905E under-wing refuelling pods and one Cobham 805E Fuselage Refuelling Unit (FRU).
See Also
[
edit
]
Related Development
[
edit
]
Comparable Aircraft
[
edit
]