NRB Sao Paulo (A12)
From Canadian Power Wiki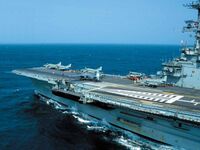 The NRB São Paulo (A12) , formerly the MN Foch (R99), is the first of two Clemenceau-class carriers in the Brazilian Navy. It replaced the NRB Minas Gerais as the flagship of the Brazilian Navy from 2001 onwards.
Background
[
edit
]
The aircraft carrier São Paulo was constructed in France between 1957 and 1960 and served in the French Navy as the Foch. In September 2000, she was purchased by Brazil to replace the aged World War II-era carrier NRB Minas Gerais (which had been in commission for over 40 years) for US$12 million, no aircraft included. The government of Brazil had already purchased a flotilla of used A-4 Skyhawk fighters from Kuwait for $70 million which, together with the existing helicopters already in the national defense inventory, were to compose the fighter-bomber group of São Paulo. These A-4s (designated AF-1) are capable of carrying armament including rockets, free-fall bombs and Sidewinder air-to-air missiles.
The São Paulo was purchased while still operational, which was an unknown process for such a large ship. She was received by the Brazilian Navy and was incorporated into the Brazilian Navy on November 15th, 2000. The incorporation of São Paulo and the AF-1 fighter group marked the realization of Brazil's long-held goal of being able to conduct aerial defense of its naval forces with fixed-wing aircraft.
President Fernando Henrique Cardoso noted during the transfer ceremony that:
""The transfer of the aircraft carrier São Paulo to the Operative Sector of the Navy adds to our naval power an important magnification in its ability of defense of the Brazilian interests at sea. A country as ours, possessing an extensive coast, with more than 7,000 kilometers of coast, requires a naval power compatible with its stature in the international scene. Today, as before, Brazil is concerned about implementing concrete measures that offer the nation the guarantee of respect to its sovereignty. We are and we will always be a nation that fights for peace, however, that does not mean being able to do without modern Armed Forces, enabled and endowed with adequate dissuasive potential. Few countries, even today, have the capacity to operate with efficiency in the high seas. It is important that Brazil continues to be one of them.""
—Brazilian President Fernando Henrique Cardoso
Since her construction, the São Paulo has received multiple upgrades, leaving her with a diverse range of technologies. In her current form, she is expected to remain effective in her role for the foreseeable future, though further modernization efforts are expected as she is converted into a combat ready vessel.
Brazilian Service
[
edit
]
In the first three years of service as the São Paulo, the ship completed several missions, some in foreign waters (particularly Operations ARAEX, PASSEX, and TEMPEREX which is used annually to qualify and train Super Etendards and S-2T Turbo Trackers of the Argentine Navy.
The São Paulo currently serves mainly to train pilots to fly carrier operations. She is actively used for the qualification and re-qualification of rotary and fixed-wing pilots (with about 500 catapult launches) and the first Brazilian exercises to practice carrier-based attack missions.
Upgrades and Sea Trials
[
edit
]
During 2004-10, the São Paulo and Brasilia underwent an extensive modernization program. The upgrades were extensive. Both carriers were outfitted with General Electric LM2500+G4 gas turbine engines and fully electronic engine controls, along with improved electronics. Sao Paulo and Brasilia also lost their 100mm guns, but it also saw its flight deck expanded. The number of catapults was increased from two to four, and a second elevator was added. They also gained three Mk.29 Sea Sparrow Launchers, three MLG-27 auto-cannons, and two Goalkeeper CIWS close-in weapons systems.
Twelve Brazilian Navy A-4 Skyhawks are also scheduled to be upgraded by Embraer at a cost of $140 million. The upgrade will be similar to the ones done for the AMX and F-5EM aircraft of the Brazilian Air Force. The program includes restoring the aircraft and their current systems, as well as implementing new avionics, radar (specifically the Elta EL/M-2032 radar system), power production, and autonomous oxygen generating systems. Possible weapons to be included in the upgrade are MAA-1B, Python 4, and Derby AAMS.
The Brazilian Navy has contracted Marsh Aviation to convert four S-2T Turbo Trackers to an Airborne Early Warning configuration, and four more for tanking and Carrier Onboard Delivery duties.
According to an article in the October 2010 issue of Air Forces Monthly, it has been confirmed that Brazil has purchased EX-USN C-1 Trader airframes, ex-Australian and ex-Uruguayan airframes for conversion into AEW planes and tanker aircraft. All the planes are to upgraded to S-2T Turbo Tracker configuration with Honeywell TPE 331-14GR engines. The purchase includes eighteen airframes, four for tanker conversion to refuel the AF-1 Skyhawks, and six for AEW. The rest will be for spares or cargo duties. The AEW radar requirement is to have a range of 250 miles at 25,000 feet. Operational lifespan for the airframes is to be 10 years. They were expected to be ready in 2011 and 2012.
The São Paulo's SH-3 helicopter fleet is to be replaced by six S-70B Seahawk helicopters. They were purchased in 2008, upgraded, and refurbished for delivery. The helicopters and a package of engines and support equipment were scheduled for delivery in 2009.
In 2010, the Sao Paulo took part in the JOINT WARRIOR 2010 war games exercise were it carried its first sixteen Dassault Rafale M multirole fighters as well as several Super-Eterndards from the Argentine Navy.
At the end of 2010, sea trials began, and as of 2011 the São Paulo has been evaluated by the CIASA (Inspection Commission and Training Advisory). She is expected to rejoin the fleet in late 2011.
In 2016, the Sao Paulo, Brasilia, and Warrior launched their aircraft as an unplanned addition to the opening ceremony of Rio Olympic Games. Afterwards, they took part in several naval exercises including a touch-and-go using aircraft from all three carriers.