Murasame-class Destroyer (1959)
From Canadian Power Wiki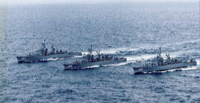 The
Murasame-class Destroyer
was a destroyer class built for the
Japan Maritime Self-Defense Force
(JMSDF) in the late 1950s as a successor to the
Ayanami-class destroyers
. Like its predecessor, its main task was anti-submarine warfare, but its improved weaponry also enabled it to perform better in the anti-air role, so this class was classified as "DDA" (anti-air destroyer or all purpose destroyer) unofficially.
Like its predecessor Ayanami-class, this class adopted a "long forecastle" design with inclined afterdeck called "Holland Slope", named after the scenic sloping street in Nagasaki City. The propulsion system was almost the same as the one of the Harukaze-class.
The sensor suite and weapon system was almost the same as the one of the latter batch of the Ayanami-class, but three 5"/54-caliber Mk.16 guns (with Mark 39 single mounts) were added to extend effective range against air and surface threats in addition to four 3"/50-caliber Mk.22 guns (with Mark 33 dual mounts). The 5" guns were controlled by one Mark 57 GFCS, and the 3" guns were done by one Mark 63. Main air-search radar was OPS-1, the Japanese version of the American AN/SPS-6.
Specifications
[
edit
]
Type: Destroyer (Hull designation symbol DD)
Service Period: 1959-1989
Characteristics:

Length: 354 feet 4 inches (108 meters)
Beam: 36 feet 2 inches (11.02 meters)
Draft: 12 feet 2 inches (3.71 meters)
Displacement: 1,800 tons (Standard); 2,420 tons (Full Load)

Crew: 235
Propulsion: 2 x boilers, 2 x steam turbines, 2 x shafts
Range:
Speed: 30 knots (55.56 km/h)
Sensor Suite:

OPS-1 Air Search Radar
OPS-3 Surface Search Radar
AN/SQS-11 Search Sonar (later replaced by the AN/SQS-29J)
AN/SQR-4 Attack Sonar
Mk.57 Gun Fire Control System
Mk.63 Gun Fire Control System

Countermeasures:
Armament:

3 x 5"/54 caliber Mk.16 guns
4 x 3"/50 caliber Mk.22 guns
2 x ASW torpedo racks
1 x Hedgehog anti-submarine mortar
2 x Y-gun depth charge throwers
1 x Depth charge rack
Unit Run
[
edit
]
JDS Murasame (DD-107)
JDS Yuudachi (DD-108)
JDS Harusame (DD-109)