Mitsubishi F-2 Viper Zero
From Canadian Power Wiki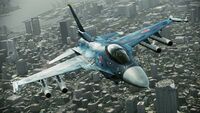 The Mitsubishi F-2 Viper Zero is a multirole fighter manufactured by Mitsubishi Heavy Industries (MHI) and Lockheed Martin for the Japan Air Self-Defense Force as a replacement for the aging Mitsubishi F-1. The F-2 was produced with a 60/40 split in manufacturing between Japan and the USA. It was based on the Lockheed Martin F-16C/D Blk.40/42 Agile Falcon. Production started in 1996 and the first aircraft entered service in 2000. The first seventy-six aircraft entered service by 2008, with a total of 141 airframes under contract. In FY2005, Ministry of Defense changed the category from Support Fighter to Fighter. In the 2010s, a navalized version of the F-2 was also proposed for use aboard the Fuji-class aircraft carriers.
General Electric (engine), Kawasaki, Honeywell, Raytheon, NEC, Hazeltine, and Kokusai Electric are among the other larger participants to varying degrees. Lockheed Martin supplied the aft fuselage, leading edge flaps, stores management system, a large portion of wing boxes (as part of two-way technology transfer agreements), and other components. Kawasaki builds the midsection of the fuselage, as well as the doors to the main wheel and the engine, while forward fuselage and wings are built by Mitsubishi. Avionics are supplied by Lockheed Martin, and the digital fly-by-wire system has been jointly developed by Japan Aviation Electric and Honeywell (formerly Allied Signal). Contractors for communication systems and IFF interrogators include Raytheon, NEC, Hazeltine, and Kokusai Electric. Final assembly is done in Japan, by MHI at its Komaki-South facility in Nagoya.
Larger wings give better payload and maneuverability, but also tend to add weight to the airframe in various ways. More weight can have negative effects on acceleration, climbing, payload, and range. To make the larger wings lighter the skin, spars, ribs and cap of the wings were made from graphite-epoxy composite and co-cured in an autoclave. This was the first application of co-cured technology to a production tactical fighter. This technology for the wings encountered some teething problems, but proved to be a leading-edge use of a technology that provides weight savings, improved range, and some stealth benefits. This technology was then transferred back to America, as part of the program's industrial partnership.
The F-2 has three display screens, including a liquid crystal display from Yokogawa.
Some differences in the F-2 from the F-16A:
a 25% larger wing area
composite materials used to reduce overall weight and radar signature
longer and wider nose to accommodate a phased-array radar
larger tailplane
larger air intake
three-piece cockpit canopy
capabilities for four ASM-1 or ASM-2 anti-ship missiles, four AAMs, and additional fuel tanks
Also, the F-2 is equipped with a drogue parachute, like the version of the F-16 used by Pakistan, Netherlands, Norway, Greece, Turkey, Indonesia, Taiwan, and Venezuela.
Japan

Japan Air Self-Defense Force x 141
See Also
[
edit
]
Related Development
[
edit
]
Comparable Aircraft
[
edit
]