Mikoyan MiG-31
From Canadian Power Wiki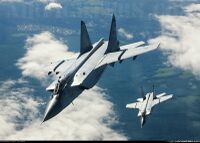 The Mikoyan MiG-31 (Russian: Микоян МиГ-31; NATO reporting name: Foxhound) is a supersonic interceptor aircraft developed for use by the Soviet Air Forces. The aircraft was designed by the Mikoyan design bureau as a replacement for the earlier MiG-25 "Foxbat"; the MiG-31 is based on, and shares design elements with the MiG-25. The MiG-31 has the distinction of being one of the fastest combat jets in the world. It continues to be operated by the Russian Air Force and the Kazakhstan Air Force following the end of the Cold War and the collapse of the Soviet Union in late 1991. In 2007, eight MiG-31Es were sold to the Syrian Arab Air Force. The Russian Defence Ministry expects the MiG-31 to remain in service until at least 2030.
Ye-155MP (MiG-31MP): Prototype modification of the early MiG-31. Its first flight was on September 16th, 1975.
MiG-31: First variant which entered in serial production. 349 aircraft were built.
MiG-31M: Development of a more comprehensive advanced version, the MiG-31M, began in 1984 and first flew in 1985, but the dissolution of the Soviet Union prevented it from entering full production. One piece rounded windscreen, small side windows for rear cockpit, wider and deeper dorsal spine. Digital flight controls added, multifunction CRT cockpit displays, multi-mode phased array radar. No gun fitted in this model, refueling probe moved to starboard side of aircraft, fuselage weapon stations increased from four to six by adding two centerline stations. Maximum TO weight increased to 52,000 kg using increased thrust D-30F6M engines instead of the D-30F6 engines. One prototype and six flyable pre-production units were produced.
MiG-31D: Two aircraft were designated as Type 31D and were manufactured as dedicated anti-satellite models with ballast in the nose instead of radars, flat fuselage undersurface (i.e. no recessed weapon system bays) and had large winglets above and below the wing-tips. Equipped with Vympel ASAT missiles. Two prototypes were built.
MiG-31LL: Special modification used as a flying laboratory for testing of ejection seats during flight.
MiG-31 01DZ: Two-seat all weather, all altitude interceptor. Designated as MiG-31 01DZ when fitted with air-to-air refueling probe.
MiG-31B: Second production batch with upgraded avionics and in-flight refueling probe introduced in 1990. Its development was the result of the Soviet discovery that Phazotron radar division engineer Adolf Tolkachev had sold information on advanced radars to the West. A new version of the compromised radar was hastily developed. MiG 31B also have the improved ECM and EW equipment with integration of improved R-33S missiles. Long range navigation system compatible with Loran/Omega and Chaka ground stations added. This model replaced the 01DZ models in late 1990.
MiG-31E: Export version of the MiG-31B with simplified avionics. Never entered in serial production.
MiG-31BS: Designation applied to type 01DZ when converted to MiG-31B standard.
MiG-31BM/MiG-31BSM: The upgraded MiG-31B was designated MiG-31BM and the upgraded MiG-31BS was designated MiG-31BSM. The most visible addition to the BM/BSM variant was the rear-view periscope added above the front cockpit canopy. The MiG-31BМ's maximum detection range for air targets was increased in the upgrade to 320 km. It had the ability to automatically track up to ten targets, and the latest units can track up to 24 targets and simultaneously engage up to 8 targets. The on-board Argon-K computer selects four targets of highest priority, which simultaneously are engaged by long-range R-33S air-to-air missiles. The basic difference between earlier versions and the MiG-31BM is that the MiG-31BM can act as a small airborne early warning aircraft, with the ability to track and datalink numerous radar contacts, at least for a fighter. Onboard equipment provides interaction with surface-to-air missile units and can function as an airborne command post to coordinate the actions of other types of fighters with less powerful radars.
MiG-31F: Planned fighter-bomber intended for use with TV, radar and laser-guided ASM weapon systems. Never entered in serial production.
MiG-31FE: Planned export version of the MiG-31F.
MiG-31I (Ishim): Modification for air launch of small spacecraft with a mass of 120-160 kg to Earth's orbit in altitude about 600-300 km.
Kazakhstan
Russia

Russian Air Force x 252
Russian Naval Aviation x 36

Syria

Syrian Arab Air Force x 8