McDonnell-Douglas F-15E Strike Eagle
From Canadian Power Wiki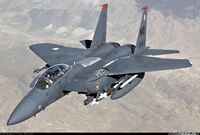 The McDonnell Douglas (now Boeing) F-15E Strike Eagle is an all-weather multirole fighter, derived from the McDonnell Douglas F-15 Eagle. The F-15E was designed in the 1980s for long-range, high speed interdiction without relying on escort or electronic warfare aircraft. United States Air Force (USAF) F-15E Strike Eagles can be distinguished from other U.S. Eagle variants by darker camouflage and conformal fuel tanks mounted along the engine intakes.
The Strike Eagle has been deployed for military operations in Iraq, Afghanistan, and Libya. During these operations the F-15E has carried out deep strikes against high-value targets, combat air patrols, and providing close air support for coalition troops. It has also seen action in later conflicts and has been exported to several countries.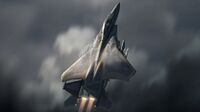 F-15E Strike Eagle: Two-seat all-weather long-range strike and ground-attack aircraft for the USAF. A total of 236 were built from 1985 to 2001.
F-15F Advanced Eagle: The F-15F Advanced Eagle variant is an upgrade over previous models in that it features two additional underwing weapons hardpoints (increasing the number from nine to 11); the option of a large area display cockpit; fly-by-wire controls; the Raytheon AN/APG-63(V)3/4 active electronically scanned array (AESA) radar; General Electric General Electric F110-129 engines; digital Joint Helmet-Mounted Cueing Systems in both cockpits; and a digital electronic warfare system among other enhancements. In a typical escort configuration, the Advanced Eagle can carry 16 AIM-120 AMRAAM; four AIM-9X Sidewinder short-range missiles; and two AGM-88 HARMs. For precision strike it can carry 16 Small-Diameter Bombs (SDBs); four AMRAAMs; one 2,000 lb Joint Direct Attack Munition (JDAM); two HARMs; and two fuel drop tanks.
F-15G Wild Weasel: A proposed two-seat version to replace the F-4G Wild Weasel in the Suppression of Enemy Air Defenses (SEAD) role. The F-15G was studied in 1986. A proposed modification to F-15Cs for the SEAD role was studied in 1994–95, but F-16Cs were modified to perform this role instead. F-15Es are capable of carrying ARMs such as the AGM-88 HARM and performing the SEAD role.
F-15GA Strike Eagle: A proposed variant of the Strike Eagle for the German Air Force as a replacement for the Tornado ECR/IDS.
F-15H Strike Eagle: The F-15H Strike Eagle (H for Hellas) was a 1990s proposed export version of F-15E for Greece, which was selected by the Greek Ministry of Defence and the Greek Air Force, but the government chose new F-16s and Mirage 2000-5s instead.
F-15I Ra'am: The F-15I is operated by the Israeli Air Force where it is known as the Ra'am (רעם – "Thunder"). It is a dual-seat ground attack aircraft powered by two Pratt & Whitney F100-PW-229 engines, and is based on the F-15E.

F-15IA Ra'am: The F-15IA (Israel Advanced) is a variant for the Israeli Air Force. It was announced in March 2020 that the Israeli Defense Forces had approved order 26 new build F-15IA and upgrade 26 F-15I to F-15IA variant.

F-15K Slam Eagle: The F-15K Slam Eagle (Korean: F-15K 슬램 이글) is a derivative of the F-15E, operated by the Republic of Korea Air Force. Several major components were outsourced to South Korean companies under an offset agreement, wherein South Korea was responsible for 40% of production and 25% of assembly.
F-15QA Qatari Advanced: A variant developed for the Qatar Emiri Air Force. It was announced in November 2016 that the US State Department had approved the sale of up to 72 F-15QA aircraft to Qatar in a $21.1 billion deal that includes weapons, support, equipment, and training.
F-15S Strike Eagle: The F-15S is a variant of the F-15E supplied to the Royal Saudi Air Force (RSAF) in the 1990s. Saudi Arabia previously sought to buy up to 24 F-15Fs, a proposed single-seat variant, but was blocked by the U.S. Congress. The F-15S, initially referred to as F-15XP, is almost identical to the USAF F-15E, the only major difference in the AN/APG-70 radar's performance in synthetic aperture mode. 72 aircraft were built from 1996 to 1998.

F-15SA Saudi Advanced: The F-15SA is a new version for the RSAF. The F-15SA have a modern fly-by-wire flight control system in place of the hybrid electronic/mechanical system used by all previous F-15s. The variant includes the APG-63(V)3 active electronically scanned array (AESA) radar, digital electronic warfare systems (DEWS), infrared search and track (IRST) systems, and other advanced systems. It also includes a redesigned cockpit originally intended for the F-15SE. The fly-by-wire system will allow the carriage of weapons on the previously unused outer wing weapon stations.

F-15SE Silent Eagle: A proposed variant with fifth generation fighter features, such as internal weapons carriage and radar-absorbent material. The Silent Eagle features conformal weapons bays (CWB) to hold weapons internally instead of conformal fuel tanks, the twin vertical tails are canted outward 15 degrees to reduce radar cross section; the majority of the CWB's area is for weapons storage, a minority is used for fuel storage. The F-15SE is optimized for air-to-air missions, lacking all-aspect stealth features for missions inside areas protected by ground-based anti-aircraft systems.
F-15SG Strike Eagle: The F-15SG (formerly F-15T) is a variant of the F-15E, ordered by the Republic of Singapore Air Force (RSAF) after a seven-year evaluation period involving five other fighter aircraft under consideration. The F-15SG was chosen on September 6th 2005 over the Dassault Rafale, the only other remaining aircraft in contention. An order for 12 F-15SG fighter was placed in December 2005. The Singapore Ministry of Defence (MINDEF) on October 22nd 2007, exercised the option to purchase eight more F-15SG fighters which was part of the original contract. Along with this buy, an additional order of four F-15SGs increased the total order to 24 fighters. The first F-15SG was rolled out on November 3rd, 2008. Deliveries of F-15SGs began in 2009 and all 24 were declared operationally ready in September 2013.
F-15X/EX: In 2018, the USAF and Boeing discussed a proposed F-15X, a single-seat variant based on the F-15QA intended to replace the USAF's F-15C/Ds. Improvements includes the AMBER weapons rack to carry up to 22 air-to-air missiles, infra-red search and track, advanced avionics and electronics warfare equipment, AESA radar, and revised structure with a service life of 20,000 hours. The USAF plans to procure 144 aircraft to serve in second/third line roles such as homeland and airbase defense, enforcing no-fly zones against limited or no air defense systems, and delivering standoff munitions.

F-15ID Strike Eagle: The F-15ID is a proposed export version of the F-15EX for Indonesia. In February 2022, the US State Department approved the sale of up to 36 F-15IDs and related equipment to Indonesia worth around $13.9 billion.
Indonesia

Indonesian Air Force (F-15ID Strike Eagle)

Israel

Israeli Air Force (F-15I Ra'am)

Republic of Korea

Republic of Korea Air Force (F-15K Slam Eagle)

Qatar

Qatar Emiri Air Force (F-15QA Strike Eagle)

Saudi Arabia

Royal Saudi Air Force (F-15SA Saudi Advanced)

Singapore

Republic of Singapore Air Force (F-15SG Strike Eagle)

United States

United States Air Force (F-15E Strike Eagle, F-15EX Strike Eagle)