McDonnell-Douglas CF-188 Hornet
From Canadian Power Wiki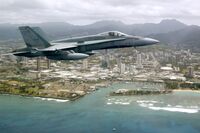 The
McDonnell-Douglas CF-188 Hornet
is a fighter of the
Canadian Forces Air Command
and
Maritime Command
, based on the
F/A-18 Hornet
. In 1979, the F/A-18 (along with the
A-7E Corsair II
was selected as the winner of the New Fighter Aircraft competition, and a production order was awarded. The Canadian Forces began receiving the CF-18 in 1982. CF-18s have supported NORAD air sovereignty patrols and participated in combat during the Gulf War in 1991, the Kosovo War in the late 1990s, the mission in Afghanistan, the
2008 Indian Ocean War
, and and as part of the Canadian contribution to the international Libyan no-fly zone in 2011. In 2010, the Canadian government selected the
Eurofighter Typhoon
as the
replacement for the Hornet
with deliveries starting in late 2010. The last combat CF-18s were retired and replaced in mid-2014 although eighteen are still in service as part of the
Snowbirds
.
CF-188 Upgrades
[
edit
]
The need to upgrade the CF-18 was demonstrated during the Gulf War I deployment and during the 1998 Kosovo conflict as advances in technology had rendered some of the avionics on board the CF-18 obsolete and incompatible with NATO allies. In 2000, CF-18 upgrades became possible when the government increased the defence budget.
In 2001, the Incremental Modernization Project (IMP) was initiated. The project was broken into two phases over a period of eight years and was designed to improve air-to-air and air-to-ground combat capabilities, upgrade sensors and the defensive suite, and replace the datalinks and communications systems on board the CF-18 from the old F/A-18A and F/A-18B standard to the current F/A-18C and D standard. Boeing (merged with McDonnell Douglas) the primary contractor and L-3 Communications the primary subcontractor, was issued a contract for the modernization project starting in 2002. A total of 80 CF-18s, consisting of 84 single-seat and 36 dual-seat models were selected from the fleet for the upgrade program.
Replacement of the AN/APG-65 radar with the new AN/APG-73 radar, which has triple the processing speed and memory capacity, while also incorporating Terrain Following and Terrain Avoidance modes for low level ground attack missions. Furthermore, the new AN/APG-73 radar is also capable of guiding the modern AIM-120 AMRAAM medium range missile.
Addition of the AN/APX-111 Combined Interrogator and Transponder, otherwise known as an IFF (Identification Friend or Foe). The new IFF brings the CF-18 up to current NATO standards for combat identification.
Replacement of the radios with the new AN/ARC-210, RT-1556/ARC VHF/UHF Radio. This radio, capable of line-of-sight communications on VHF/UHF frequencies as well as HAVE QUICK, HAVE QUICK II, and SINCGARS waveforms resolved the issues of compatibility with allied forces, and are more resistant to jamming.
Replacement of the mission computers with the General Dynamics Advanced Information Systems AN/AYK-14 XN-8 mission computer with increased memory and processing capabilities.
Replacement of the Stores Management System with the Smiths Aerospace AN/AYQ-9 Stores Management System. This makes the CF-18 more compatible with the latest of precision guided munitions (PGMs) and furthermore adds the MIL-STD-1760 interface for use of the AIM-120 AMRAAM missile and the JDAM family of GPS-guided bombs.
Installation of a Global Positioning System/Inertial Navigation System (GPS/INS) capability, enhancing the CF-18's navigational capabilities.
Replacement of F404-GE400 afterburning turbofans with the more powerful F404-GE402 afterburning turbofans.
Addition of a Link 16 data net system to the aircraft, enhancing interoperability with major NATO allies.
Integration of the Joint Helmet Mounted Cueing System from Boeing, BAE Systems, DRDC and L-3 Communications MAS.
Addition of a crash survivable flight data recorder.
Upgrade of the electronic warfare suite.
Within the same time frame, other non-IMP upgrades included:
Installation of a new infrared sensor pod.
Replacement of the old cathode ray tube cockpit instrument panels with new flat paneled, full colour LCD displays from Litton Systems Canada (now Northrop Grumman Canada).
Addition of a new night vision imaging system.
Purchase of the AIM-120 AMRAAM medium-range missiles and other advanced air to air and air to ground munitions.
Application of a landing gear "get well" program to reduce corrosion and improve gear retraction.
Replacement of the existing CF-18 flight simulators with the Advanced Distributed Combat Training System.
A fuselage Centre Barrel Replacement Project (for 40 of the upgraded aircraft).
An Air Combat Manoeuvring Instrumentation System.
An Integrated Electronic Warfare Support Station.
An Electronic Warfare Test Equipment Project.
Canada

Canadian Forces Air Command

No. 406 Tactical Fighter Squadron
No. 409 Tactical Fighter Squadron
No. 410 Tactical Fighter Squadron
No. 425 Tactical Fighter Squadron
No. 433 Tactical Fighter Squadron
No. 439 Tactical Fighter Squadron
No. 441 Tactical Fighter Squadron

Canadian Forces Maritime Command

VF-880 "Gunfighters"
VF-881 "Blackjacks"
VF-882 "Sharks"
VF-883 "Snipers"
VF-884 "Rapiers"
VF-885 "Lancers"
Specifications (CF-188C/D Hornet)
[
edit
]
General Characteristics:

Crew: 1-2
Length: 56 feet (17.07 meters)
Wingspan: 40 feet (12.2 meters)
Height: 15 feet 4 inches (4.67 meters)
Wing Area: 400 square feet (37.16 square meters)
Airfoil: NACA 65A005 mod root, 65A003.5 mod tip
Empty Weight: 23,049 lb (10,455 kg)
Loaded Weight: 37,150 lb (16,851 kg)
Maximum Takeoff Weight: 51,550 lb (23,383 kg)
Powerplant: 2x General Electric F404-GE402 afterburning turbofans

Dry Thrust: 12,150 lbf (54 kN)
Thrust with Afterburners: 18,000 lbf (80 kN)

Performance:

Maximum Speed: Mach 1.8 (1,370 mph; 2,205 km/h)
Combat Radius: 330 miles (531.08 kilometers)
Ferry Range: 2,070 miles (3,331.34 kilometers)
Service Ceiling: 50,000 feet (15,240 meters)
Rate of Climb: 50,000 feet/minute (254 meters/second
Thrust/Weight Ratio: 0.97

Armament:

Nine Weapon/ Store Stations (5 pylons: 1 Under Fuselage and 4 Wing Stations) (2 LAU 116 located on sides of fuselage: deploys AIM 7 Sparrow and AMRAAM Missiles)(2 LAU 7 located on the wing tips: Deploys AIM 9 Sidewinder Missile), carrying up to 13,700 lb (6215 kg) of missiles, rockets, bombs, fuel tanks, and pods.
1 × 20 mm M61A1 Vulcan internal Gatling gun with 578 rounds, with a firing rate of 4000 or 6000 shots per minute
Munitions:

Air-to-Air Missiles: AIM-7 Sparrow, AIM-9 Sidewinder, AIM-120 AMRAAM
Air-to-Ground Missiles: AGM-65 Maverick, AGM-84 Harpoon, AGM-84E SLAM, AGM-88 HARM, AGM-119 Penguin, AGM-154 JSOW, AGM-158 JASSM, Taurus KEPD 350 cruise missile, CRV7 rockets
Bombs: Mk.80 series iron bombs, Paveway Series laser guided bombs, JDAM GPS-guided bombs, GBU-15 Glide Bomb, GBU-28 "Bunker Buster" bomb, GBU-31/-32/-35/-38 laser-guided bombs, GBU-39 and GBU-53 Small Diameter Bomb, CBU-99 and CBU-100 Rockeye, CBU-107 Passive Attack Weapon

Avionics:

Raytheon AN/APG-73 radar
BAE Systems AN/APX-111 IFF
Rockwell Collins AN/ARC-210 RT-1556/ARC VHF/UHF Radio
General Dynamics Advanced Information Systems AN/AYK-14 XN-8 mission computer
Smiths Aerospace AN/AYQ-9 Stores Management System