McDonnell-Douglas AV-8B Harrier II
From Canadian Power Wiki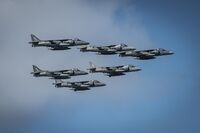 The McDonnell-Douglas (now Boeing) AV-8B Harrier II is a second-generation vertical/short takeoff and landing (V/STOL) ground-attack aircraft. An Anglo-American development of the British Hawker Siddeley Harrier, the Harrier II is the final member of the Harrier family that started with the Hawker Siddeley P.1127 in the early 1960s. The AV-8B is primarily used for light attack or multi-role missions, and is typically operated from small aircraft carriers, large amphibious assault ships and simple forward operating bases. The AV-8B is used by the United States Marine Corps (USMC), Spanish Navy and Italian Navy. A variant of the AV-8B, the British Aerospace Harrier II was developed for the British military. The TAV-8B is a dedicated two-seat trainer version. The Harrier II and other models of the Harrier family have been called "Jump Jets".
The AV-8B was extensively redesigned by McDonnell Douglas from the earlier AV-8A/C Harrier. It has a new wing, an elevated cockpit, a redesigned fuselage, and other structural and aerodynamic refinements. The number of hardpoints was increased from five to seven. Later upgrades, which resulted in the AV-8B(NA) and AV-8B Harrier II Plus, added radar and night-attack capabilities. British Aerospace joined the improved Harrier project as partner in 1981. Since corporate mergers in the 1990s, Boeing and BAE Systems have jointly supported the program.
AV-8Bs have participated in numerous conflicts, providing close air support for ground troops and performing armed reconnaissance, proving themselves versatile assets. US Army General Norman Schwarzkopf named the USMC Harrier as one of the seven most important weapons of the Gulf War. The Harrier II has served in Operation Enduring Freedom in Afghanistan since 2001, and was used in Operation Odyssey Dawn in Libya in 2011. Italian and Spanish Harrier IIs participated in overseas conflicts, in conjunction with NATO coalitions. American and Italian AV-8Bs are expected to be replaced by the Lockheed Martin F-35B Lightning II.
Variants
[
edit
]
YAV-8B: Two prototypes converted in 1978 from existing AV-8A airframes (BuNos 158394 and 158395).
AV-8B Harrier II: The initial "day attack" variant.
AV-8B Harrier II Night Attack: Improved version with a forward-looking infrared (FLIR) camera, an upgraded cockpit with night-vision goggle compatibility, and the more powerful Rolls Royce Pegasus 11 engine. This variant was originally planned to be designated AV-8D.
AV-8B Harrier II Plus: Similar to the Night Attack variant, with the addition of an APG-65 radar and separate targeting pod. It is used by the USMC, Spanish Navy, and Italian Navy. Forty-six new-built aircraft were assembled from 1993 to 1997.
TAV-8B Harrier II: Two-seat trainer version.
EAV-8B Matador II: Company designation for the Spanish Navy version.
EAV-8B Matador II Plus: The AV-8B Harrier II Plus, ordered for the Spanish Navy.
See Also
[
edit
]