M1 Abrams
From Canadian Power Wiki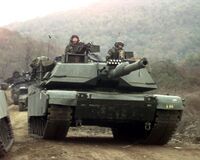 The M1 Abrams is an American third-generation main battle tank. It is named after General Creighton Abrams, former Army chief of staff and commander of United States military forces in the Vietnam War from 1968 to 1972. Highly mobile, designed for modern armored ground warfare, the M1 is well armed and heavily armored. Notable features include the use of a powerful multifuel turbine engine, the adoption of sophisticated composite armor, and separate ammunition storage in a blow-out compartment for crew safety. Weighing nearly 68 short tons (almost 62 metric tons), it is one of the heaviest main battle tanks in service.
The M1 Abrams entered U.S. service in 1980, replacing the M60 tank. It served for over a decade alongside the improved M60A3. The M1 remains the principal main battle tank of the United States Army and Marine Corps, and the armies of Australia, Egypt, Greece, Kuwait, Morocco, Saudi Arabia, and Taiwan.
Three main versions of the M1 Abrams have been deployed, the M1, M1A1, and M1A2, incorporating improved armament, protection, and electronics. These improvements and other upgrades to in-service tanks have allowed this long-serving vehicle to remain in front-line service. In addition, development for the improved M1A3 version has been known since 2009.
Variants
[
edit
]
XM1-FSED: Preproduction test model. Eleven Full-Scale Engineering Development test bed vehicles were produced in 1977–78. These vehicles were also called Pilot Vehicles and numbered PV-1 through PV-11.
M1: First production variant. Production began (at Chrysler) in 1979 and continued to 1985 (at General Dynamics) (3,273 built for the US). The first 110 tanks were Low Rate Initial Production (LRIP) models, still called XM1s, because they were built prior to the tank being type-classified as the M1.

M1IP (Improved Performance): Produced briefly in 1984 before the M1A1, contained upgrades and reconfigurations like new turret with thicker frontal armor, new turret is referred as "long" turret instead of older "short" turret, armor upgraded from ~650mm line of sight thickness to ~880mm (894 built for US).

M1A1: Production started in 1985 and continued to 1992, pressurized NBC system, rear bustle rack for improved stowage of supplies and crew belongings, redesigned blow-off panels and M256 120 mm smoothbore cannon (4,976 built for the U.S. Army, 221 for USMC, 755 for Egypt, 180 M1A1 AIM SA sold to Australia).

M1A1HA (Heavy Armour): Added 1st generation depleted uranium armor components. Some tanks were later upgraded with 2nd generation depleted uranium armor components, and are unofficially designated M1A1HA+.
M1A1HC (Heavy Cannon): Added new 2nd generation depleted uranium armor components, digital engine control and other small upgrades common between Army and Marine Corps tanks.
M1A1D (Digital): A digital upgrade for the M1A1HC, to keep up with M1A2 SEP, manufactured in quantity for only 2 battalions.
M1A1AIM v.1 (Abrams Integrated Management): A program whereby older units are reconditioned to zero hour conditions; and the tank is improved by adding Forward-Looking Infra-Red (FLIR) and Far Target Locate sensors, a tank-infantry phone, communications gear, including FBCB2 and Blue Force Tracking to aid in crew situational awareness, and a thermal sight for the .50 caliber machine gun.
M1A1AIM v.2/M1A1SA (Situational Awareness): Upgrades similar to AIM v.1 tanks + new 3rd generation depleted uranium armor components.
M1A1FEP (Firepower Enhancement Package): Similar upgrade to AIM v.2 for USMC tanks.
M1A1KVT (Krasnovian Variant Tank): M1A1s that have been visually modified to resemble Soviet-made tanks for use at the National Training Center, fitted with MILES gear and a Hoffman device.
M1A1SA (Special Armour): Variant for the Royal Moroccan Army
M1A1 (AIDATS Upgrade): Upgrade-only variant to all USMC General Dynamics M1A1 Abrams tanks to improve the tank commander's situational awareness with an upgraded thermal sight, color day camera, and a stationary color display.

M1A2: Production began in 1986 and entered service in 1992 (77 built for the US and more than 600 M1s upgraded to M1A2, 315 for Saudi Arabia, 218 for Kuwait). The M1A2 offers the tank commander an independent thermal sight and ability to, in rapid sequence, shoot at two targets without the need to acquire each one sequentially, also 2nd generation depleted uranium armor components.

M1A2 SEP (System Enhancement Package): Has upgraded third-generation depleted uranium armor components with graphite coating (240 new built, 300 M1A2s upgraded to M1A2 SEP for the USA, also unknown numbers of upgraded basic M1s and M1IPs, also 400 oldest M1A1s upgraded to M1A2 SEP).
M1A2S (Saudi Package): Saudi Arabian variant upgrade of the M1A2 based on M1A2 SEP, with some features, such as depleted uranium armor, believed to be missing (442 M1A2s upgraded to M1A2S).
M1A2SEPv2: Added Common Remotely Operated Weapon Station as standard, color displays, improved interfaces, a new operating system, improved front and side armor with ERA (TUSK kit), tank-infantry phone as standard, and an upgraded transmission for better durability.
M1A2C (SEP v3): Has increased power generation and distribution, better communications and networking, new Vehicle Health Management System (VHMS) and Line Replaceable Modules (LRMs) for improved maintenance, an Ammunition DataLink (ADL) to use airburst rounds, improved counter-IED armor package, improved FLIR using long- and mid-wave infrared, a low-profile CROWS RWS, and an Auxiliary Power Unit (APU) under armor to run electronics while stationary instead of the engine, visually distinguishing the version by a small exhaust at the left rear. Prototypes began testing in 2015, and the first were delivered in October 2017. Fielding is expected to begin in 2020.
M1A2D (SEP v4): Under engineering development with delivery planned to start by 2020. The Commander's Primary Sight, also known as the Commander's Independent Thermal Viewer, and Gunner's Primary Sight will be upgraded with 3rd Gen FLIR, an improved laser rangefinder and color cameras. Additional improvements will include advanced meteorological sensors, laser warning/detection receivers, directional smoke grenade launchers and integration of the new XM1147 multi-purpose (AMP) 120mm tank round. The AN/VVR-4 laser warning receiver and ROSY rapid obscurant system have been trialed by the US Army for adoption on the Abrams tank and Bradley fighting vehicle.
M1A2-K: Under development, unique variant for the Kuwaiti Army, slated to replace Kuwait's current M1A2 fleet.

M1A3: Under research development. Improvements are to include a lighter 120mm gun, added road wheels with improved suspension, a more durable track, lighter-weight armor, long-range precision armaments, and infrared camera and laser detectors. A new internal computer system is also desired, with current wiring replaced by fiber-optic lines that could decrease weight by some two tons. The variant is believed to have a new diesel engine, instead of the gas turbine engine used in previous M1 variants.
M1 TTB (Tank Testbed): Prototype with unmanned turret, 3 crew members in armored capsule in front of the heavy armored hull, main armament was 120 mm smoothbore gun, M256 derivative or modification, mechanical loading system under turret, never fielded.
CATTB: The Component Advanced Technology Test Bed was an experimental model with a lightweight 120 mm smoothbore cannon, heavy armored turret and upgraded hull based on the M1 chassis. It had a mechanical loading system in turret bustle, a new engine and probably other upgrades, never fielded. The tank went into trials in 1987–88.
M1 Thumper: Experimental variant by Lockheed Martin, equipped with the 140 mm XM291 ATACS smoothbore cannon. Similar to the CATTB, it included a larger, elongated turret to offer protection levels comparable to the M1A2 while allowing the mounting of the larger cannon and its longer ammunition. Cancelled with the end of the Cold War, and never fielded.
Specialized Vehicles
[
edit
]
M1 Grizzly Combat Mobility Vehicle
M1 Panther II: A remote controlled mine clearing vehicle with turret removed, mine rollers on front, and the Standardized Teleoperation System.
M104 Wolverine: Heavy assault bridge
M1074 Joint Assault Bridge: Bridgelayer combining a heavy "scissor" bridge with the M1 Abrams chassis. Expected to reach low-rate initial production in 2019 to replace the M60 AVLB and M104 Wolverine.
M1150 Assault Breacher Vehicle: Assault variant for the USMC. Based upon the M1A1 Abrams chassis, the Assault Breacher Vehicle has a variety of systems installed, such as a full-width mine plow, two linear demolition charges, and a lane-marking system. Reactive armor has been fitted to the vehicle providing additional protection against High-explosive anti-tank warhead-based weapons. The turret has been replaced by a new smaller one with two MICLIC launchers at its rear. A M2HB .50 machine gun in a remote weapons station is mounted on the commander's cupola and a bank of grenade launchers are fitted to each side of the superstructure to cover the frontal arc for self-protection.
M1 Armoured Recovery Vehicle: Only a prototype produced.
Operators
[
edit
]
Afghanistan

Afghan National Army x 140

Australia
Brazil
Republic of China

Republic of China Army x 448 (108 x M1A1, 348 x M1A2)

Egypt
Greece
Kuwait
Morocco
Poland
Saudi Arabia
United States of America

United States Army x 5,567
United States Marine Corps x 403
See Also
[
edit
]