Lockheed Martin F-22 Raptor
From Canadian Power Wiki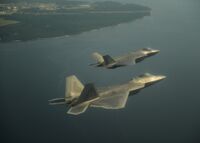 The
Lockheed Martin/Boeing F-22 Raptor
is a single-seat, twin-engine fifth-generation supermaneuverable fighter aircraft that uses stealth technology. It was designed primarily as an air superiority fighter, but has additional capabilities that include ground attack, electronic warfare, and signals intelligence roles. Lockheed Martin Aeronautics is the prime contractor and is responsible for the majority of the airframe, weapon systems and final assembly of the F-22. Program partner Boeing Defense, Space & Security provides the wings, aft fuselage, avionics integration, and training systems.
The aircraft was variously designated F-22 and F/A-22 during the years prior to formally entering USAF service in December 2002 as the F-22A. Despite a protracted and costly development period, the United States Air Force considers the F-22 a critical component of U.S. tactical air power, and claims that the aircraft is unmatched by any known or projected fighter. Lockheed Martin claims that the Raptor's combination of stealth, speed, agility, precision and situational awareness, combined with air-to-air and air-to-ground combat capabilities, makes it the best overall fighter in the world today. Air Chief Marshal Angus Houston, former Chief of the Australian Defence Force, said in 2004 that the "F-22 will be the most outstanding fighter plane ever built."
The United States Air Force plans to purchase a total of 452 F-22 Raptors (at a flyaway cost of 114.02 million USD) to replace the F-15C/D in service. There are currently 292 active F-22s in service.
Specifications
[
edit
]
Crew: 1
Length: 62 feet 1 inch (18.923 meters)
Wingspan: 44 feet 6 inches (13.564 meters)
Height: 16 feet 8 inches (5.08 meters)
Wing Area: 840 ft² (78.04 m²)
Airfoil: NACA 64A?05.92 root, NACA 64A?04.29 tip
Empty Weight: 43,430 lbs (19699.5 kg)
Loaded Weight: 64,460 lbs (29,238.6 kg)
Maximum Takeoff Weight: 83,500 lbs (37,875 kg)
Powerplant: 2 x Pratt & Whitney F119-PW100 pitch thrust vectoring turbofans

Dry Thrust: 23,504 lbf (104 kN)
Thrust w/Afterburners: 35,256 lbf (156 kN)

Fuel Capacity: 18,000 lbs (8,164.66 kg) internal; 26,000 lb (11,793.4 kg) with two external tanks.
Maximum Speed: Mach 2.25 (1,500 mph; 1,414 km/hr)
Supercruise: Mach 1.82 (1,220 mph; 1,963.4 km/hr)
Armament

Guns: 1 x 20 mm (0.787 in) M61A2 Vulcan 6-barreled gatling cannon in starboard wing root, 480 rounds
Air-to-Air Missiles: AIM-9X Sidewinder, AIM-120C/D AMRAAM, AIM-152 AAAM
Operators
[
edit
]
Air Education an Training Command

325th Fighter Wing - Tyndall AFB, Florida

1st Fighter Squadron
2nd Fighter Squadron
43rd Fighter Squadron
95th Fighter Squadron

Air Combat Command

1st Fighter Wing - Langley AFB, Virginia

27th Fighter Squadron
71st Fighter Squadron
94th Fighter Squadron

49th Fighter Wing - Holloman AFB, New Mexico

7th Fighter Squadron
8th Fighter Squadron

53rd Fighter Wing - Eglin AFB, Florida

60th Fighter Squadron
422nd Test and Evaluation Squadron

57th Fighter Wing - Nellis AFB, Nevada

Air Force Material Command

412th Test Wing - Edwards AFB, California

411th Flight Test Squadron

Pacific Air Forces

3rd Fighter Wing - Elmendorf AFB, Alaska

12th Fighter Squadron
54th Fighter Squadron
90th Fighter Squadron
525th Fighter Squadron

15th Fighter Wing - Hickam AFB, Hawaii
35th Fighter Wing - Misawa Air Base

352nd Fighter Squadron
612th Fighter Squadron
614th Fighter Squadron
615th Fighter Squadron

54th Fighter Wing - Andersen AFB, Guam

16th Fighter Squadron
318th Fighter Squadron
478th Fighter Squadron

Air National Guard

154th Fighter Wing - Hickam AFB, Hawaii
192nd Fighter Wing - Langley AFB, Virginia

Air Force Reserve Comman

44th Fighter Group - Holloman AFB, New Mexico
477th Fighter Group - Elmendorf AFB, Alaska