Lake Superior-class Nuclear Attack Submarine
From Canadian Power Wiki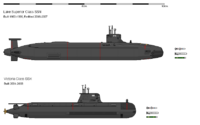 The Lake Superior-class Nuclear Attack Submarine was a class of submarine in the Canadian Forces Maritime Command. The design is based on the Trafalgar-class although it has a 46 foot (14.02 meter) hull stretch, a CANDU reactor, and an eight-cell Mk.45 vertical launching system.
In 1986, the Canadian government asked for tenders on new submarines, and stated that it would consider both nuclear and conventional designs, but would prefer nuclear subs.
The Lake Superior-class was originally conceived of as a class of up to twelve submarines although that number would soon be cut down to six submarines. In 1991, the number of submarines planned for further cut down to three which were to be complimented by six to eight cheaper diesel-electric submarines.
The design of the Lake Superior-class would have an extensive amount of influence in the development of the Royal Navy's Astute-class submarines.
During the 2004 RIMPAC, the Lake Superior took down the American submarines Houston and Seawolf, the latter being more than a little embarassing for the USN as it had considered the Seawolf-class to be the world's best nuclear attack submarines.
In 2008, the Lake Superior-class was complemented by six Victoria-class diesel-electric submarines.
In the 2020s, the Canadian government would begin a program to replace the Lake Superior-class with a new class of SSN, of which the choices were the Asakaze-class, Astute-class, Barracuda-class, Seawolf-class, and Virginia-class. On June 25th, 2025, the Canadian government awarded the contract to BAe Systems for six Astute-class nuclear attack submarines (named the Kingsmill-class) .
Type: Nuclear Attack Submarine (Hull designation symbol SSN)
Builders: Canadian Submarine Consortium, Canada Shipbuilding Corporation
Characteristics

Length: 326 feet (99.37 meters)
Beam: 34 feet 2 inches (10.41 meters)
Draught: 31 feet (9.45 meters)
Displacement: 5,820 tons

Crew: 130
Power: 16,500 shp
Range: Unlimited
Speed: 32 knots (59.26 km/h)
Propulsion

1 x AECL CANDU Reactor
2 x Western Electric steam turbines
2 x WH Allen turbo generators; 3.2 MW
2 x Paxman diesel alternators 2,800 shp (2.1 MW)
1 x pump jet propulsion
1 x motor for emergency drive
1 x auxiliary retractable prop

Sensor Suite

Ferranti/Gresham Dowty DCB/DCG or BAE Systems SMCS data system
Type 2072 hull-mounted flank array passive sonar
Plessey Type 2020 or Marconi/Plessey Type 2074 hull-mounted active and passive search and attack sonar
Ferranti Type 2046 or Thales Underwater Systems 2076 towed array passive search sonar
Thomson Sintra Type 2019 PARIS or Thorn EMI 2082 passive intercept and ranging sonar
Marconi Type 2077 short range active classification sonar
Kelvin Hughes Type 1007 I band navigation radar
Pilkington Optronics CK34 search periscope
Pilkington Optronics CH84/CM010 attack periscope

Armament

6 x 533mm torpedo tubes (fires Mk.48 ADCAP heavyweight torpedoes, UGM-84 Harpoon AShMs or CAPTOR mines)
1 x 8-cell Mk.45 VLS (fires UGM-109 Tomahawk cruise missiles)
HMCS Lake Superior (SSN-876) - commissioned January 12th, 1993
HMCS Lake Huron (SSN-877) - commissioned January 29th, 1994
HMCS Lake Athabasca (SSN-878) - commissioned July 17th, 1995
HMCS Unnamed - cancelled in 1991
HMCS Unnamed - cancelled in 1991
HMCS Unnamed - cancelled in 1991