Knox-class Frigate
From Canadian Power Wiki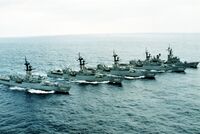 The
Knox-class frigates
were
United States Navy
warships, originally laid down as ocean escorts (formerly called destroyer escorts), but were all redesignated as frigates on June 30, 1975 in the USN 1975 ship reclassification and their hull designation changed from DE to FF.
A sub-class of the Knox-class was built, commonly referred to as the Hewes-class. The primary differences were slightly different arrangement of the "Officer's Country" staterooms with additional staterooms in the 01 level instead of the open deck between the boat decks. The stateroom on the port side under the bridge was designated as a "flag" stateroom, with the additional staterooms for flag staff when serving as a flagship.
Specifications
[
edit
]
Type: Anti-Submarine Warfare Frigate (Hull designation symbol FF)
Service Period: 1969-1994
Characteristics

Length: 438 feet (133.5 meters)
Beam: 46 feet 9 inches (14.25 meters)
Draft: 24 feet 9 inches (7.54 meters)
Displacement: 4,260 tons (Full Load)

Crew: 257 (17 officers and 240 enlisted)
Propulsion: 1 shaft, one Westinghouse steam turbine, 2 V2M boilers. total 35,000 shp (maximum)
Range: 4,500 nautical miles (8,334 kilometers) at 20 knots (37.04 km/h)
Speed: 27 knots (50km/h)
Sensor Suite:

AN/SPS-40 Air Search Radar
AN/SPS-10 Surface Search Radar
AN/SPS-67 Surface Search Radar
AN/SPG-53 Fire Control Radar
AN/SQS-26 Hull Sonar
AN/SQS-35 Towed Array Sonar - replaced by AN/SQR-18

Armament

1 x Mark 42 5"/54-caliber naval gun
1 x 8-cell Mk.25 Sea Sparrow Missile Launcher
1 x 8-cell Mk.112 Box Launcher (fires RUR-5 ASROC and RGM-84 Harpoon)
2 x Mk.32 triple fire torpedo tubes (fires Mk.44 and Mk.46 torpedoes)
1 x 20mm Vulcan Phalanx CIWS

Aircraft Carried: 1 x Kaman SH-2 Sea Sprite
History
[
edit
]
The 46 ships of the Knox-class were the largest, last and most numerous of the US Navy's second-generation ASW escorts. The lead ship of the class was the USS Knox (FF-1052), laid down 5 October 1965 and commissioned 12 April 1969, at Todd Shipyards in Seattle. Planned as the follow-on to the twin 5-inch gun armed Garcia-class frigates and the Tartar missile-equipped Brooke-class frigates, their initial design incorporated the prior classes' pressure-fired boilers (the design later was changed to conventional 1,200 psi (8,300 kPa) boilers) in a similar-sized hull designed around the massive bow-mounted AN/SQS-26 sonar.
Ten ships were authorized in FY 1964, sixteen in 1965 and ten each for FYs 1966, '67 and '68; six were canceled in 1968 and four more in 1969. They were built in four different shipyards and were originally commissioned as destroyer escorts (DEs) 1052–1097 in 1969–1974, they were redesignated as frigates (FF) on 30 June 1975.
In February 1972, after encountering a severe Nor'Easter off Cape Hatteras, the USS Trippe (FF-1075) suffered major damage to its ASROC missile launcher, which was ripped off its mounts. The Bureau of Ships ordered all of the Knox-class to have a retrofit "hurricane bow" which heighted the bow section to prevent burrowing into on-coming seas and to protect the forecastle armament.
The Knox-class was the Navy's last destroyer-type design with a steam power plant.
Due to their unequal comparison to destroyers then in service (large size with low speed and a single screw and 5 inch gun), they became known to a generation of destroyermen as "McNamara's Folly."
These ships were retired from the US Navy at the end of the Cold War due to a declining need for an advanced ASW capability. By 1994 all ships of this class had been retired from the US Navy, although some remain in service with foreign nations such as Egypt, Iran, Mexico, Taiwan, and Thailand.
Unit Run
[
edit
]
Ship Name
Hull No.
Builder
Commission–
Decommission
Fate
Link
USS Knox
FF-1052
Todd Shipyards, Seattle
1969–1992
Museum ship in Vallejo, California
[1]
USS Roark
FF-1053
Todd, Seattle
1969–1991
Scrapped
[2]
USS Gray
FF-1054
Todd, Seattle
1970–1991
Scrapped
[3]
USS Hepburn
FF-1055
Todd, San Pedro
1969–1991
Sunk as target
[4]
USS Connole
FF-1056
Avondale Shipyard
1969–1992
To Greece, renamed HS Ipirus (F-456)
[5]
USS Rathburne
FF-1057
Lockheed Shipbuilding and Construction Company
1970–1992
To Mexico, renamed ARM Gildardo Magaña (F-217)
[6]
USS Meyerkord
FF-1058
Todd, San Pedro
1969–1991
Scrapped
[7]
USS W. S. Sims
FF-1059
Avondale
1970–1991
Grant aid to Turkey as spare parts hulk
[8]
USS Lang
FF-1060
Todd, San Pedro
1970–1991
Scrapped
[9]
USS Patterson
FF-1061
Avondale
1970–1991
Scrapped
[10]
USS Whipple
FF-1062
Todd, Seattle
1970–1992
To Mexico, renamed ARM Almirante Francisco Javier Mina (F-214)
[11]
USS Reasoner
FF-1063
Lockheed
1971–1993
To Turkey, renamed TCG Kocatepe (F-252)
[12]
USS Lockwood
FF-1064
Todd, Seattle
1970–1993
To Mexico, renamed ARM Miguel Zugastegui (F-216)
[13]
USS Stein
FF-1065
Lockheed
1972–1992
To Mexico, renamed ARM Ignacio Allende (F-211)
[14]
USS Marvin Shields
FF-1066
Todd, Seattle
1971–1992
To Mexico, renamed ARM Mariano Abasolo (F-212)
[15]
USS Francis Hammond
FF-1067
Todd, San Pedro
1971–1992
Scrapped
[16]
USS Vreeland
FF-1068
Avondale
1970–1992
To Greece, renamed HS Makedonia (F-458)
[17]
USS Bagley
FF-1069
Lockheed
1972–1991
Scrapped
[18]
USS Downes
FF-1070
Todd, Seattle
1971–1992
To Mexico, renamed ARM Vicente Guerrero (F-215)
[19]
USS Badger
FF-1071
Todd, San Pedro
1970–1991
To Mexico, renamed ARM Rubén Jaramillo (F-218)
[20]
USS Blakely
FF-1072
Avondale
1970–1991
Scrapped
[21]
USS Robert E. Peary
FF-1073
Lockheed
1972–1992
To Taiwan, renamed ROCS Chih Yang (FF-932)
[22]
USS Harold E. Holt
FF-1074
Todd, San Pedro
1971–1992
Sunk as target
[23]
USS Trippe
FF-1075
Avondale
1970–1992
To Greece, renamed HS Thraki (F-457)
[24]
USS Fanning
FF-1076
Todd, San Pedro
1971–1993
To Turkey, renamed TCG Adatepe (F-251)
[25]
USS Ouellet
FF-1077
Avondale
1970–1993
To Thailand, renamed HTMS Phutthaloetla Naphalai (FFG=462)
[26]
USS Joseph Hewes
FF-1078
Avondale
1971–1994
To Taiwan, renamed ROCS Lan Yang (FF-935)
[27]
USS Bowen
FF-1079
Avondale
1971–1994
To Turkey, renamed TCG Akdeniz (F-257)
[28]
USS Paul
FF-1080
Avondale
1971–1992
To Turkey as spare parts hulk
[29]
USS Aylwin
FF-1081
Avondale
1971–1992
To Taiwan, renamed ROCS Ning Yang (FF-938)
[30]
USS Elmer Montgomery
FF-1082
Avondale
1971–1993
To Turkey as spare parts hulk
[31]
USS Cook
FF-1083
Avondale
1971–1992
To Taiwan, renamed ROCS Hae Yang (FF-936)
[32]
USS McCandless
FF-1084
Avondale
1972–1994
To Turkey, renamed TCG Trakya (F-257)
[33]
USS Donald B. Beary
FF-1085
Avondale
1972–1994
To Turkey, renamed TCG Karadeniz (F-255)
[34]
USS Brewton
FF-1086
Avondale
1972–1992
To Taiwan, renamed ROCS Fong Yang (FF-933)
[35]
USS Kirk
FF-1087
Avondale
1972–1993
To Taiwan, renamed ROCS Fen Yang (FF-934)
[36]
USS Barbey
FF-1088
Avondale
1972–1992
To Taiwan, renamed ROCS Hwai Yang (FF-937)
[37]
USS Jesse L. Brown
FF-1089
Avondale
1973–1994
To Egypt, renamed Dumyat (F961)
[38]
USS Ainsworth
FF-1090
Avondale
1973–1994
To Turkey, renamed TCG Ege (F-256)
[39]
USS Miller
FF-1091
Avondale
1973–1991
To Turkey as spare parts hulk
[40]
USS Thomas C. Hart
FF-1092
Avondale
1973–1993
To Turkey, renamed TCG Zafer (F-253)
[41]
USS Capodanno
FF-1093
Avondale
1973–1993
To Turkey, renamed TCG Muavenet (F-250)
[42]
USS Pharris
FF-1094
Avondale
1974–1992
To Mexico, renamed ARM Guadalupe Victoria (F-213)
[43]
USS Truett
FF-1095
Avondale
1974–1994
To Thailand, renamed HTMS Phutthayotfa Chulalok (FFG-461)]]
[44]
USS Valdez
FF-1096
Avondale
1974–1991
To Taiwan, renamed ROCS Ki Yang (FF-939)
[45]
USS Moinester
FF-1097
Avondale
1974–1994
To Egypt, renamed Rasheed (F.962)
[46]