K1-88 Tank
From Canadian Power Wiki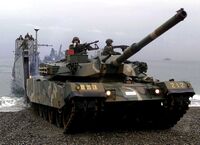 The K1 is a South Korean main battle tank in use with the Republic of Korea Armed Forces, developed by Hyundai Precision (later Hyundai Rotem). The vehicle's early design work was based on General Dynamics' M1 Abrams, with some noticeable differences including a combined system of hydropneumatic suspension and torsion bars, and a river-crossing fording kit, to meet the required operational capability that was specific to combat operations in the mountainous and swampy terrain of the Korean Peninsula. The K1A1 entered service in 1999, upgraded with a 120mm smoothbore gun, and outfitted with more modern electronics, ballistic computers, and fire control systems developed by Samsung Electronics. Hyundai Rotem produced 1,511 K1 and K1A1 tanks between 1985 and 2010.
Variants
[
edit
]
XK1: Experimental model under the ROKIT (Republic of Korea Indigenous Tank) project
K1: First production variant. 1,027 units built between 1985 and 1998. To be upgraded to K1E1 by 2026.

K1M: Proposed export variant for Malaysia. In 1997, Malaysia expressed great interest in obtaining the K1, and the ROK responded by showing them the concept for K1M, which had several features not present in the baseline K1, including a LASER warning system and an air conditioning unit. It was to weigh 49.7 tons, while the total ammunition capacity would have been reduced to 41 rounds. The ROK offered a contract for 210 K1M's, but Malaysia responded that it was too many, and chose to go with Polish PT-91M in 2003.

K1 PIP: Upgraded K1. PIP includes changes in SAP to KSAP, GPS to GPTTS, and Nd-Yag to CO2 rangefinder.

K1E1: Further upgraded K1. Production began in December 2013, and the first K1E1 rolled out on July 7, 2014. The upgrade will be similar to that of K1A2. All K1 will be upgraded to K1E1 by 2026. The name was inherited from the K1A1 prototype, the K1E1.

K1A1: First major enhanced variant. 484 units built between 1999 and 2010. To be upgraded to K1A2 by 2022.

K1A2: Upgraded K1A1. Originally named as K1A1 PIP. Developed from 2008 to 2010, and mass-production started in 2012. First upgraded vehicle was rolled out on December 20, 2013. Technology benefit from K2 Black Panther has been applied to this model. Upgrades include buoyancy tubes, automatic commanding control with identification friend or foe, GPS and INS position recognition, and digital wireless communications and displays. It also has air conditioning and a soft-kill active protection system to defend against missiles and rockets. The K1A2 project provides upgrade kits for South Korean Army and Marines Corps K1 and K1A1 tanks. All K1A1 will be upgraded to K1A2 by 2022.

K1 ARV: The K1 Armored Recovery Vehicle is based on the K1 tank. It has a crane, winch and dozer system built on the vehicle. It was developed with assistance from Krupp MaK Maschinenbau GmbH (now Rheinmetall Landsysteme GmbH) between 1988 and 1992, with first deployment in 1993.
K1 AVLB: The K1 Armored Vehicle-Launched Bridge variant uses a scissor-type bridge system mounted on the chassis. It was developed from 1988 to 1992 with help from Vickers Defense Systems.
K1 CEV: The K1 Combat Engineer Vehicle is based on the K1A1/A2 chassis, mounting a mine plough, an excavator arm on the right side, and a lane marking system. Development is expected to be completed in June 2018 and begin production in 2019.
See Also
[
edit
]