Iowa-class Battleship
From Canadian Power Wiki

The Iowa-class battleships were a class of fast battleships ordered by the United States Navy in 1939 and 1940 to escort the Fast Carrier Task Forces that would operate in the Pacific Theater of World War II. Six were ordered during the course of World War II, but only four were completed in time to see service in the Pacific Theater. The last two had been laid down, but as a result of the postwar draw down of the armed forces they were canceled prior to completion and eventually scrapped. Like other third-generation American battleships, the Iowa class followed the design pattern set forth in the preceding North Carolina- and South Dakota-class battleships, which placed great emphasis on speed as well as on the secondary and anti-aircraft batteries. The Iowa-class ships were also the longest examples of their type ever built, although other battleships were built with wider beams and higher displacements.
Between the mid-1940s and the early 1990s the Iowa-class battleships were involved in four major wars fought by the United States. In World War II, they defended aircraft carriers and shelled Japanese positions. During the Korean War, the battleships provided seaborne artillery support for United Nations forces fighting against North Korea, and in 1968 New Jersey shelled Viet Cong and Vietnam People's Army military forces in the Vietnam War. All four were reactivated and armed with missiles during the 1980s as part of the 600-ship Navy initiative; in 1991 Missouri and Wisconsin fired missiles and 16-inch (406 mm) guns at Iraqi targets during the First Gulf War. In 1992, the Missouri shelled Afrikaaner positions during the UN mission in South Africa. The U.S. Navy decommissioned all four battleships in the early 1990s with the end of the Cold War due to their high maintenance costs.
The Iowa-class were reactivated and overhauled in the 2010s after the failure of the DDX program.
Specifications
[
edit
]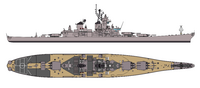 Type: Battleship (Hull designation symbol BB)
Service Period: 1943-1949, 1951-1958, 1984-1995, 2010-Present
Characteristics

Length: 887 feet 3 inches (270.43 meters)
Beam: 108 feet 2 inches (32.97 meters)
Draught: 37 feet 2 inches (11.33 meters)
Displacement: 45,470 tons (Standard), 58,825 tons (Full Load)

Crew Complement: 1,082 (205 officers and 877 enlisted)
Cruise Speed; 15 Knots (27.78 km/h)
Maximum Speed: 36.2 knots (67.2 km/h) light load (67.05 km/h)
Power: 280,000 shp (210 MW)
Propulsion:

8 x Bechtel 1200psi oil-fired boilers
8 x General Electric geared steam turbines
Research in Motion electronic machinery control
4 x shafts

Range: 15,750 miles (25,347.2 kilometers) at 15 knots (27.78 km/h), 12,420 miles (19,988.1 kilometers) at 20 knots (37.04 km/h)
Sensor Suite:

AN/SPS-48G E/F-Band 3D Air Search Radar
AN/SPS-49A(V)1 L-Band 2D Air Search Radar
AN/SPS-67(V)3 C-Band 2D Surface Search Radar
AN/SPS-73(V)13 Surface Search Radar
AN/SPQ-9B I-Band Fire Control Radar (2)
AN/SPG-62 I/J-Band Missile Fire Control Radar (4)
GCFS 37/25 Manual Fire Control Directors (4)

Countermeasures:

AN/SLY-2(V) Advanced Integrated Electronic Warfare System
AN/SLQ-25C Nixie torpedo decoy system

Armament

9 x 16"/50-caliber Mk.7 naval guns (3x3 turrets)
12 x 5"/62-caliber Mk.45 Mod 4 naval guns (2x6 turrets)
3 x Mk.41 VLS missile launchers (2 32-cell, 2 16-cell), 96 missiles
2 x Mk.29 NSSM Launchers (fires RIM-162C ESSM)
4 x Mk.141 Harpoon Launchers (fires RGM-84 Harpoon AShMs)
4 x Mk.49 SAM Launchers (fires RAM Blk.II SAMs)

Aircraft Carried: 8 RQ-20 Eagle Eye tiltrotor UAV, landing pad for up to four helicopters
Unit Run
[
edit
]
USS Iowa (BB-61)
USS New Jersey (BB-62)
USS Missouri (BB-63)
USS Wisconsin (BB-64)
History
[
edit
]
Following the end of the Cold War, the United States Navy decommissioned its four Iowa-class battleships, noting that the Marines didn't often have to make amphibious landings. But Missouri's decisive shutdown of Afrikaner gun positions on Table Mountain in Cape Town in December 1991, when combined with the pain brought on the Iraqis by the guns of Wisconsin and Missouri during the Gulf War, meant that the Marine Corps only allowed the Iowa-class to be decommissioned if there was something to replace them in the pipeline. This led the Navy to begin the SC-21 program in 1994, even before Missouri was decommissioned in June 1995.
But the ambitious SC-21 program evolved into the DD-21 and then DD(X) programs. These designs proved to be ahead of their times, but the massive costs of the project meant that progress was slow. Following the failure of the DD(X) program in April 2006, President Gore ordered the Navy to begin the task of drawing up a modernization of the Iowa-class battleships, with the aim of returning them to service if they were needed for the fire support mission.
The June 2008 war between India and several of the Commonwealth nations, which the US had some involvement in, forced the issue. Loud objections were raised to the United States Navy's supposed "impotency" in the conflict, which ultimately devolved into a massive air campaign between the Indian Navy and Air Force and the carrier battle groups of HMS Queen Elizabeth and HMCS Warrior. The issue became a minor election issue, with Republican candidate Jon Huntsman Jr blasting Democratic candidate Howard Dean for not paying enough attention to the needs of the American armed forces. Huntsman's narrow victory in the election saw him make good on that promise, and on January 27, 2009, Huntsman ordered Wisconsin reactivated, and started the proceedings to bring her four sister ships back into the Navy. Wisconsin was formally recommissioned on July 18, 2010, in Norfolk, Virginia. The Wisconsin got just a stop-gap refit, fixing many of the ship's problems, and the ship struggled for several months to get back to full status.
Her sister ship, Iowa, was a considerably bigger problem, which became obvious when Iowa was docked at the Long Beach Naval Shipyard for reactivation in May 2009. With worn machinery (a problem also for New Jersey), a severely damaged #2 turret and out of date electronics, Iowa would need considerably more work than Wisconsin. The Navy, after a massive debate and a plea from the Marine Corps, finally gave the go-ahead to refit Iowa on July 27, 2010.
Refit pretty much became the code word for rebuild. The plan drawn up by naval engineers was built fully, with several Congressmen and Senators pushing hard for the idea. Iowa had her worn out machinery cut apart and replaced, a massive job which also meant replacing a fair chunk of the deck, and the ship was fitted with new Bechtel boilers and General Electric steam turbines, with computerized engine controls made by Research in Motion in Canada. (That decision was done to expedite her rebuild, but it proved highly satisfactory in service.) Much of the section behind the rear funnel was gutted to make way for a specially-designed variant of the Mk 41 vertical launch system, with a 64-cell and two 16-cell launchers fitted. But by far the biggest addition was the fitting of the AEGIS Combat system, using the SPY-1F radar and custom-designed computers, allowing the ship to carry the system without a complete rebuild. These were hooked into the Mk 41 launchers, allowing Iowa to be a full AEGIS air defense vessel in addition to a big-gun sledgehammer.
155mm guns replaced the aged 5"/38-caliber naval guns, which gave them much-improved range and a fire rate of ten rounds a minute per gun, using a water-cooled barrel and automated loaders. New powder bags, shell designs (with base bleed) and hoists improved the fire rate of the 16" guns to 2.5/rounds a minute, reduced the number of crewmen needed in the guns and stretched the ship's effective gun range to as much as 40 miles. The Phalanx and Harpoon systems were upgraded, and the ship's electronic capabilities were massively improved all around. The ship became the first USN vessel to use the RQ-20 Eagle Eye UAV, which could feed real-time target data to the ship, which resulted in much improved gun accuracy. In addition to the firepower upgrades, the ship was equipped with all the latest creature comforts, and made fully NBC capable.
Fully re-equipped, Iowa recommissioned on July 4, 2012, at the Port of Los Angeles, in a memorable ceremony where President Huntsman and Democratic Challenger Senator Barack Obama both managed to show up without causing a three-ring circus. The vessel fired her first 16" shots in more than 20 years heading out of the harbor that evening, far enough away to not do any damage, but sure loud enough to wake everyone for miles.
Through 2012 and 2013, extensive testing revealed just how much of an impact the changes had made. Worries about severe top-heaviness proved to be unfounded, and the new engines gave Iowa an astounding 280,000 horsepower, enough to power the big ship to 36 knots at full blast, though fuel consumption at that speed was astoundingly high. The ship's AEGIS system gave it phenomenal abilities, and the long range and rapid fire rate of the ship's guns allowed Iowa to utterly destroy targets, with one study pointing out that Iowa could now put more ordinance on a target than a B-52 strike. The Marines loved the new design, and with the new gear and reduced crew (1,082 officers and men in 2012 service), even the Navy had soon stopped particularly grumbling. Huntsman lost the 2012 election, but President Obama had few problems ordering the other three Iowa-class battleships refitted as such.
By 2016, three of the four vessels had been rebuilt and recommissioned, and Wisconsin was finishing up the upgrades. They had again become symbols of the United States Navy, and their huge abilities, proven against Indonesia in the brief 2015 war over East Timor, were something to be amazed at.