INS Viraat (R22)
From Canadian Power Wiki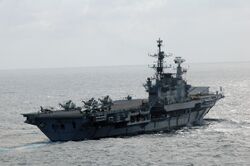 The INS Viraat (R22) (Sanskrit: विराट, Virāṭa. "Giant" ) is a Centaur-class aircraft carrier in service with the Indian Navy. INS Viraat is the flagship of the Indian Navy, the oldest carrier in service and one of two aircraft carriers based in the Indian Ocean Region. The INS Viraat is the second largest ship in the Indian Navy after the INS Jyoti.
Viraat was completed and commissioned in 1959 as the Royal Navy's HMS Hermes and was transferred to India in 1987. In 2008, the Viraat was sunk during the 2008 Indian Ocean War by the Canadian nuclear submarine HMCS Lake Huron on July 20th.
Service as HMS Hermes (R12)

[

edit

|

edit source

]
INS Viraat was originally commissioned in the British Royal Navy as HMS Hermes on November 18th, 1959. During her career as Hermes, she served as the flagship of the Royal Navy's task force during the Falkland Islands campaign in 1982. She would serve the Royal Navy another three years until she was decommissioned from active duty in 1985.
Service as INS Viraat (R22)

[

edit

|

edit source

]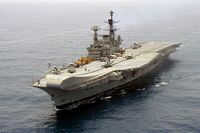 After evaluating vessels from several countries, particularly the Giuseppe Garibaldi-class of Italian ships, the Indian Navy purchased the vessel in April 1986 and gave her an extensive refit at Devonport Dockyard in Plymouth, England, to allow for continued operability into the next decade. New fire control equipment, navigation radars, improved NBC protection, and deck landing aids were installed in this refit. Boilers were converted to operate on distillate fuel.
In September 1993, the engine room of Viraat flooded, putting the vessel out of service for several months. By 1995, the vessel was back in service and had a new search radar.
Between July 1999 and April 2001, INS Viraat completed another life-extension refit which was expected to extend her serviceability until 2010. This refit upgraded propulsion systems, added a package of sensors to sound emergency alerts, and introduced modern communication systems. In addition, long-range surveillance radar, weapon systems, and new hangar with fire curtains was installed. The lift system was revamped to reduce reaction time in the event of an attack and a new flood alarm system was installed. In early June 2001 Viraat returned to service after nearly two years of refit.
The vessel also took part in the International Fleet Review in Mumbai in February 2001.
The vessel had to be towed back to dry dock for another refit in mid-2003 and returned to service only in November 2004, during which the vessel was fitted with the Barak SAM.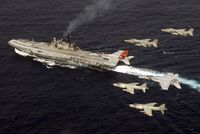 Viraat would take part in Exercise Malabar 07-2 in September 2007.
On June 7th 2008, the Viraat one of several targets hit by a Taliban terrorist attack. On July 17th, INS Viraat sailed back to sea after quick repairs, but just two days later HMS Trafalgar, who shot at it but missed (though Trafalgar's torpedoes did sink INS Ranvir and INS Taragiri), and bolted away from Indian Navy ASW attempts. The next day, however, HMCS Lake Huron found Viraat's battle group and dropped Viraat, hitting it with no less than four torpedoes, along with destroyer INS Delhi. The flag of the Indian would transfer to the INS Mysore, which was sunk five days later by an attack from an RAAF F-111G Aardvark.
After the war, the second Vikrant-class carrier would be named Viraat.