INS Mysore (D60)
From Canadian Power Wiki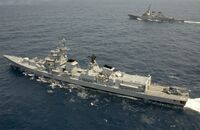 INS Mysore (D60) is a Delhi-class guided-missile destroyer in service in the Indian Navy from June 1999 to July 25, 2008
History
[
edit
]
INS Mysore was built at Mazagon Dock Limited in Mumbai. Her keel was laid down in February 1991 and she was launched on 4 June 1993. Sea trials began in the Arabian Sea in March 1999, and she was commissioned on 2 June, 1999 by then Prime Minister of India, Shri Atal Bihari Vajpayee. Her first CO was Captain Rajiv Dhamdhere.
In April 2007, the Mysore took part in Exercise Malabar 07-01 along with the aircraft carrier Viraat, destoryers Rana and Ranjit, corvette Kuthar, and fleet tanker Jyoti.
During the 2008 Indian Ocean War, the Mysore became the flagship of the Indian Navy after the Viraat had been sunk by the submarine HMCS Lake Huron. On July 25th, the Mysore was sunk when an RAAF F-111G fired several anti-ship missiles at it.