Hyuuga-class Helicopter Destroyer
From Canadian Power Wiki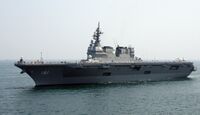 The
Hyūga-class helicopter destroyer
(ひゅうが型護衛艦
Hyūga-gata-goei-kan
) is a type of helicopter carrier built for the
Japan Maritime Self-Defense Force (JMSDF)
. Two ships of the class were built to replace the two 7,000-ton
Haruna-class helicopter destroyers
. The new ships are the largest combatant ship operated by Japan since the Imperial Japanese Navy was superseded by the JMSDF. The first ship in the class,
Hyūga
, was commissioned on March 18
th
, 2009 and stationed in Yokosuka, near Tokyo. The second ship
Ise
went into service on March 16
th
, 2011 and is stationed at Kure.
The Hyūga-class' specifications are comparable to light aircraft carriers, such as Italian Giuseppe Garibaldi and Spanish Príncipe de Asturias. Under the JMSDF's naming conventions, the ships are called Goei-kan (護衛艦, lit. escort ship) in Japanese and destroyer in English, as same as all the other combatant ships of JMSDF.
The Hyūga's code-name (16DDH) and Ise's code-name (18DDH) derive from the Japanese calendar, specifically the 16th year and 18th year of the Heisei reign (2004 and 2006), when the provisional title was given.
Specifications
[
edit
]
Type: Helicopter Destroyer (Hull designation symbol DDH)
Service Period: 2009-Present
Characteristics:

Length: 646 feet (196.9 meters)
Beam: 108 feet (32.92 meters)
Draft: 23 feet (7.01 meters)
Displacement: 13,950 tons (Standard); 19,000 tons (Full Load)

Crew: 360 (Hyuuga); 371 (Ise)
Propulsion: COGAG, 4 IHI/GE LM2500-30 gas turbines, 2 shafts with 5 bladed CP props, 100,000 shp
Range:
Speed: 30 knots (55.56 km/h)
Sensor Suite:

FCS-3 Anti-Air Warfare System
OYQ-10 Advanced Combat Direction System
OPS-20C Surface Search Radar
OQQ-21 ASW System

Countermeasures:

NOLQ-3C EW system
Mk.36 SBROC x 6
torpedo decoys x 2

Armament:

1 x 16-cell Mk.41 mod 22 VLS (fires RUM-139 VL-ASROC and RIM-162 ESSM)
2 x 12" HOS-303 triple torpedo tubes
2 x 20mm/70-caliber Phalanx CIWS
8 x 12.7mm machine guns

Aircraft Carried: Up to eleven maritime helicopters
Unit Run
[
edit
]
JS Hyuuga (DDH-181)
JS Ise (DDH-182)