Halifax-class Multirole Patrol Frigate
From Canadian Power Wiki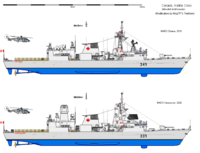 The
Halifax-class Multirole Patrol Frigate
is a class of warship in service in the
Canadian Forces Maritime Command
from 1991 onwards. The
Halifax
-class replaced the
Restigouche
,
Mackenzie
, and
Annapolis
class destroyer escorts. In late 2011, the Ministry of Defense authorized an extensive upgrade for the
Halifax
-class frigates to improve their capabilities.
The design of the Halifax-class frigates reflected many advances in ship construction, such as a move to a prefabricated unit construction method, where the ship is assembled from prefabricated units in a dry-dock instead of the traditional keel-laying. Furthermore, the design of Halifax-class frigates incorporated many new technical improvements. For example, these vessels were the first in the world to be equipped with the Integrated Machinery Control System (IMCS), which allows for a very high degree of computer control for the machinery plant.
Specifications
[
edit
]
Original Configuration
[
edit
]
Service Period: 1991-2030s
Type: Multirole Patrol Frigate (Hull designation symbol FFH)
Characteristics

Length: 445 feet (135.63 meters)
Beam: 54 feet (16.46 meters)
Draught: 16.4 feet (5 meters)
Displacement: 4,850 tons

Crew: 257
Propulsion:

2 x General Electric LM2500-30 gas turbines, 67,200 shp (51 MW)
1 x SEMT-Pielstick 20PA6 V280 diesel engine
1 x Royal de Schelde cross-connect gearbox
2 x Escher Wyss controllable pitch propellers
1 x 850kW AEG Telefunken generators

Range: 9,500 nautical miles (17,594 km; 10,900 mi) at 15 knots (27.78 km/h)
Speed: 29 Knots
Sensor Suite:

Ericsson Sea Giraffe HC 150 (G/H-Band) air/surface search radar
Raytheon AN/SPS-49 (C/D-Band) long range air search radar
Signaal SPG-503 STIR 1.8 (K/I-Band) fire control radar
Emerson Electric AN/SPQ-9B I-Band Gun Fire Control Radar
Kelvin Hughes Type 1007 I-Band navigation radar
General Dynamics Canada AN/SQS-510 Hull-mounted variable depth active sonar
General Dynamics Canada AN/SQR-501 CANTASS Passive towed array sonar

Countermeasures:

Thorn AN/SLQ-501 CANEWS Electronic Warfare Suite
Lockheed Martin Canada AN/SLQ-505 Radar Jammer
Argon ST AN/SLQ-25A Nixie torpedo countermeasures suite
BAe Systems Shield Mk.2 decoy launchers x 2

Armament

1 x Mark 45 Mod 2 5"/54-caliber naval gun
4 x Mark 48 8-cell Vertical Launching System
2 x Mark 141 4-cell armoured box launchers (fires UGM-84 Harpoon AshMs)
1 x 20mm Phalanx Block 1B CIWS cannon
2 x Mark 32 Mod 9 12.75" triple torpedo tubes (fires 24 Mark 46 torpedoes)

Aircraft Carried: 1 x CH-124 Sea King (replaced by CH-148 Cyclone)
FELEX Refit Configuration
[
edit
]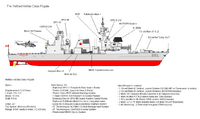 Service Period: 2011-2030s
Type: Multirole Patrol Frigate (Hull designation symbol FFH)
Characteristics

Length: 445 feet (135.64 meters)
Beam: 54 feet (16.46 meters)
Draught: 16.4 feet (5 meters)
Displacement: 5,200 tons

Crew: 257
Propulsion:

2 x General Electric LM2500-30 gas turbines, 67,200 shp (51 MW)
1 x SEMT-Pielstick 20PA6 V280 diesel engine
1 x Royal de Schelde cross-connect gearbox
2 x Escher Wyss controllable pitch propellers
1 x 850kW AEG Telefunken generators

Range: 9,500 nautical miles (17,594 km; 10,900 mi) at 15 knots (27.78 km/h)
Speed: 29 Knots
Sensor Suite:

Thales S1850M L-band Air Search Radar
Raytheon AN/SPY-1K Air/Surface S-band Search Radar
Raytheon Pathfinder Mark II Ka-band Navigation Radar
Saab CEROS-200 X-band fire control radars x 4
Emerson Electric AN/SPQ-9B I-band Gunfire Control Radar
ATI Technologies 9LV-Mark 5 Combat Management System
Thales Sirius Infrared Search and Tracking System
AN/SQS-510 Hull-mounted variable depth Active Sonar
ATI Technologies CANTASS II Passive Towed Array Sonar

Countermeasures:

Elisra M275 frequency-agile Electronic Warfare System
Lockheed Martin Canada AN/SLQ-505 Radar Jammer
Argon ST AN/SLQ-25C Nixie Torpedo Countermeasures System
BAe Systems Shield Mk.2 decoy launchers x 2

Armament

1 x Mark 45 Mod 4 5"/62-caliber lightweight naval gun (360 rounds)
1 x 16-cell Mark 41 Vertical Launch System (16 RIM-66 SM-2ER or UGM-109 Tomahawk)
2 x 32-cell Mark 56 Guided Missile Launch System (64 RIM-161 ESSM)
2 x 4-cell Mark 141 Harpoon AshM Launchers (8 UGM-84 Harpoon AshMs)
2 x Mark 32 12.75" triple fire torpedo tubes (24 Mk.54 LHT Torpedoes)
1 x 20mm Phalanx Block 1B CIWS (6,000 rounds)
6 x M2 Browning 12.7mm machine guns (7,500 rounds)

Aircraft Carried: 1 x CH-148 Cyclone ASW Helicopter
Aviation Facilities: 1 x Helipad equipped with Beartrap system, Hangar
Unit Run
[
edit
]
HMCS Halifax (FFH-330)
HMCS Vancouver (FFH-331)
HMCS Ville de Quebec (FFH-332)
HMCS Toronto (FFH-333)
HMCS Regina (FFH-334)
HMCS Calgary (FFH-335)
HMCS Montreal (FFH-336)
HMCS Fredericton (FFH-337)
HMCS Winnipeg (FFH-338)
HMCS Charlottetown (FFH-339)
HMCS St. Johns (FFH-340)
HMCS Ottawa (FFH-341)
HMCS Edmonton (FFH-342)
HMCS Kelowna (FFH-343)
HMCS Abbotsford (FFH-344) - commissioned 2018
HMCS Hamilton (FFH-345) - commissioned 2018
HMCS Saguenay (FFH-346) - commissioned 2018