HMS Queen Elizabeth (CVF-01)
From Canadian Power Wiki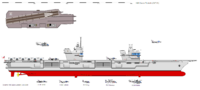 The HMS Queen Elizabeth (CVF-01) is the first Queen Elizabeth-class supercarrier in the Royal Navy.
It was launched in late 2005 and commissioned in 2007. In May 2006, the Queen Elizabeth met up with the Canadian supercarrier Warrior while undergoing sea trials. It also met with the Indian aircraft carrier Viraat and Australian carrier HMAS Australia. Afterwords, the Queen Elizabeth would take part in exercices with all three carriers.
The Queen Elizabeth would be commissioned on May 18, 2007 at the recently reactivated naval base at Scapa Flow. The Queen Elizabeth would have an air wing composed of F/A-18C Hornets, Eurofighter Typhoons, Panavia Tornadoes, E-2C Hawkeyes, S-3B Vikings, C-2 Greyhounds, Westland Apaches, AW101 Merlins, and AW159 Wildcats.
On June 15, 2008, Queen Elizabeth rushed out to the Indian Ocean to attempt to keep the peace. In late July 2008, F/A-18C Hornets from the Queen Elizabeth sunk a task force composed of Indian destroyers Mumbai, Rana, and Ranvijay and frigates Brahmaputra and Tabar with large numbers of Sea Eagle AShMs.
In 2011, the Queen Elizabeth took part in exercises with Argentina, Australia, Brazil, Canada, France, Germany, Netherlands, and the United States during the Joint Warrior 2011 naval war games exercise.