HMCS Warrior (CV-24)
From Canadian Power Wiki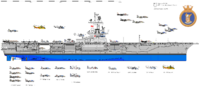 The HMCS Warrior (CV-24) was Canada's seventh aircraft carrier which took over after the decommissioning of the HMCS Eagle. She was originally built as the USS Forrestal (CVA/CV-59), the first supercarrier to enter service.
Specifications
[
edit
]
Characteristics
[
edit
]
Class: Modified Forrestal-class supercarrier
Launched: August 19, 1996
Commissioned: June 25, 1997
Decommissioned: November 25, 2023
Rebuilders: Saint John Maritime Shipbuilding, Saint John, New Brunswick
Engineering Contractors: SNC-Lavalin, Maritimes Marine Engineering
Characteristics

Length (Waterline): 990 feet (301.76 meters)
Length (Overall): 1,088 feet (331.63 meters)
Beam (Waterline): 130 feet (39.63 meters)
Beam (Extreme): 256 feet (78.03 meters)
Draft: 37 feet (11.28 meters)
Displacement (Light): 59,720 tons
Displacement (Full Load): 82,260 tons

Propulsion: 5 General Electric LM6000NV gas turbines, 8 General Electric H-Model 265 turbodiesel cruise engines, 13 Westinghouse electric generators, 16 Kinova Electronics 15MW geared electric motors, RIM MilSys 100 integrated ship power and propulsion system, 4 shafts
Power Output: 325,400 shp
Top Speed: 36.5 knots (67.6 km/h)
Range: 16,500 miles (26,554 kilometers) at 15 knots (27.78 km/h)
Complement: 627 officers, 2,537 men (including air wing)
Sensor Suite and Countermeasures

AN/SPS-48G E/F-Band 3D Air Search Radar
AN/SPS-49A(V) L-Band 2D Air Search Radar
AN/SPQ-9B I-Band Target Acquisition Radar
AN/SPN-41 Landing Aid Radar
AN/SPN-43C Air Traffic Control Radar
AN/SPN-46 Air Traffic Control Radar
4 x Mk 91 NSSM Guidance Systems
4 x Mk 95 Radars

Countermeasures:

AN/SLQ-25C Nixie Torpedo Countermeasures Suite
AN/SLQ-32(V)4 Electronic Warfare Suite

Armament

3 x 30mm Goalkeeper CIWS
3 x Mark 29 NSSM Launchers (replaced by 3 16-cell Mark 41 VLS)
2 x Mark 49 SeaRAM Launchers
Air Wing
[
edit
]
Air Wing (1997)
[
edit
]
16 x CF-184B Super Tomcat (Multirole Fighter)
28 x CF-188C/D Hornet (Multirole Fighter)
24 x CF-187C Corsair II (Attack Fighter)
10 x CP-121T Turbo Tracker (Maritime Patrol Aircraft)
4 x CE-2C Hawkeye (AWACS Aircraft)
4 x CH-124 Sea King (ASW Helicopter)
Airwing (2002)
[
edit
]
16 x CF-184B Super Tomcat (Multirole Fighter)
24 x CF-188C/D Hornet (Multirole Fighter)
20 x CF-187C Corsair II (Attack Fighter)
8 x CP-121T Turbo Tracker (Maritime Patrol Aircraft)
4 x CE-2C Hawkeye (AWACS Aircraft)
2 x CC-172A Greyhound
4 x CH-148 Cyclone (ASW Helicopter)
4 x CH-149 Comorant (ASW Helicopter)
4 x CH-151 Vulcan (Utility Helicopter)
Airwing (2012)
[
edit
]
16 x CF-184C Supercat
24 x CF-185A Typhoon
20 x CF-187D Corsair II
8 x CP-121T Turbo Trackers
4 x CE-2C Hawkeye 2000
6 x CE-188G Growler
4 x CC-172 Greyhound
4 x CH-148 Cyclone
4 x CH-149 Comorant
4 x CH-151 Vulcan
Air Wing (2016)
[
edit
]
18 x CF-184C Supercat (heavyweight multirole fighter)
24 x CF-185A Typhoon (lightweight multirole fighter)
24 x CF-216K Viper (attack aircraft)
3 x CE-2D Hawkeye (carrier-borne AWACS)
12 x CP-121T Turbo Tracker (anti-submarine aircraft)
3 x CC-172A Greyhound (carrier-borne transport)
4 x CH-149 Comorant (search and rescue helicopter)
4 x CH-151 Vulcan (utility/ASW helicopter)
History
[
edit
]
USS Forrestal (CV-59)
[
edit
]
In July 1951, the Navy announced plans to build a 60,000 ton, 1039 foot carrier designated CVB-59. The keel was laid in July 1952 and less than 30 months later, the first "super-carrier" was christened (by Mrs. James V. Forrestal) USS Forrestal. On October 1, 1955 Forrestal was commissioned (as CVA-59) and officially joined the fleet. In the Fall of 1956, Forrestal was called to assist forces in the Mediterranean during the Suez crisis. From 1958 through 1966, Forrestal alternated between the Second Fleet in the Atlantic and the Sixth Fleet in the Mediterranean. On October 30, 1963 a crew led by Lt. James H. Flatley III completed 21 unarrested full stop landings and 21 unassisted take-offs onboard Forrestal. This was out of the ordinary because the aircraft used was a KC-130F refueler transport on loan from the Marines as part of a COD (Carrier Onboard Delivery) feasibility study. In so doing, the plane and crew became the largest and heaviest airplane to land on a U.S. Navy aircraft carrier, a record that holds to this day. In June of 1967, she departed Norfolk for duties in the waters off Vietnam. After only 4 1/2 days of combat operations, a tragic fire broke out on the flight deck which claimed 134 crewmen. The entire nation felt the tragedy, summed up in a quote made by Lt. Commander Herbert A. Hope "in five minutes, everyone on this ship became a man", and published by Life Magazine for their.
Forrestal deployed to the Mediterranean twelve times between 1968 and 1986. In March 1973, she conducted rescue operations in the flooded Medjerda River Valley near Tunis. In July 1975 Forrestal's designation was changed to CV-59, and on July 4, 1976 Forrestal was host ship for the International Naval Review in New York City. From Forrestal's flight deck President Gerald Ford rang in the nation's Bicentennial and reviewed over 40 "tall ships" from countries throughout the world. Forrestal celebrated her silver Anniversary in October 1980. On September 12, 1982, Forrestal transited the Suez Canal for the first time in her 28 year history. From January 1983 to May 20, 1985, Forrestal underwent a $550 million Service Life Extension Program (SLEP) which was designed to extend her useful life another 15-20 years. In October 1987, Forrestal returned from "Ocean Safari '87," a highly successful NATO exercise, operations were conducted above the Arctic Circle and in the fjords of Norway.
Forrestal completed her 19th major deployment on October 7, 1988 after operating 108 consecutive days underway, making port calls totaling 15 days and operation in three oceans. For her superior operational performance during the deployment she received the Meritorious Unit Citation. After a brief stand down period and local operations, Forrestal participated in New York City's FLEET WEEK in May 1989, and then commenced preparations for her next deployment. Forrestal got underway for her 20th major deployment on November 7, 1989 after having completed repairs caused by a fire a month earlier. During the deployment Forrestal was visited by President George Bush during his historic Malta Summit with Soviet Premier Mikhal Gorbachev. Forrestal returned to her homeport of Mayport, Florida, on April 12, 1990.
From August 1990 through March 1991, Forrestal constantly maintained a high state of readiness in anticipation of deployment in support of Operations Desert Shield and Desert Storm. The call never came. Forrestal commenced her 21st and final operational deployment on May 30, 1991. During this period she provided air power presence and airborne intelligence support (the airwing flew over 900 sorties over Iraq) to the Combined Joint Task Forces of Operation Provide Comfort enforcing the northern "no-fly zone" in Iraq. During this last deployment Forrestal served in a number of new and innovative battle group and carrier roles. She completed this deployment on December 23, 1991. After returning from her final operational deployment Forrestal changed homeports from Mayport to Pensacola on February 5, 1992. She was redesignated as AVT-59 (training carrier) , relieving USS Lexington (AVT-16) which was decomissioned after 49 years of service. Forrestal served for six months training new naval aviators and providing a platform for carrier qualifications of active duty carrier air wings. During the Summer Forrestal and her crew called on the fine citizens of the city of New Orleans as her final liberty port. Forrestal was opened up for tours while the crew enjoyed the many flavors of the crescent city. In the late summer, Forrestal reported to the Philadelphia Naval Shipyard, Pa., for her final refit as a training carrier. Half way through this $500 million overhaul it was decided the nation no longer needed a dedicated training carrier and she was retired due to budget cuts.
HMCS Warrior (CV-24)
[
edit
]
In August 1992, UNMISA operations for the CF Maritime Command came to an abrupt end on August 11th, 1992, after a malfunctioning rocket caused a giant explosion on Eagle's flight deck, and subsequent explosions seriously damaged her engines and ripped open a 25-foot (7.62 meter) wide hole in the hull, fortunately well above the waterline. The disaster was by a massive margin the greatest peacetime loss ever for the CF, as 121 sailors and airmen were KIA or MIA from the disaster, and 215 injuries are tallied. Dead in the water, American fleet tug USNS Powhatan towed Eagle home, while her vessels joined the other UNMISA forces before themselves being called home on August 24th.
The disaster aboard Eagle was a major confidence-shaker for the MARCOM, made worse by the Liberals insisting that the seriously-damaged carrier now had no usage in the post-Cold War era and that she should be decommissioned and scrapped. This, however, does not help the Liberals in the 1993 elections, as this decision comes to haunt the opposition. Mulroney, seeing the opportunity, cranked up a public debate by holding off on a decision to repair Eagle while she was brought home and the damage was assessed. Polls, however, saw an aircraft carrier as an indispensable tool to assisting the Canadian Forces in their operations around the world. But Eagle's damage was immense - a massive hole in the flight deck, engines seriously damaged, the hull's integrity being questioned by naval architects.
While the debate raged, ideas came in. The United States Navy offered to transfer the soon to be decommissioned USS Forrestal for free, a hard offer to pass up, but the Forrestal required a crew far larger than Eagle did - Forrestal required 5,500 crew, a massive increase from Eagle's 1,750. But Forrestal was in condition excellent, as the carrier was at the time planned to be the United States Navy's new training carrier, and computerized engineering controls and other upgrades would cut the crew size down by a huge amount.
Also offered was the half-finished Soviet carrier Varyag, offered by Ukraine to Canada for peanuts. But Varyag's material condition was very rough. New carriers are moved off as being too pricey, and it looked for a while that Eagle might not have a replacement.
Realizing the problems with not having a carrier and Eagle's age, along with its wartime build and resulting only medium-quality steel and construction (despite her Canadian rebuild), the Canadian Forces began seriously looking at designing and building their own carrier of roughly 32,000 tons and 45 aircraft, somewhat smaller than Eagle but still a real fixed-wing carrier.
But Mulroney, seeking to both shut up Chrétien and show to the increasingly-influential right that he was no wuss, announced on November 26th, 1992, that Eagle would be replaced, no matter what, and that the government would go for the American supercarrier if the Maritime Command could figure out a way for Canada to operate it. The decision made the Maritime Command cheer and stunned all. The Liberals and NDP were against the outrageous cost of operating the beast, but Mulroney's point held - he would only go for it if the country country afford to operate it.
The US Navy, surprised at the decision but not displeased themselves, asked Congress to allow Forrestal's transfer on January 16th, 1993. Despite a new Congress and a new President in Bill Clinton, passage was all but assured, and passed on February 4th, 1993. Forrestal was still technically in commission at this point, but the Navy, realizing the fate of the vessel, did make sure to keep it in good shape.
With a budget to maintain, the plans for Forrestal's changes to allowed it to operate with fewer crew became a Canadian mission. AECL's proposal to convert it to nuclear power is too costly, but General Motors of Canada and General Electric propose to remove its steam turbines and replace them with gas turbines, turbodiesel cruise engines and turbo-electric drive, and a little known company in Waterloo called Research in Motion proposes to have it all controlled from an engine control room, fully computerized. The University of Toronto proposes a compressed air catapult as opposed to a steam catapult. Many other ideas are thought up to reduce the needed manpower, and the overall result is the 5,540 crew is brought down to 3,310 fully loaded.
The issue became a defining one of the 1993 election. The Liberals said that the immense supercarrier would be too costly to operate, citing an estimated yearly operating cost of $165 million CAD, along with the ship's age. The Conservatives, now led by Jean Charest and showing a far stronger electoral position than before, fired back that Canada has grown a maritime tradition that is worthy of renown, pointing out Eagle's work in Cyprus, Iraq and South Africa, and the public perception that the aircraft carrier will become a symbol of Canada.
Canada's industries lined up behind the plan, pointing out that acquisition and rebuilding of Eagle gave a new life to the Canadian shipbuilding industry, and that the other options were going to a much smaller carrier, none at all or building one themselves, at far greater costs and only marginally smaller operating cost.
The election very narrowly wnet to Charest, but it was a minority government. The Bloc Quebecois agreed with the Liberals that it was too expensive, but the Reform Party wanted it done. The NDP, continuing its history of being pro-military despite its socialist policies, went with the Conservatives.
On March 18th, 1994, Canada agreed to take possession of the Forrestal, which was renamed HMCS Warrior (CV-24). The ship went again to the massive dry-dock in Saint John, New Brunswick, for its overhaul. Over the next three years, the vessel's hull was stripped to bare metal and coated in a polymer solution to prevent rust, followed by a newly-formulated paint which allowed for less drag. The ship was extensively reconfigured, with the Port side forward aircraft elevator deleted and a new elevator built at the back of the vessel on the port side. A new superstructure included a funnel venting gases off to the side of the vessel. The flight deck was expanded by 15 percent, and much of the superstructure is built from aluminum to reduce weight. This allows a dedicated helicopter pad above the flight deck behind the tower. The superstructure was very tall, but it also offered excellent views of the vessel and the area around.
Highly-efficient General Electric LM6000 gas turbines and General Motors H-Model four-stroke diesel cruise engines were installed, which also allowed room for greater accommodations. HMCS Warrior was a very roomy vessel after its rebuild, and the vessel's accommodation spaces also gain many amenities, and the vessel's power rises from 260,000 shp to a maximum of 325,000 shp, with the gas turbines able to be turned off entirely when cruising, immensely improving fuel efficiency. At full blast, Warrior was capable of an astounding 35.8 knots (66.3 km/h), and can handle any carrier aircraft on the planet.
Warrior's rebuild was expensive at $932 million, but that was still one-third the cost of building a new carrier and substantially under budget. Further refinements reduce the crew, air crew included, down to 3,165 officers and men.
Completed in the summer of 1996, Warrior left its dry-dock for the first time on August 20th, 1996, with its first captain, Captain Peter Hamilton, taking it out for testing. The vessel performed so flawlessly that the crew recorded absolutely no problems during power and systems testing. The aircraft spends the rest of 1996 and early 1997 testing its aircraft abilities - which were exceptional. In a highly publicized March 1997 incident, a US Navy F-14B got into a mock dogfight with a Canadian Forces' CF-18, and the Navy guy, having lost to the agile fighter, called out that he was "going for reinforcements". Warrior heard that call and ordered its whole air wing airborne to surprise the Americans, leading to a six-aircraft formation running into more than twenty CF-18s, leading the American commander to blurt out "Where did all these fucking Canucks come from?"
After highly successful testing of the vessel and the proving of its ability to operate several types of aircraft, Warrior was declared ready for service in May 1997. The DOD and the Government, however, were keen to show off the carrier in Quebec as a way of combating the stronger separatist forces there, and as a result the commissioning of HMCS Warrior is held back until June 26th, 1997. Commissioned in Quebec City by Prime Minister Charest, the carrier was in Charest's words, "the symbol of the strength of our nation and its people, all of its people." Warrior was by a huge margin the largest vessel to serve Canada, and was also the largest vessel to ever serve a nation of the British Commonwealth."
Warrior's first duty after commissioning was also a landmark. Departing Quebec City on July 2nd, the massive carrier and her battle group sailed to the Mediterranean, in order to take over the duty of supporting the Canadian and IFOR forces in the Balkans. But on July 22nd, that mission took a right turn. American carrier USS George Washington, which had been at station there, suffered a massive fire caused by a electrical short, causing substantial damage and eliminating most of the carrier's food supplies and seriously damaging many of the carrier's electronics. Needing repairs, George Washington had to go home, but the American forces do not want to lose EW support. In a landmark decision, the Americans deploy five EA-6B Prowler electronic warfare aircraft to the Canadian carrier, leaving Warrior in charge of ensuring the air support in the area. Six days later, the Canadian and American forces were joined by a Royal Navy Fleet Air Arm squadron, 733 Squadron, which flies the Tornado RN.4 ground-attack aircraft. The extra twenty-one aircraft from the Americans and the British were easily accommodated on the Canadian carrier, with its 55-aircraft strong air wing. The carrier also took delivery of the first CH-149 Comorant helicopter from [AgustaWestland], which flew directly to Warrior from a base in Italy. The carrier held the duties well until September 28th, when HMS Ark Royal arrived to support Warrior, and the carrier was finally relieved by USS Nimitz on October 11th.
The MARCOM was rightly proud of its performance in the Mediterranean, but it also taught a few lessons. The MARCOM learned that its Hornet/Corsair II air wing is effective, but the EW aircraft were incredibly useful and the RN's Tornado attack aircraft have somewhat longer legs and a considerably bigger payload than the Corsair IIs. The MARCOM had also been debated about using some of the Air Command's F-14s on the carrier. The ideas and plans run through 1997 and 1998, as ideas and proposals are batted around.
The debate over Warrior's air wing was debated viciously through 1998, with the Forces and many commentators saying that the CF needed to invest in electronic warfare aircraft and longer-ranged attack aircraft, along with aerial refueling tankers. The Royal Navy, facing budget cuts of its own, offered to sell some of its RN.4 Tornado attack aircraft to the Canadian Forces in May 1998, which opened a stampede. The US Navy also offered up its A-6 Intruder attack aircraft (which was being retired at this point) and its electronic warfare derivative, the EA-6 Prowler. The Intruder and Tornado were comparable aircraft, though the Forces preferred the two-seat Tornados.
On September 16th, 1998, the Forces announced the purchase of twenty-four RN.4 Tornado two-seat attack aircraft to equip the carrier. In a move that surprised some, twelve aviators of the Royal Navy's Fleet Air Arm request to move to the Canadian Forces to fly for the Canadians. Both sides agreed to the request. The Tornados would first be assigned on Warrior in March 1999.
On January 14th 2006, HMCS Warrior embarked on a circumnavigation of the world with its battle group, made up in this case of destroyers Athabaskan, British Columbia and Alberta, frigates Ville de Quebec, Charlottetown and Edmonton, supply ships Protecteur and Rocky Mountain, and nuclear submarine Lake Superior. The navigation, ordered by Prime Minister Brian Tobin as a goodwill tour, stopped in New York, Dublin, Southampton, Rotterdam, Brest, Gibraltar, Barcelona, Naples, Athens, Izmir, Beirut, Tel Aviv, Karachi, Mumbai, Colombo, Perth, Jakarta, Singapore, Hong Kong, Nagasaki, Incheon, Tokyo, Pearl Harbor, San Francisco and Seattle on its way to finishing in Vancouver, where Warrior was scheduled for a dry-dock in April 2006. The goodwill sailing, with the media notably calling the vessels the "Canadian Global Fleet" or "The Canada Squadron", gained attention around the world, not the least from Britain and America. Britain's first new full-size carrier since the 1950s, HMS Queen Elizabeth (R10), did not have her air wing or even have some of her equipment installed yet, but that did not stop the new British carrier from sailing out to meet its much older Canadian counterpart. The carrier was also met in the Indian Ocean by INS Viraat and HMAS Australia and their respective battle groups. Overall, the idea of the exercise, to make a major statement and raised the profile of the Canadian Forces' Maritime Command both at home and abroad - was as successful as one could hope.
During the Second Korean War, Warrior would take part in operations and carry a squadron from the United States Marine Corps, VMFA-251 "Thunberbolts" (operating the F/A-18C+ Hornet), and a few squadrons from the USN including VFA-33 "Starfighters" and VFA-195 "Dambusters" (operating the F-35C Lightning II).
Warrior was decommissioned on November 25th, 2023, in Halifax after being in active service for 66 years (38 years in the USN and 26 years in the RCN). Warrior was cleaned up throughout 2024 and early 2025 before opening up as a museum ship in March 2025.