HMCS Cormorant (ASL-20)
From Canadian Power Wiki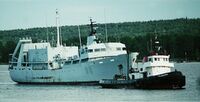 HMCS Cormorant (ASL-20)
was a diving support vessel that served in the
Canadian Forces
. She was equipped with either Pisces IV submersible or the SDL-1 submersible.
The vessel was built as the Italian-owned stern trawler Aspa Quarto. She was purchased in 1975 and commissioned into Canadian Forces Maritime Command, becoming the second Canadian naval unit to bear this name.
She was an integral part of the November 1994 expedition to recover the ship's bell from the wreck of the S.S. Edmund Fitzgerald in Luke Superior.
In 1997, the Canadian government considered decommissioning the Cormorant, but ended deciding to keep it. The Canadian Forces are currently holding a program to replace it.