HMAS Australia (R22)
From Canadian Power Wiki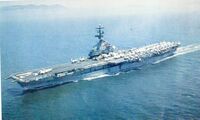 The HMAS Australia (R22) was an Essex-class aircraft carrier in service in the United States Navy from 1950 to 1976 and in the Royal Australian Navy from 1990 to 2009.
Type: Aircraft Carrier (Hull designation symbol CV, pennant number: R22)
Service Period: 1990-2009
Characteristics

Length: 936 feet (285.29 meters)
Beam: 130 feet (39.65 meters)
Draft: 33 feet (10.06 meters)
Displacement: 34,500 tons (Standard); 52,100 tons (Full Load)

Crew: 2,260
Propulsion: 6 x steam boilers, 4 x Westinghouse geared steam turbines, 4 x shafts, 210,000 shp (157,500 kW)
Range: 12,500 miles (20,116.8 kilometers) at 15 knots (27.78 km/h)
Speed: 33 Knots
Sensor Suite

AN/SPS-48G E/F-Band 3D Air Search Radar
AN/SPS-49(V)A2 L-Band 2D Air Search Radar
AN/SPS-67 C-Band Surface Search Radar
AN/SPS-64 Navigation Radar
AN/SPN-46(V)1 Precision Approach and Landing Radar
Mk.95 NSSM Guidance Radar x 4

Countermeasures:

AN/SLQ-32(V)4 Electronic Warfare Suite
AN/SLQ-25C Nixie torpedo countermeasures suite
Mk.36 SBROC decoy launchers x 6

Armament

2 x Mk.29 NATO Sea Sparrow Missile Launchers
2 x 20mm Phalanx CIWS

Aircraft Carried: 60 fixed wing aircraft and helicopters
to be continued at a later date.
to be continued at a later date.