Grumman E-2 Hawkeye
From Canadian Power Wiki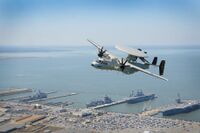 The Northrop Grumman E-2 Hawkeye is an American all-weather, carrier-capable tactical airborne early warning (AEW) aircraft. This twin-turboprop aircraft was designed and developed during the late 1950s and early 1960s by the Grumman Aircraft Company for the United States Navy as a replacement for the earlier E-1 Tracer, which was rapidly becoming obsolete. The aircraft's performance has been upgraded with the E-2B, and E-2C versions, where most of the changes were made to the radar and radio communications due to advances in electronic integrated circuits and other electronics. The fourth version of the Hawkeye is the E-2D, which first flew in 2007. The E-2 was the first aircraft designed to be an AEW aircraft from the outset, as opposed to a modification of an existing airframe, such as the E-3. Variants of the Hawkeye have been in continuous production since 1960, giving it the longest production run of any carrier based aircraft.
The E-2 also received the nickname "Super Fudd" because it replaced the E-1 Tracer "Willy Fudd". In recent decades, the E-2 has been commonly referred to as the "Hummer" because of the distinctive sounds of its turboprop engines, quite unlike that of turbojet and turbofan jet engines. The E-2 and its sister, the C-2 Greyhound, are currently the only propeller airplanes that operate from aircraft carriers. In addition to U.S. Navy service, smaller numbers of E-2s have been sold to the armed forces of Australia, Brazil, Canada, Egypt, France, Great Britain, Israel, Japan, Mexico, Singapore, South Korea, and Taiwan.
Variants
[
edit
]
W2F-1: Original designation of the Hawkeye, changed to E-2A in 1962.
E-2A: Initial production version, was W2F-1 before 1962. Fifty-nine built.
TE-2A: Two E-2As converted as crew trainers.
YC-2A: Two E-2As, BuNo.148147 and BuNo.148148, converted as prototypes of the C-2 Greyhound.
E-2B: As E-2A but fitted with improved computing, enlarged outer fins. Fifty-two aircraft converted from E-2As.
YE-2C: Two E-2As, BuNo.148712 and BuNo.148713, converted as E-2C prototypes. Designated as YE-2C and NE-2C respectively. These airframes then finished out their useful life being used as TE-2C pilot trainers.
E-2C: As the E-2B but with all new electronics, surveillance radar and search radar, 63 built. In "plus-models" the E-2C also has upgraded turboprop engines.

E-2C Group 0: Initial production version of E-2C, fitted with AN/APS-120 or AN/APS-125 radar. Lengthened nose compared to earlier versions.
E-2C Group 1: New radar (AN/APS-139), plus upgraded mission computer and upgraded engines. Eighteen new build aircraft.
E-2C Group 2: AN/APS-145 radar, further improved electronics.
E-2C Group 2 Plus (Nav Upgrade): Avionics upgrade, inclusion of GPS into weapon system.
E-2C Hawkeye 2000: New mission computer, Cooperative Engagement Capability (CEC) and additional satellite communications aerial. Originally designated Group 2+.

E-2D Advanced Hawkeye: A variant with new avionics suite, improved engines, a new "glass cockpit" and the potential for air-to-air refueling.
E-2T: E-2C variant for Republic of China (Taiwan), with parts taken from retired E-2Bs (USN BuNos 151709, 151710, 151724, 152479). However, these aircraft have the same level of electronics as the E-2C Group II Hawkeyes with their APS-145 radars, and are referred to as E-2T, with "T" stands for Taiwan. On July 31, 1999, Taiwan was approved to acquire two additional E-2 built to Hawkeye 2000 standard. Later, the four original E-2T were also upgraded to the same standard. The upgraded aircraft were referred to as E-2K.
Australia
Canada
Republic of China

Republic of China Air Force

Egypt
France
Israel
Japan

Japan Air Self-Defense Force
Japan Maritime Self-Defense Force

Republic of Korea

Republic of Korea Air Force
Republic of Korea Navy

Mexico
Portugal
Singapore

Republic of Singapore Air Force

United Kingdom
United States

United States Coast Guard
United States Navy
See Also
[
edit
]
Related Development
[
edit
]
Comparable Aircraft
[
edit
]