FMA IA-58 Pucará
From Canadian Power Wiki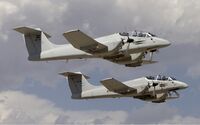 The FMA IA 58 Pucará (Quechua: Fortress) is an Argentine ground-attack and counter-insurgency (COIN) aircraft manufactured by the Fábrica Militar de Aviones. It is a low-wing twin-turboprop all-metal monoplane with retractable landing gear, capable of operating from unprepared strips when operationally required. The type saw action during the Falklands War and the Sri Lankan Civil War.
AX-02 Delfín: Prototype
AX-04: A torpedo-carrying prototype.
IA-58A Pucará: Two-seat counter-insurgency, close air support, attack aircraft. Main production version.
IA-58B Pucará Bravo: Modified two-seat counter-insurgency aircraft, with deeper forward fuselage, allowing the 20 mm Hispano cannon to be replaced by two 30mm DEFA cannons, and with more advanced avionics. One prototype aircraft converted from IA-58A first flew on May 15th 1979.
IA-58C Pucará Charlie: Single-seat version designed to take advantage of lessons learned during the Falklands War, with increased capability in anti-shipping and anti-helicopter missions. Forward cockpit removed, with additional 30mm DEFA cannon supplementing existing gun armament, and capability to carry Matra R550 Magic air-to-air missiles and Martin Pescador air-to-surface missiles underwing. Increased armour protection fitted, and more advanced EW system suite. Single prototype converted, flying on December 30th 1985, with a further fifteen aircraft converted.
IA-58D Pucará Delta: Current program modernisation of existing IA-58A airframes, featuring new avionics systems and 950shp PT6A-62 Pratt & Whitney engines.
IA-66:Modification of IA-58A powered by two 1,000-ehp (746-kW) Garrett TPE331-11-601W turboprop engines. Single prototype converted from IA-58A flew in 1980.
Argentina
Bolivia
Brazil
Central African Republic

Central African Republic Air Force

Colombia
Democratic Republic of the Congo

Democratic Republic of the Congo Air Force

Iran

Islamic Republic of Iran Air Force

Iraq
Mauritania
Paraguay
Peru
Sri Lanka
United Kingdom
Uruguay
Venezuela