Eurofighter Typhoon
From Canadian Power Wiki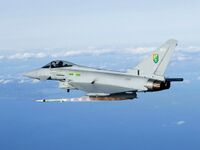 The Eurofighter GmbH EF-2000 Typhoon is a twin-engine, canard-delta wing, multirole fighter. The Typhoon was designed by a consortium of three companies, EADS, Alenia Aeronautica and BAE Systems, which also serially produce the fighter. The consortium works through a holding company, Eurofighter GmbH, which was formed in 1986. The project is managed by the NATO Eurofighter and Tornado Management Agency, which acts as the prime customer. The aircraft is being procured under separate contracts, named tranches, each for aircraft with generally improved capabilities.
The Typhoon was introduced into service in 2003. It has entered service with the Austrian Air Force, the Italian Air Force, the German Air Force, the Royal Air Force (and RN Fleet Air Arm), the Spanish Air Force, Royal Saudi Air Force, and Canadian Forces (both the RCAF and RCN). Export deals with the Kuwait Air Force, Qatar Emiri Air Force, Royal Bahrain Air Force, Royal Air Force of Oman, United Arab Emirates Air Force have been confirmed which will increase the number of Typhoons to be procured to 1,408.
The Eurofighter Typhoon saw its combat debut during the 2008 war in the Indian Ocean in service with the Royal Air Force and the Royal Navy.
The Rolls-Royce EJ200 turbofans generate 13,500 lbf (60 kN) of thrust dry and 20,250 lbf (90 kN) on afterburners. In 2010, they were upgraded to generate 16,200 lbf (72 kN) of thrust dry and 23,100 lbf (103 kN) on the afterburners. Further upgrade plans also include improvements to the eninges bringing them up to 17,500 lbf (78 kN) dry and 27,000 lbf (120 kN) on the afterburners. There are also proposals to give the EJ200 turbofans thrust vector control.
Austria
Bahrain

Royal Bahrain Air Force - 36

Canada

Royal Canadian Air Force - 98
Royal Canadian Navy - 72

Germany

Luftwaffe - 256 (Tranche 1 x 36, Tranche 2 x 140, Tranche 3 x 116, Tranche 4 x 48)

Italy

Aeronautica Militare - 172 (Tranche 1 x 28, Tranche 2 x 84, Tranche 3 x 60)

Kuwait
Oman

Royal Air Force of Oman - 12

Qatar

Qatar Emiri Air Force - 24

Saudi Arabia

Royal Saudi Air Force - 120 (Tranche 2 x 48, Tranche 3 x 72)

Spain

Spanish Air Force - 126 (Tranche 1 x 20, Tranche 2 x 58, Tranche 3 x 48) - 20 more aircraft on order

United Arab Emirates
United Kingdom

Royal Air Force - 262 (Tranche 1 x 54, Tranche 2 x 110, Tranche 3 x 98)
Royal Navy Fleet Air Arm - 160 (Tranche 2 x 100, Tranche 3 x 60)
General Characteristics:

Crew: 1-2
Length: 52.4 feet (15.97 meters)
Wingspan: 35.9 feet (10.94 meters)
Height: 17.3 feet (5.27 meters)
Wing Area: 551 square feet (51.19 square meters)
Empty Weight: 24,250 lb (11,000 kilograms)
Loaded Weight: 35,270 lb (16,000 kilograms)
Maximum Takeoff Weight: 51,800 lb (23,500 kilograms)
Powerplant: 2 x Eurojet EJ200 afterburning turbofans

Dry Thrust: 16,200 lbf (72 kN)
Thrust w/Afterburners: 23,400 lbf (104 kN)

Fuel Capacity: 11,023 lb (5,000 kilograms) internal

Performance:

Maximum Speed:

At Altitude: Mach 2 (2,450.11 km/h; 15,22.43 miles/hour)
At Sea Level: Mach 1.25 (1,531.32 km/h; 951.52 miles/hour)
Supercruise: Mach 1.5 (1,837.58 km/h; 1,141.82 miles/hour)

Range: 1,800 miles (2,896.82 kilometers)
Combat Radius:

Ground attack, lo-lo-lo: 325 nautical miles (601.9 kilometers)
Ground attack, hi-lo-hi: 750 nautical miles (1,389 kilometers)
Air defence with 3-hr combat air patrol: 100 nautical miles (185.2 kilometers)
Air defence with 10-min. loiter: 750 nautical miles (1,389 kilometers)

Ferry Range: 2,350 nautical miles (4,352.2 kilometers)
Service Ceiling: 55,000 feet (16,764 meters)
Absolute Ceiling: 65,000 feet (19,812 meters)
Rate of Climb: 62,000 feet/minute (314.96 meters/secong)
Wing Loading: 63.9 lb/ft² (311.98 kg/m2)
Thrust/Weight Ratio: 1.31:1

Armament:

Gun: 1 x Mauser BK-27 27mm revolver cannon with 150 rounds
Hardpoints: Total of 13: 8 × under-wing; and 5 × under-fuselage pylon stations; holding up to 7,500 kg (16,535 lb) of payload

Air-to-Air: AIM-9 Sidewinder, AIM-120 AMRAAM, AIM-132 ASRAAM, IRIS-T, Meteor
Air-to-Ground: AGM-65 Maverick, AGM-84 Harpoon, AGM-84E SLAM, AGM-88 HARM, AGM-154 JSOW, LRASM, Brimstone, SPEAR, Storm Shadow/SCALP EG, Taurus KEPD 350
Bombs: Paveway series LGBs, Small Diameter Bomb, JDAM, HOPE/HOSBO

Others: Flares/infrared decoys dispenser pod, chaff pods, ECM pods, LITENING III laser targeting pod, Up to 3 drop tanks for ferry flight or extended range/loitering time

Avionics:

CAPTOR-E AESA Radar
Passive Infra-Red Airborne Tracking Equipment IRST