De Havilland Canada DHC-6 Twin Otter
From Canadian Power Wiki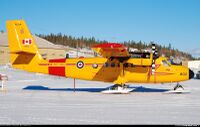 The de Havilland Canada DHC-6 Twin Otter is a Canadian 19-passenger STOL (Short Takeoff and Landing) utility aircraft developed by de Havilland Canada and currently produced by Viking Air. The aircraft's fixed tricycle undercarriage, STOL abilities and high rate of climb have made it a successful cargo, regional passenger airliner and MEDEVAC aircraft. In addition, the Twin Otter has been popular with commercial skydiving operations, and is used by the United States Army Parachute Team and the United States Air Force's 98th Flying Training Squadron.
Development of the aircraft began in 1964, with the first flight on May 20, 1965. A twin-engine replacement for the single-engine Otter retaining DHC's renowned STOL qualities, design features included double slotted trailing edge flaps and ailerons that work in unison with the flaps to boost STOL performance. The availability of the 550 shp (410 kW) Pratt and Whitney Canada PT6A-20 propeller turbine engine in the early 1960s made the concept of a twin more feasible. To bush operators, the improved reliability of turboprop power and the improved performance of a twin-engine configuration made it an immediately popular alternative to the single engine, piston-powered Otter which had been flying since 1951.
The first six aircraft produced were designated Series 1, indicating that they were prototype aircraft. The initial production run consisted of Series 100 aircraft, serial number seven to 115 inclusive. In 1968, Series 200 production began with serial number 116. Changes made at the beginning of Series 200 production included improving the STOL performance, adding a longer nose that was equipped with a larger baggage compartment (except to aircraft fitted with floats) and fitting a larger door to the rear baggage compartment. All Series 1, 100 and 200 aircraft and their variants (110, 210) were fitted with the 550 shaft horsepower PT6A-20 engines.
In 1969, the Series 300 was introduced, beginning with serial number 231. Both aircraft performance and payload were improved by fitting more powerful PT6A-27 engines. This was a 680 hp (510 kW) engine that was flat-rated to 620 hp (460 kW) for use in the Series 300 Twin Otter. The Series 300 proved to be the most successful variant by far, with 614 Series 300 aircraft and their sub-variants (Series 310 for United Kingdom operators, Series 320 for Australian operators, etc.) sold before production ended in 1988.
After Series 300 production ended, the remaining tooling was purchased by Viking Air of Victoria, British Columbia, who manufacture replacement parts for all of the out of production de Havilland Canada aircraft. On February 24, 2006, Viking purchased the type certificates from Bombardier Aerospace for all the out of production de Havilland DHC-1 through DHC-7 aircraft. The ownership of the certificates gives Viking the exclusive right to manufacture new aircraft.
On July 17, 2006, at the Farnborough Air Show, Viking Air announced its intention to offer a Series 400 Twin Otter. On April 2, 2007, Viking announced that with 27 orders and options in hand, it was restarting production of the Twin Otter, equipped with a more powerful Pratt & Whitney Canada PT6A-34/35 engine. As of November 2007, 40 firm orders and 10 options had been taken and a new final assembly plant established in Calgary, Alberta. Zimex Aviation of Switzerland received the first new production aircraft, serial number 845, in July 2010.
Major changes introduced with the Series 400 include Honeywell Primus Apex fully integrated avionics, deletion of the AC electrical system, deletion of the beta backup system, modernization of the electrical and lighting system, and use of composites for non-load-bearing structures such as doors
Afghanistan
Argentina

Argentine Air Force
Argentine Army
Argentine Navy

Australia
Benin
Canada

Canadian Coast Guard
Royal Canadian Air Force
Royal Canadian Navy

Chile
Colombia

Colombian National Police

Ecuador
Ethiopia
France

French Air Force
French Army

Haiti
Jamaica

Jamaica Defence Force Air Wing

Malaysia

Royal Malaysian Air Force

Mexico

Mexican Air Force
Mexican Navy

Nepal

Nepalese Army Air Service

Netherlands

Royal Netherlands Air Force

Nicaragua
Norway

Royal Norwegian Air Force

Panama

Panamanian Aeronaval Service

Paraguay
Peru
Philippines
Seychelles
Sudan
Switzerland
Uganda

Ugandan Air Force
Ugandan Police Force Air Wing

United Arab Emirates

United Arab Emirates Air Force

United States

Air America
National Oceanic and Atmospheric Administration
National Aeronautics and Space Administration
United States Air Force
United States Army

Vietnam