De Havilland Canada DHC-5 Buffalo
From Canadian Power Wiki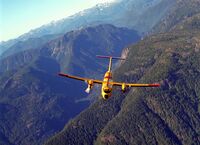 The de Havilland Canada DHC-5 Buffalo is a short takeoff and landing (STOL) utility transport, a turboprop aircraft developed from the earlier piston-powered DHC-4 Caribou. The aircraft has extraordinary STOL performance and is able to take off in distances much shorter than even light aircraft can manage.
On February 24, 2006, Viking Air of Victoria, British Columbia, a manufacturer of replacement parts for all out-of-production de Havilland Canada aircraft, purchased the type certificates from Bombardier Aerospace for all versions of the DHC-1 through DHC-7 series aircraft, giving Viking exclusive rights to manufacture and sell new aircraft of those types. In December 2008, Viking Air indicated their intention to put the Buffalo series back into production at their home factory in Victoria, British Columbia or in Calgary, Alberta. The new production Buffalo features Pratt & Whitney Canada PW150 turboprops, a glass cockpit, enhanced vision and night vision goggle capability. The company intends to propose the aircraft as a replacement for the RCAF fleet of existing DHC-5As, and says it has received extensive interest in the type, including several letters of intent for the DHC-5NG.
DHC-5 Buffalo: Originally designed as a twin-engined STOL tactical, utility transport aircraft for the US Army. Original US Army designation AC-2.
DHC-5A: Utility transport aircraft for the Brazilian Air Force, Royal Canadian Air Force and Peruvian Air Force. Canadian designation CC-115.
DHC-5B: Proposed version, powered by two General-Electric CT64-P4C turboprop engines. Not built
DHC-5C: Proposed version, powered by two Rolls-Royce Dart RDa.12 turboprop engines. Not built.
DHC-5D: Improved version, powered by two 2,336 kW (3,133 shp) General Electric CT64-820-4 turboprop engines.
DHC-5E Transporter: Civil transport version
NASA/DITC C-8A AWJSRA: One C-8A aircraft converted into an augmentor wing research aircraft.
XC8A ACLS: One C-8A aircraft converted into an air-cushion landing system research aircraft.
NASA/Boeing QSRA C-8A: One C-8A converted into a quiet short-haul research aircraft.
Viking DHC-5NG Buffalo NG: Proposed redesigned new production version to be built by Viking Air. NG is the company marketing term indicating Next Generation
Canadian Forces designations
[
edit
|
edit source
]

CC-115: Canadian Forces designation for the DHC-5A Buffalo.
CC-115NV: COD aircraft based on the DHC-5NG built to replace the C-2 Greyhounds of the Royal Canadian Navy.
CC-115NVE: Carrier based AWACS aircraft based on the DHC-5NG built to replace the E-2Cs of the RCN.
CC-115NVR: Search and rescue aircraft based on the DHC-5NG.
United States military designations
[
edit
|
edit source
]
AC-2:' Designation for four DHC-5s for evaluation by the United States Army.
CV-7A: Redesignation of four United States Army AC-2s.
C-8A: United States Air Force designation for four CV-7As transferred from the Army in 1967.
Brazil
Cameroon
Canada

Royal Canadian Air Force
Royal Canadian Navy
Summit Air

Chile
Democratic Republic of the Congo

Democratic Republic of the Congo Air Force

Ecuador

Ecuadorian Air Force
Ecuadorian Army

Egypt
Ethiopia
Indonesia

Indonesian Army
Indonesian Navy

Kenya
Malawi
Mauritania
Mexico
Oman

Royal Oman Police Air Wing

Peru
Sudan
Tanzania

Tanzania Air Force Command

Togo
United Arab Emirates

United Arab Emirates Air Force

United States
Zambia