Chungmugong Yi Sun-sin-class Destroyer
From Canadian Power Wiki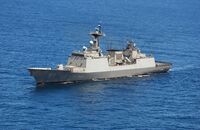 The
Chungmugong Yi Sun-sin-class destroyers
(Hangul: 충무공 이순신급 구축함) are multipurpose destroyers of the
Republic of Korea Navy
. The lead ship of this class, ROKS
Chungmugong Yi Sunsin
, was launched in May 2002 and commissioned in December 2003.
Chungmugong Yi Sun-sin
-class destroyers were the second class of ships to be produced in the Republic of Korea Navy's destroyer mass-production program named Korean Destroyer eXperimental, which paved the way for the navy to become a blue-water navy. Seven ships were launched by Hyundai Heavy Industries and Daewoo Shipbuilding & Marine Engineering in four years.
Specifications
[
edit
]
Type: Multipurpose Destroyer
Service Period: 2003-Present
Characteristics:

Length: 490 feet 6 inches (149.5 meters)
Beam: 57 feet 1 inch (17.4 meters)
Draft: 31 feet 2 inches (9.5 meters)
Displacement: 4,400 tons (Standard); 5,520 tons (Full Load)

Crew: 300
Installed Power: 2 x Sangyong 20V 956 TB 82 diesel engines
Propulsion: 2 x General Electric LM2500-30 gas turbines, 2 shafts, 58,200 shp
Range: 5,500 nautical miles (10,186 kilometers) at 17 knots (31.48 km/h)
Speed: 29 knots (53.71 km/h)
Sensor Suite:

Signaal MW-08 Air/Surface Search Radar
Daewoo SPS-95K Navigation Radar
Signaal STIR-240 Fire Control Radar x 2
KDCOM-II combat management system
BAE Systems Mk.14 Weapons Direction System
ATLAS DSQS-21BZ Multifunction Sonar
SQR-220K Black Dragon Towed Array Sonar

Countermeasures:

LIG Nex1 SLQ-200(V)K SONATA Electronic Warfare Suite
SLQ-261K TACM
KDAGAIE MK2 Chaff/Flare Launcher x 4

Armament:

1 x Mk.45 Mod 4 5"/62-caliber lightweight naval gun
2 x Mk.41 VLS (fires RIM-67 Block IIIA, Hong Sang Eo, and Hyunmoo III) - 1 x 32-cell VLS, 1 x 24-cell KVLS
2 x 21-cell Mk.49 RAM Launcher
2 x 4-cannister Mk.141 Harpoon SSM Launchers
1 x 30mm Goalkeeper CIWS
2 x 12.75" triple fire torpedo tubes

Aircraft Carried: 2 x Westland Mk.99A Super Lynx maritime helicopters
Unit Run
[
edit
]
ROKS Chungmugong Yi Sun-sin (DDH-975)
ROKS Munmu the Great (DDH-976)
ROKS Dae Jo-yeong (DDH-977)
ROKS Wang Geon (DDH-978)
ROKS Gang Gam-chan (DDH-979)
ROKS Choe Yeong (DDH-981)