Chengdu J-20 Black Eagle
From Canadian Power Wiki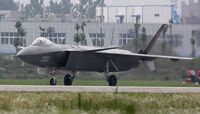 The
Chengdu J-20 Black Eagle
is a stealth, twinjet, fifth-generation fighter aircraft developed by
China
's
Chengdu Aircraft Industry Group
for the
People's Liberation Army Air Force
(PLAAF). The J-20 made its first flight on January 11
th
2011 and entered initial operational capability phase in March 2017, according to state media.
The PLAAF designates the J-20 as "Project 718". The general designer of the aircraft is reportedly Yang Wei, who was the general designer of CAC/PAC JF-17 Thunder.
It will be a single seat fighter powered by a pair of Xian WS-15 afterburning turbofans, have either a Type 1475 or KLJ5 AESA radar and be armed with PL-10, PL-12C/D & PL-21 missiles.
See Also
[
edit
]
Comparable Aircraft
[
edit
]