Canadian Forces
From Canadian Power Wiki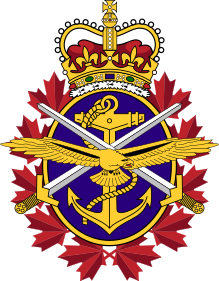 The
Canadian Forces
(
CF
) (French:
les Forces canadiennes
; FC), officially the
Canadian Armed Forces
(French:
Forces armées canadiennes
), is the unified armed force of
Canada
, as constituted by the National Defence Act, which states: "The Canadian Forces are the armed forces of Her Majesty raised by Canada and consist of one Service called the Canadian Armed Forces."
This unified institution consists of sea, land and air elements referred to as the Royal Canadian Navy (RCN), Canadian Army, and Canadian Forces Air Command (CFAIRCOM). Personnel may belong to either the Regular Force, Primary Reserve, Supplementary Reserve, Cadet Organizations Administration and Training Service, or the Canadian Rangers. The Department of National Defence acts as the civilian support system for the Canadian Forces.
The Canadian Forces is overseen by the Armed Forces Council, chaired by the Chief of the Defence Staff. The Commander-in-Chief is the reigning Canadian monarch, Queen Elizabeth II, who is represented by the Governor General of Canada
Basic Information
[
edit
]
Active Duty Personnel: 220,350 (Army: 78,350; Air Command: 62,500; Maritime Command: 79,500)
Reserve Personnel: 145,200 (Army: 78,500; Air Command: 35,600; Maritime Command: 31,100)
Budget: 71,916,000,000 USD (3.00% of GDP)
Commander in Chief of the Canadian Forces: Queen Elizabeth II (through Governor-General Michaëlle Jean)
Head of Government of Canada: Prime Minister Brian Tobin
Minister of Defense: Romeo Dallaire
Chief of Staff: General Rick Hillier
Commander of the Army: General Walter Natynczyk
Commander of the Royal Canadian Air Force: Air Chief Marshal André Deschamps
Commander of the Royal Canadian Navy: Admiral Bruce McLean