Canadian Army
From Canadian Power Wiki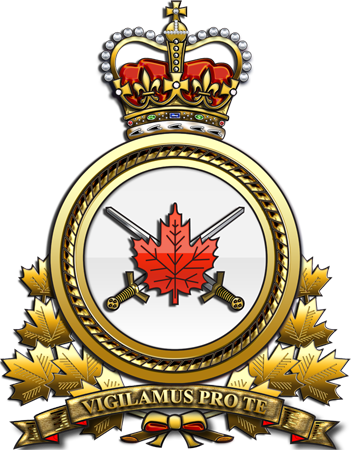 The Canadian Army (French: Armée canadienne) is the branch of the Canadian Forces responsible for land warfare. As of 2012, the Army has 74,350 regular soldiers and about 78,500 reserve soldiers, for a total of 152,850 soldiers. All are supported by 25,600 civilian employees. It maintains regular forces units at bases across Canada and is also responsible for the largest component of the Primary Reserve, the Army Reserve. The Commander of the Canadian Army and Chief of the Army Staff is General Walter Natynczyk.
The term "Canadian Army" has been traditionally applied to the land forces of Canada's military from Confederation in 1867 to the present. However, the name Canadian Army was only officially used beginning in 1940. In 1965, as a precursor to the unification of the navy, army, and air force, all army units were placed under a new entity called Mobile Command. In 1968 the Canadian Army ceased to exist as a legal entity as the navy, army, and air force were merged to form a single service called the Canadian Forces. Mobile Command was renamed Land Force Command in a 1973 reorganization of the Canadian Forces. In August 1989, Land Force Command reverted to the pre-1968 title, the Canadian Army.
Force Structure
[
edit
]
Stastistics
[
edit
]
Active Personnel: 74,350
Reserve Personnel: 78,500
Special Forces Personnel: 4,000
Active Infantry Regiments: 11
Active Armored Regiments: 10
Active Specialized Regiments: 5
Active Bases: 17 (Aldershot, Borden, Calgary, Edmonton, Gagetown, Iqaluit, Kelowna, Kingston, Meaford, Montreal, Oshawa, Petawawa, Saint-Jean, Shilo, Suffield, Valcartier, West Caicos, Wainwright)
Commander of the Canadian Army: General Walter Natynczyk
Commander of Canadian Army Forces Abroad: Lieutenant General Michael Payne
Commander of the 1st Canadian SAS: Colonel Paul Burnett
Vehicles
[
edit
]
Tanks

244 x Leopard 2A6CA (main battle tank)
116 x Leopard C2 (main battle tank, assigned to reserve units)

Infantry Fighting Vehicles

152 x M2 Bradley (infantry fighting vehicle)
150 x Rooikat 105 (infantry support vehicle)
138 x CV9035 (infantry fighting vehicle)

Armoured Personnel Carriers

780 x LAV III (armored personnel carrier, many variants)
58 x AAV-7A1 (amphibious assault carrier)
560 x M113/MTVL (armored personnel carrier)
183 x Grizzly AVGP (used as artillery tractors and repair team vehicles)
195 x Bison AVGP (used as ambulances, mortar vehicles and electronic warfare jammers)
600 x Textron TAPV (armored car)

Armoured Engineering Vehicles

10 x ARV 3 M Buffalo (armored recovery vehicle)
16 x ARV Taurus (armored recovery vehicle)
27 x Husky AVGP (armored recovery vehicle)
16 x AVLB Beaver (bridge-laying vehicle)
9 x AEV Badger (armored engineering vehicle)

Minesweeping

32 x Buffalo A2 (mine-protected vehicle)
8 x Aardvark JFSU Mark 4 (mine-cleaning vehicle)

Air Defense

360 x Multi-Mission Effects Vehicle (short-range air defense/anti-tank vehicles)
10 x M1100 Skywarrior (long-range air defense system

Artillery

108 x G6-60+ (self-propelled 155mm artillery)
121 x TM777 M-2 Snowblind (truck-mounted 155mm artillery)
85 x M777 155mm (lightweight field howitzer, towed by Grizzly AVGP)
59 x LG1 105mm (lightweight towed field howitzer, towed by Grizzly AVGP)

Utiliy Vehicles

1,745 x HVLW (heavy truck, based on Steyr 1491 Percheron)
710 x TTVLW (tractor-trailer heavy vehicle, 710 tractors + 2,840 trailers, trailers designed for specially-designed 20-foot or 40-foot containers)
2,557 x 7000-MV MLVW (medium truck, based on Navistar International 7000MV, built 2006-2009)
3,484 x LSVW (light truck, based on GMC Topkick, built 2001-2004 by GM Canada)
1,780 x G-Wagen (light utility vehicle)
4,482 x MILCOTS Chevrolet Silverado (light utility vehicle)
223 x Bandvagn 206 (78 built in Sweden, others license-produced in Canada)
Active Units
[
edit
]
Royal Canadian Regiment
[
edit
]
Four active-duty battalions, three mechanized infantry, one light infantry. The light infantry company include a parachute company. The parachute companies generally work with the Airborne Regiment. Currently on active duty in Afghanistan.
Princess Patricia's Canadian Light Infantry
[
edit
]
Three active-duty battalions, one reserve. The active duty units are two mechanized infantry, one light infantry. The light infantry company includes a parachute company, as with the RCR. The Loyal Edmonton Regiment is the fourth Battalion of the PPCLI.
Royal 22nd Regiment
[
edit
]
The largest CF formation on active duty, comprising of five active-duty battalions and one reserve. Three battalions mechanized infantry, two regiments light infantry with parachute companies. Two battalions of the 22nd are on duty in Haiti.
The Royal Highland Regiment of Canada
[
edit
]
Two active-duty battalions, two reserve. All are light infantry, though most of them are paratrooper qualified. The Black Watch is specially trained in airmobile operations, operating using helicopters and fast moving vehicles. First saw active duty in Afghanistan in 2002, though they rotated back home in early 2004.
Governor General's Foot Guards
[
edit
]
One active infantry brigade stationed in Ottawa after their 2008 reactivation. The regiment has an operational role that encompasses both the territorial defence of Canada and supporting regular Canadian forces overseas. In addition to this, it also performs a ceremonial role similar to that of the Guards regiments of the British Army, mounting the guard on Parliament Hill and at Rideau Hall in Ottawa, a task it shares with the Canadian Grenadier Guards. (See Ceremonial Guard) The regimental dress uniform has buttons in pairs similar to the Coldstream Guards with a red plume worn on the left side of their bearskin. The red plume is of different material and lengths, dependent on the rank of the soldier.
Voltigeurs de Quebec
[
edit
]
Two active-duty battalions and two reserve. One regiment mechanized infantry, the other three are light infantry. The Voltigeurs light infantry battalion is on duty in Haiti as of mid-2004.
One battalion mechanized infantry, with one reserve battalion planned but as of yet not formed. The Nunavut Defense Battalion is majority made up of and is commanded by native Canadians. They are the CF's cold weather experts, and are among the world's best cold-weather fighters. All of their vehicles are tracked, owing to the bitter-cold and snowy conditions of the Canadian north.
Royal Canadian Dragoons
[
edit
]
Two armored battalions, one dedicated to reconnaissance, plus one reserve. The Dragoons are first on the list of Canadian armored units to go abroad, and as such have the best equipment, including Leopard 2A6 main battle tanks and Rooikat 105 armored reconaissance vehicles.
North Shore Regiment
[
edit
]
Calgary Highlanders
[
edit
]
Lord Strathcona's Horse (Royal Canadians)
[
edit
]
Three armored battalions. Lord Strathcona's horse is the largest user of main battle tanks in the Canadian Forces, equipped with 84 Leopard 2A6 MBTs, among other vehicles. The heaviest-hitting guns of the Canadian Forces, this regiment is also one of the most decorated of CF units, serving in both World Wars, Korea, South Africa twice (1900-01 and 1992-94), Cyprus and Afghanistan.
Winnipeg Grenadiers
[
edit
]
In December 2011, the Winnipeg Grenadiers and Royal Rifles of Canada were reactivated at a ceremony in Hong Kong on the 60th anniversary of the Battle of Hong Kong.
Royal Rifles of Canada
[
edit
]
The Royal Rifles of Canada was a rifle regiment in the Canadian Army and fought alongside the Winnipeg Grenadiers in the Battle of Hong Kong during World War II. The unit was formed in 1862 as the 8th Battalion and renamed the 8th Regiment in 1900. It was reformed alongside the Les Voltigeurs de Québec in 1920. Its recruiting areas included the Eastern Townships, Quebec City and Gaspé, Quebec, and Northern New Brunswick. The Royal Rifles of Canada fought gallantly in the Battle of Hong Kong in December 1941. The survivors surrendered on December 25, 1941, and spent the rest of the war in captivity. The regiment was transferred to the Supplementary Order of Battle in 1966, but the regiment's headquarters on the Plains of Abraham, Quebec City, became home to a museum. In December 2011, the Royal Rifles and Winnipeg Grenadiers were reactivated at a ceremony in Hong Kong on the 60th anniversary of the Battle of Hong Kong.
Sherbrooke Hussars
[
edit
]
12th Armored Regiment of Canada
[
edit
]
Two active-duty battalions, one reserve. The 12th Armored also uses the Leopard 2 MBT, but its primary role is armored reconnaissance, and so its primary vehicles are the faster Rooikat 105 and LAV III. The 12th Armored Regiment also includes an air defense squadron, using the ADATS anti-aircraft system. The reserve unit is one of the units assigned the Leopard C2 MBTs that the Leopard 2s replaced. Served in Afghanistan in 2002-04.
8th Canadian Hussars
[
edit
]
One active-duty battalion, one reserve. Also a reconaissance unit, the Hussars are equipped with the M2 Bradley IFV and Leopard 2 MBT, they also have a squadron of the ADATS vehicles. The reserve battalion is equipped with the Leopard C2. The "Crazy Eights" have a repute for hard-hitting actions. Deployed to East Timor in late 1999, they came home in 2002.
Ontario Regiment (Royal Canadian Armored Corps)
[
edit
]
Two active-duty battalions, two reserve. The Ontario Regiment of the RCAC is another heavy-hitter regiment, including 60 Leopard 2 MBTs. The Ontario Regiment includes recon squadrons, but primarily works with the faster-moving units to provide an armored right-hook to the lighter regiments. Their massive armory in Oshawa, Ontario, also is the primary training facility for maintenance crews for the CF's armored vehicles.
Windsor Regiment (Royal Canadian Armored Corps)
[
edit
]
Halifax Rifles (Royal Canadian Armored Corps)
[
edit
]
Le Régiment de Hull (Royal Canadian Armored Corps)
[
edit
]
The Saskatchewan Dragoons
[
edit
]
Canadian Airborne Regiment
[
edit
]
Two battalions, all active-duty. Among the highest-trained forces in the CF, the Airborne Regiment has a distinguished history, having deployed to virtually every ugly hot spot in modern history, including Cyprus, South Africa, Rwanda, Bosnia, Somalia, East Timor and Afghanistan. The Airborne Regiment is considered by most to be Canada's varsity in terms of military forces, though the SAS and Marines debate this.
1st Canadian Special Air Service
[
edit
]
Canada's highest-trained units, the Canadian SAS is Canada's Special Forces unit, made up of one battalion. They do not have the history of the Airborne Regiment, but having been trained by the British SAS, they are widely considered to be among the world's best special forces. The whole battalion has only been deployed once, that being the almost-mythical operation that grabbed Radovan Karadzic and Ratko Mladic in Bosnia in 1999, though detachments and companies are deployed frequently.
Canadian Marine Corps
[
edit
]
Four battalions, all of them active duty. The Canadian Marines are heavy on helicopters and amphibious vehicles, including amphibious versions of the LAV III. They are outfitted with heavy armor, air defense units and IFVs, which generally makes them the most rounded of CF units. The Marines are technically assigned as part of the Maritime Command, though they have been deployed as part of the Land Command in the past, doing so in Rwanda in 1995.
Canadian Rangers
[
edit
]
The Canadian Rangers are a unique unit assigned to tasks in Canada, more as a fast-action response force than anything else. They do number almost 8,000, primarily based in the Canadian North, as well as the northern Prairie provinces, Northern Ontario and Quebec and Labrador. These units of the forces primarily use their own equipment (and are paid extra for doing so), though the government is actively procuring vehicles and equipment for them.