CAC/PAC JF-17 Thunder
From Canadian Power Wiki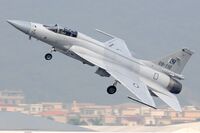 The
PAC JF-17 Thunder
(Urdu: جے ایف-١٧ تھنڈر‎), or
CAC FC-1 Xiaolong
(
Fierce Dragon
; Chinese: 枭龙; pinyin:
Xiāo Lóng
), is a light-weight, single-engine, multi-role combat aircraft developed jointly by the
Pakistan Air Force
, the Pakistan Aeronautical Complex (PAC) and the Chengdu Aircraft Industries Corporation (CAC) of China. Its designation "JF-17 Thunder" by Pakistan is short for "Joint Fighter-17", while the designation "FC-1 Xiaolong" by China means "Fighter China-1 Fierce Dragon".
The JF-17 can carry a variety of missiles and bombs, including air-to-air and air-to-surface missiles, supplemented by a 23/30 mm GSh-23-2 twin-barrel autocannon. It is powered by a RD-93 afterburning turbofan, and has a top speed of Mach 1.6. The JF-17 is slated to become the backbone of Pakistan Air Force (PAF), complementing the F-16s as well as the J-10Bs (on order) within its aircraft ranks and is also expected to fill the duties of aerial reconnaissance, ground-attack and interception.
Pakistan has already started induction, and has plans to induct around 250 units. The JF-17 will replace Pakistan's ageing fleet of A-5C, Mirage-III, Mirage-V, and F-7P/PG by 2015. The first squadron was inducted in the Pakistan Air Force in February 2010. In China it is in an evaluation phase (passed design appraisal).
Variants
[
edit
]
JF-17 Block 1: Production in China began in June 2006. The first three Chinese weapons to be integrated are the PL-5E II AAM, the SD-10 AAM, and the C-802A anti-shipping missile. Block 1 aircraft had performed "better than expected" according to PAF Air Commodore Junaid. Production of Block 1 was completed on December 18th when the fiftieth aircraft—58% of which was produced in Pakistan—was delivered. A Block 1 JF-17 had cost approximately US$15 million per unit.
JF-17 Block 2: Production began on December 18th 2013 and initial testing began on February 9th, 2015. These aircraft have air-to-air refueling capability, improved avionics, enhanced load carrying capacity, data link, and electronic warfare capabilities. The construction will continue until 2016, after which the manufacture of Block 3 is planned. A Block 2 JF-17 costs approximately US$25 million per unit. Chairman of PAC, Air Marshal Javaid Ahmed said: "We will hand over sixteen Block-II JF-17s to the PAF every year", and that the manufacturing plant has the capacity to produce 25 units in a year. According to local media, PAC rolled out the 16th Block 2 aircraft in December 2015 enabling the 4th JF17 squadron to be stood up. The JF-17B two seat version would start testing in September 2016.
JF-17 Block 3: Projected to feature further avionics advancements such as an AESA radar, more use of composites, a new engine, helmet mounted display, and a two-seater cockpit option, with a top speed of 2.0+ Mach. Pakistani Air Force officials have described it as a "fourth generation plus" fighter jet. According to unconfirmed media reports the induction is expected to start around 2019. As of January 2016, the design of the JF-17 Block III has not been finalized.
JF-17B: A twin-seater variant scheduled to be inducted into the Pakistan Air Force by 2017, its multi-roles include use for training and enhanced surveillance and support capabilities. The production of the first JF-17B was initiated by Pakistan and China in 2016. On April 28th 2017, the JF-17B took its maiden test flight in Chengdu.
Myanmar
Nigeria
Pakistan

Pakistan Air Force x 250

PAF Base Minhas

JF-17 TEF (Test and Evaluation Flight)

PAF Base Peshawar

No. 16 Squadron Black Panthers
No. 26 Squadron Black Spiders

PAF Base Masroor
PAF Base Mushaf

Sri Lanka
Zimbabwe